Making good chicken wings at home can sometimes feel like it's not worth the effort. Why not just order delivery? If you're concerned about your health, but can't stop craving wings, look no further! These easy air fryer chicken wings are going to be your new favorite dish. Whether you make them a meal or serve them as an appetizer for a party, air fryer wings are the best, easiest way to cook chicken wings at home. Pair them with a tasty dipping sauce, like this slightly spicy garlic paprika aioli, and you'll never want to order out for wings again.
I learned that the trick to truly crispy wings is 1. using the air fryer and 2. letting the wings "dry out" in the fridge before cooking them. This helps the air fryer chicken wings achieve a truly crispy skin packed with flavor. Once you've tried this easy chicken wings recipe, you can also mix up your desired spices for variety. This classic paprika-centered seasoning is delicious, but there are so many more combinations worth trying. Simply toss the chicken in a bit of olive oil and dry seasonings and they'll be ready to cook. I think my next batch will have to be either lemon pepper or garlic parmesan. As long as it has garlic in it, you can't go wrong.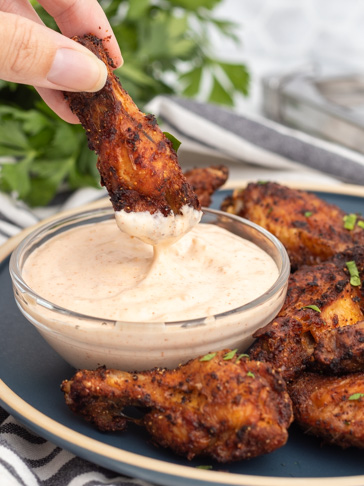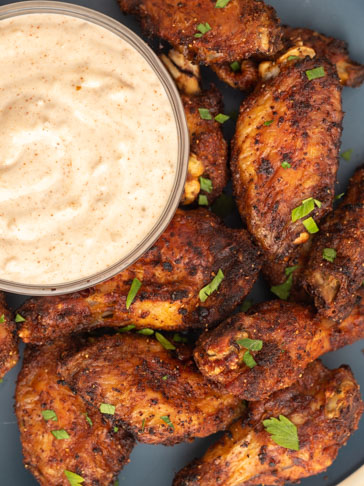 For best results, make sure you pre-heat the air fryer for about 3-5 minutes, so that it's nice and hot the moment you add the chicken wings. As with any air fryer recipe, it's important not to crowd the basket because if you do, the wings may not cook evenly and will not achieve a crispy exterior.
Finally, chicken wings deserve a dip. When in doubt, a good quality ranch dressing is always a good choice, but a homemade dip is even better. Combine equal parts mayo and sour cream with various seasonings to create a delicious dip for the air fryer chicken wings.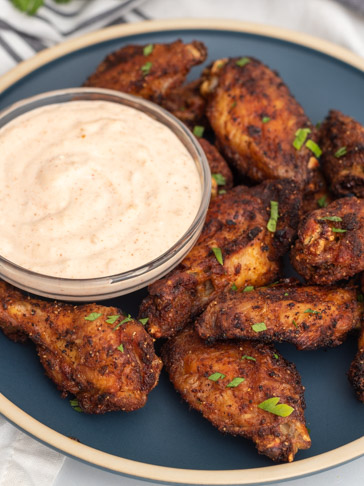 Keep reading for the air fryer chicken wings recipe with a simple garlic paprika aioli dipping sauce!