After binging every episode of The Great British Baking Show last year on Netflix, I have become even more obsessed with bread. If you've ever decided to make bread from scratch, you know that it can be a long, long process, and many of us just can't find the time. Or the energy. That's what makes this Instant Pot bread recipe so amazing! Making bread with your Instant Pot doesn't mean actually baking the bread in it (although that's not impossible!) but it does allow you to proof dough in more than HALF the time of a traditional recipe! Prep your dough early in the day and it'll be ready to eat by dinner.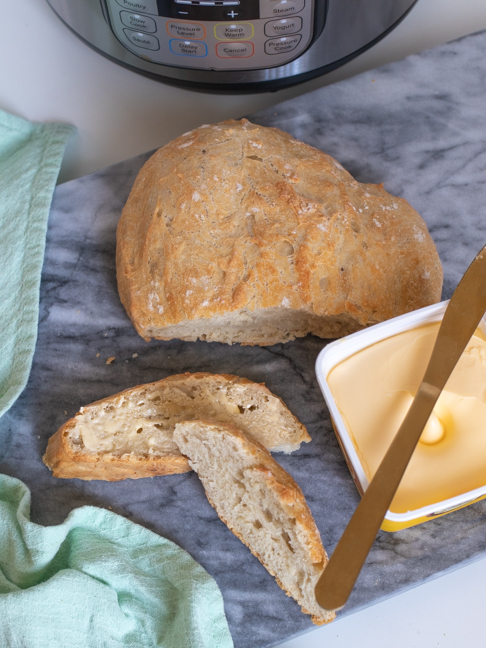 I'm certainly not a bread expert – Paul Hollywood would not be impressed with my loaf of Instant Pot bread but I was perfectly happy slathering it with butter and enjoying it alongside a bowl of soup. For the busy mom who doesn't have 18 hours to make, knead and bake bread (I wish because I'm sure it would be delicious!) this is an ideal way to still enjoy homemade bread. Plus, a great benefit to homemade bread is that you know exactly what's in it, and the bread is made without extra preservatives like the breads we find in the grocery store. Once you try Instant Pot bread, you'll want to make bread every day!
Check out how to make homemade no-knead Instant Pot bread in less than six hours!