I don't know about you, but with the weather (finally) warming up, and Cinco de Mayo just around the corner, I'm in the mood for some refreshing margaritas. Though the classic margarita recipe is a great staple to master, I like to venture out of the margarita glass and find other ways to enjoy this classic summer cocktail.
See, margaritas are ridiculously simple to make—tequila, lime juice, and some orange liqueur, like triple sec, are all you need—but there are about as many creative margarita recipes out there as there are reasons to drink one! And the best way to pick your favorite margarita recipe is to experiment. A LOT.
But before you start whipping up one of these 10 creative margarita recipes in your kitchen, let's make sure you've mastered the traditional margarita recipe (after all, it's a classic for a reason).
Basic Margarita Recipe
Ingredients:
1 ½ ounces (1 shot glass) of silver tequila'
¾ ounces (1/2 shot glass) of triple sec
1 ½ ounces (1 shot glass) of lime juice
Ice
Instructions:
Shake the ingredients together.
Rim your glass with salt and serve with a lime wedge garnish. It's really that easy.
If you are feeling a little more daring, check out these other margarita recipes for some tasty inspiration. Whether you're a fan of spicy and savory flavors or prefer something less conventional and sweet (birthday cake or cotton candy margaritas, anyone?), this list of margarita recipes has you covered. Keep reading for the best margarita recipes around. Cheers!
Like what you see? Don't forget to Pin it!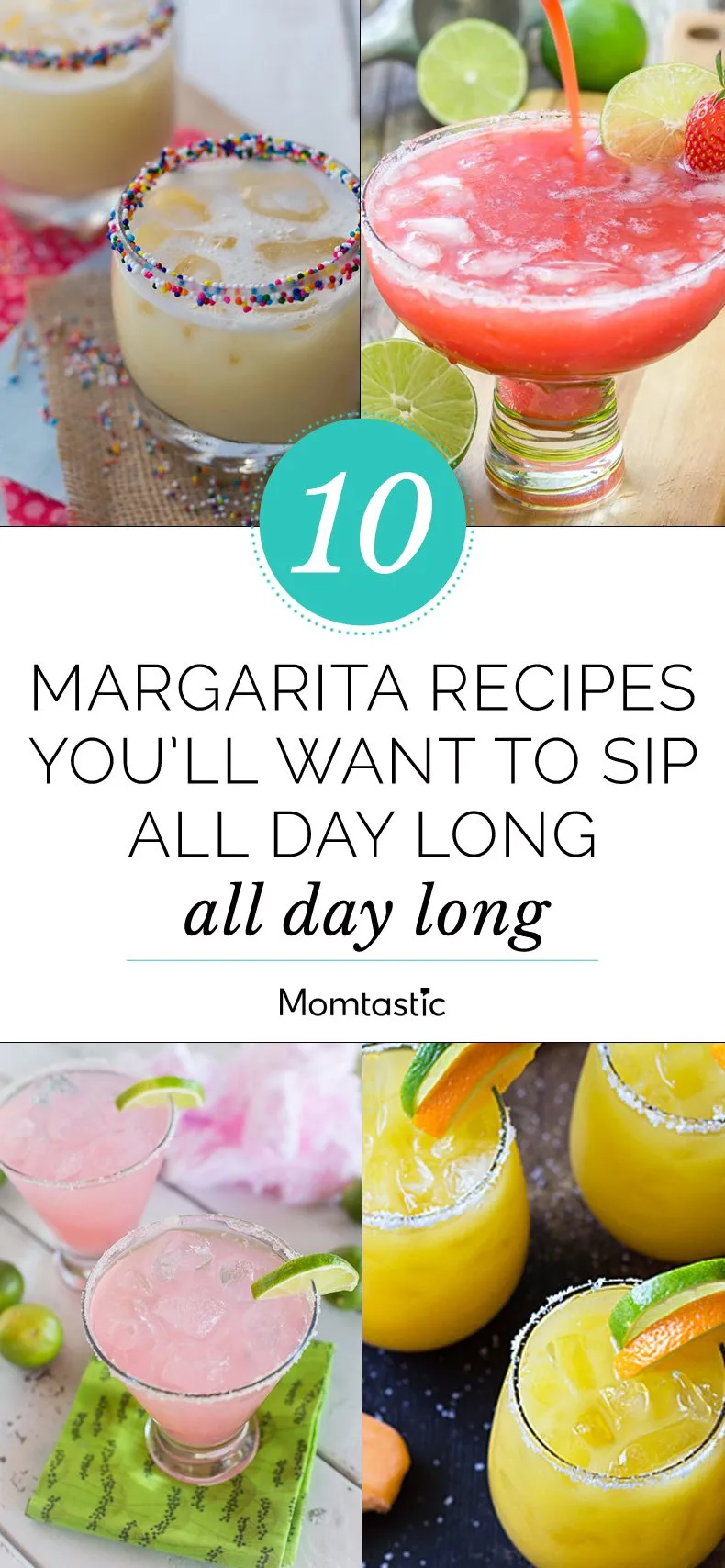 10 Margaritas
Birthday Cake Margaritas

Next time you're throwing a b-day party for your little one, make a celebratory concoction for all of the grownups attending. Complete with boxed cake mix, birthday cake simple syrup, tequila, and Cointreau, this tasty drink will get everyone in a festive mood. For extra fun, serve your margs in sprinkle-rimmed cups.

Photo: Such the Spot

Cotton Candy Margaritas

Surprise your friends with a sugar rush as you gather to sip your #SundayFunday margaritas. Mix all of the ingredients together (cream cola, orange liqueur, lime juice, and of course, tequila), then pour over cotton candy.

 Photo: Such the Spot

Creamsicle Margaritas

Who doesn't love a creamsicle? Now you can introduce that orange flavor to a margarita. Simply combine orange juice with lime juice. Then mix in tequila, triple sec, and the secret ingredient: whipped vodka. This margarita recipe is like a trip down memory lane in a glass.

Photo: The Blond Cook

Strawberry Margaritas

Here's a tasty twist on the classic margarita. Simply sweeten it up with fresh strawberries and honey. Be careful, it goes down easy!

Photo: Cooking on the Front Burners

Blue Pineapple Margaritas

Don't you just love the color of this exotic blue margarita? It reminds me of the bright blue waters off of Mexico. To create it, mix together lime and pineapple juices, tequila, triple sec, simple syrup, and the special blue ingredient: Kinky cocktail. Add another special unexpected touch with blue sanding sugar on the rim of the glass.

Photo: My Incredible Recipes

Blackberry Margaritas

Add a fruity twist to your margarita by combining blackberry simple syrup and pureed blackberries with regular margarita ingredients. It's a refreshing take on this favorite drink.

Photo: My Incredible Recipes

Moscow Mule Margaritas

This recipe combines the flavor of two of your favorite drinks: Moscow mules and margaritas. Mix lemon/lime soda with ginger beer. Combine with lime juice, tequila, and triple sec. All the ingredients you need for a fun night with friends.

Photo: Wine and Glue

Tropical Pineapple Margarita Slushies

Even if you're not on vacation, you can still pretend like you are with this pineapple margarita slushy. The secret: Blend frozen diced pineapple with frozen orange juice concentrate, lime juice, ice cubes, sugar, tequila, and triple sec. The result? A tropical vacation vibe at home.

Photo: Whole and Heavenly Oven

Sunset Margaritas

You can't beat sitting back and sipping this sweet margarita made with real mango and pineapple juice. Combine the juices with silver tequila, grenadine and lime syrup for a pop of flavor that will give your taste buds a fiesta.

Photo: Will Cook for Smiles

Cilantro-Infused Spicy Jalapeno Margaritas

Boost the Mexican flavors in your margarita by infusing it with fresh cilantro. You do this by soaking cilantro leaves in margarita mix for two hours. Then add the rest of the ingredients. Garnish with jalapeño peppers.

Photo: Fool Proof Living