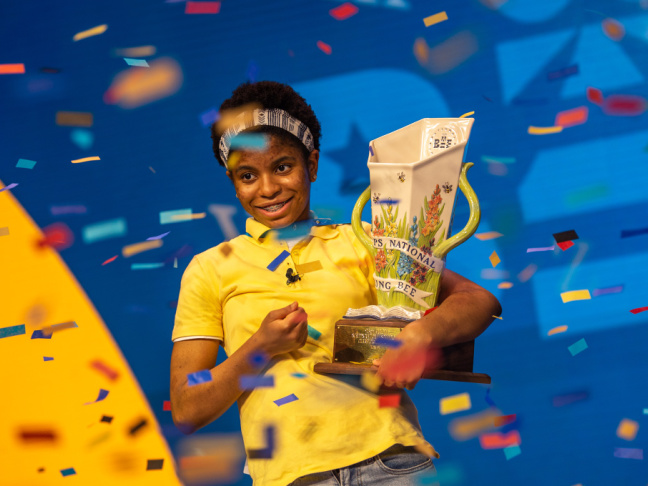 In case you haven't heard the news: kids these days are amazing. Take, for example, fourteen-year-old Zalia Avant-Garde from Louisiana. This week she became the first Black American to win the Scripps National Spelling Bee in its almost one century of existence, spelling a word even my computer's spellcheck was like, "Um, what?" when I tried typing it in this sentence.
But wait! There's more!
This fan of vocabulary admits that a thorough knowledge of etymology (the roots of words), diacritics (the pronunciation of words), and as much as an unabridged dictionary can hold is only a side gig. Sure, she loves language and reading books, but her real passion is basketball.
In fact, she holds three Guinness World Records in the sport, including dribbling six (6!!!) basketballs at once for at least thirty seconds back in January of this year. See it here at the 7:48 mark. She practiced for two years in her home and local bball courts to achieve this goal. We can watch her impressive skills on her "basketballasart" Twitter and Instagram feeds, dribbling around toddlers and even atop a unicycle.
Interviews with and videos of this phenomenal kid show that she admires women who enthusiastically support each other and work hard for their dreams, and is willing to do that, herself. After she won the 2020 Kaplan-Hexco Online Spelling Bee, she invested her winnings in the tutoring she believed could help her win Scripps (which, of course, she ended up doing). As a humble and thoughtful middle schooler aware of the financial privileges she has had in order to help her get to this point, she has used the spotlight to point out the disparities of opportunity for kids of lesser economic circumstances when it comes to affording the resources that help them achieve their own spelling bee goals, in the hopes that changes can be made to level that part of the playing field.
Her gratitude and grit are impressive, but what stands out the most is the sparkle in her eyes and pure joy in her smile while she goes about doing what she loves (including spinning around in a shower of rainbow confetti upon achieving yet another goal). That passion for lifting herself and others is the kind of inspiration we love to see.
Photo Credit: Scripps National Spelling Bee Facebook Page
More Remarkable Kids: