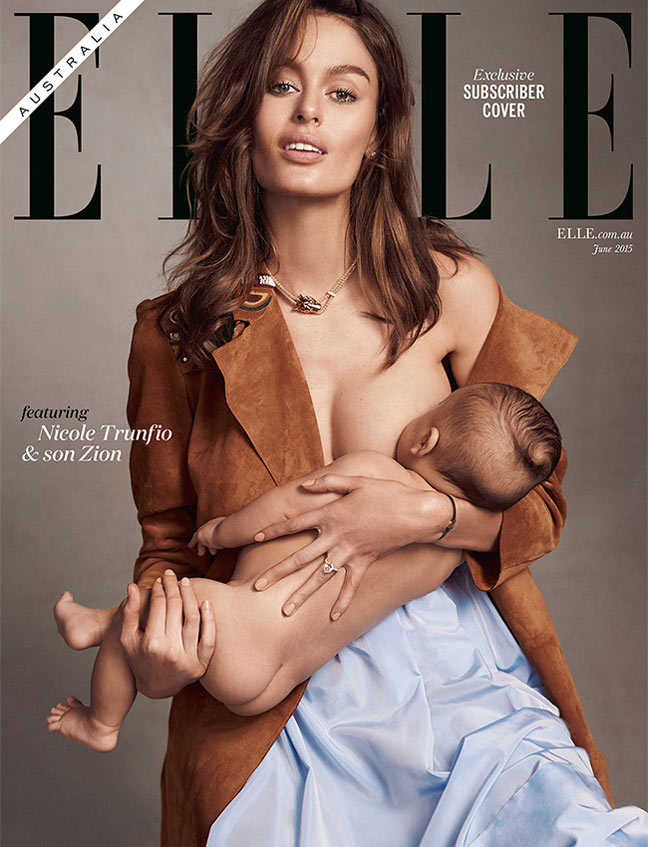 OK, so you've probably seen it by now: The cover of the subscriber version of the June 2015 Australian edition of Elle features Aussie model Nicole Trunfio breastfeeding her 5-month old bub, Zion Clark.
"This wasn't a contrived situation," says Justine Cullen, the editor of Elle Australia. "Zion needed a feed, Nicole gave it to him, and when we saw how beautiful they looked we simply moved her onto the set. It was a completely natural moment that resulted in a powerful picture."
I've got to admit, it's a gorgeous image (that blue! that suede! that bottom!), but a part of me is a little skeptical, too. The set-up might be natural, but the retouching is anything but. And the sarcastic part of me can't help but think, "Well, here is yet another model breastfeeding in a magazine!" (Last fall, Olivia Wilde made headlines when she breastfed her son Otis during her cover shoot for Glamour's September 2014 issue.)
For her part, Trunfio  wrote on her Instagram account that she hopes to #normalizebreastfeeding with the photo, writing: 
"There is nothing more powerful and beautiful than motherhood. The last thing I want to do is be controversial, so please take this for what it is, let us #normalizebreastfeeding there is nothing worse than a mother that is judged for feeding her hungry child in public. #weareonlyhuman I'm so proud of this cover and for what it's stands for. I obviously don't look like this while I am breastfeeding but this stands for all women out there, whether you breastfeed or not, we gave birth, we are women, we are mothers. Thank you to ELLE for being so bold and making such an encouraging, positive and healthy statement. #womenunite"
It's a worthy cause, but does this photo actually help  "normalize" breastfeeding? It's not a photo of a mom "feeding her hungry child in public;" it's a model posing for a cover shoot. It reminds me of Natalia Vodianova's brelfie. Or the TIME magazine cover of Jamie Lynne Grumet. Both were kinda awkward, retouched, utterly unnatural images ostensibly published as a "celebration of motherhood." But, they ultimately reminded me that my reality as a mum isn't all Photoshopped and glamourous.
What I love about #brelfies is that they're images created by and for mums. They offer positive support for mums making the choice to breastfeed when and where they need to, even if those around them are negative. Visually, they're often warm, squishy, relaxed, and real; they're the exact opposite of a ultra made-up, perfectly Photoshopped model. Angelina Jolie's and Miranda Kerr's breastfeeding pics strike me as more genuine.
What do you think of the Elle Australia cover?