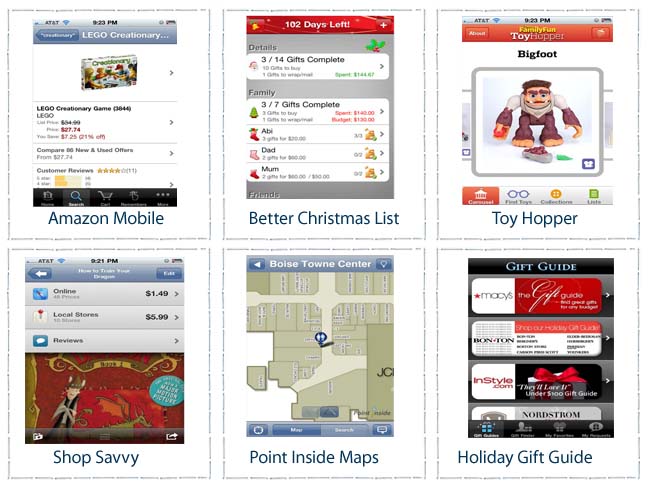 Holiday shopping can leave any mom at her wits end, but with these 6 apps not only can you make your list and check it twice, you can even shop straight from your iphone.
1. Amazon Mobile
Price: Free
Amazon Mobile is a terrific tool for price comparisons and customer reviews. With the app you can quickly check items online, while you shop, to see if there's a better deal available without all the crowds. If Amazon has it for less you can even place your order while you're standing in the aisle of a big box retailer. Combine Amazon Mobile with Amazon Prime service and you have my favorite holiday shopping resource.
2. Better Christmas List
Price: $1.99 (Sale price)
Better Christmas List helps manage your holiday gift lists.  The app allows you to to track the people you are buying for, set a budget for gifts, note ideas you've come up with and what you've already purchased. You can even track whether a gift has been wrapped and mailed. By saving your lists you'll have a record of what you gave the year before, avoiding embarrassing duplicate gifts. Been there, done that! Better Christmas List even has a prominent Christmas countdown that will keep you fully aware of when it's time to panic.
3. ToyHopper – Gift Ideas and Toy Finder from Disney's Family Fun
Price: $1.99
ToyHopper is a well designed app that's full of gift ideas for children. Toys can be sorted by age, price, type or theme. ToyHopper provides a photograph of the product as well as information that includes a description, suggested age range and retail price. ToyHopper  links directly to Amazon.com, making it easy to purchase the gift before it slips your mind.
4. Shop Savvy Barcode Scanner
Price: Free
Shop Savvy lets you scan a barcode and then view results for that product online and at nearby retailers. The online results are pulled from an impressive list of sources and from this list you can easily see who has the best price. In addition to the price you'll also be shown user reviews and ratings.  Keep track of the products you are scanning and tracking with different lists like birthday, holiday shopping and books to read.  You can even share the deals you find with your friends through email, Twitter and Facebook. Shop Savvy is a great resource to use while you're out and about shopping. Scan everything before you buy to make sure you're getting the very best price.
5. Point Inside Maps for Airports and Malls
Price: Free
If your holiday shopping takes you to the mall then Point Inside can help you maneuver the crowds and find your way around. This app provides interactive maps to over seven hundred malls, allowing you to view not only store locations but also restrooms.  Super important! Point Inside will show you where you're at on a mall map so you'll be able to orient yourself and get heading in the right direction. Store phone numbers are included in case you'd like to call ahead and check on a particular product before you trek across the mall.
6. Holiday Gift Guide
Price: Free
Having trouble figuring out what to buy for your thirteen year old niece? Your boss? Your babysitter? Holiday Gift Guide might be just what you're looking for. It features gift guides from well known retailers and magazines. Browsing through the gift guides could provide all the inspiration you need but if not you can also use their gift finder. It allows you to search the gift guides by price range, gender and general interests. Once you've found the perfect gift the app can pull up a list of nearby retailers that carry it, making your shopping even easier.