We chat with Jay Shafer, the genius behind the Tumbleweed Tiny House Company and author of the groundbreaking The Small House Book, about the tiny house phenomenon and small-space living in general.
What prompted you to build your first tiny house?

I designed and built my first house for myself. I wanted something that would meet my needs without presenting a lot of extra expense on the front end or in the long term as maintenance and in utility bills. It's been all that and less.
You actually live inside the small houses you build.  What do you love about this downsized life?

Far above all else, I really love the freedom my house affords. With no mortgage and nothing much to maintain, I now have time to do the things I love…which is mostly housing others similarly.
Your houses and your book are wildly popular.  Do you think this is because people are more conscious of their impact on their environment, because people are looking to get out of the financial burden that comes with owning a large home, or both?

I think you've hit it on the head. The recent perfect storm of environmental awareness, the housing crisis, and the economic slump in general seem to have people looking at smaller houses. The age of the McMansion is behind us…thank goodness.
Many people are making the move to smaller-space living.  What is your advice to help them with the transition to this new lifestyle?

The hardest step is the first one. Figuring out what you really need to be happy and getting rid of the rest isn't easy, but, once you've done that, it's all downhill. You soon realize how much of a hinderance to freedom and happiness all that junk was.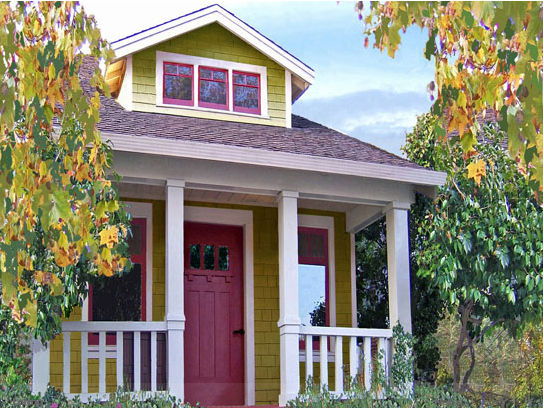 Families often feel trapped in their large homes, because having kids makes them feel like they need lots and lots of space.  What are some steps families can take to learn how to make due with less space and less "stuff"?

As a new father, I know what you mean. It certainly helps to consider outsourcing your domestic activities. Consider the world beyond your doorstep as your living room. Do you really need a pool if there's a public one down the street? And, speaking of public, how about that library…or even what's available online. We don't need to create an entire universe under one roof when the world beyond or homes is right outside.
Photos courtesy of Tumbleweed Tiny House Company.