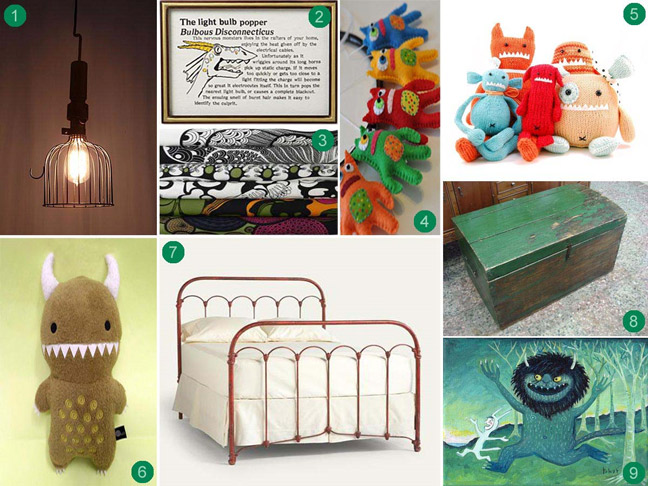 Monsters don't need to be scary, but can actually be a lot of fun when it comes to decorating a kids room or nursery. The best part is that a monster theme works for both boys and girls.
1.    Mechanics' Beacon Light from Anthropologie
2.    Household Monster from Anthropologie
3.    Saralisa fabric from Ikea
4.    hanging monster mobile from Etsy
5.    monster knitting patterns from Etsy
6.    Ricemon monster plush toy from Etsy
7.    Bethany Iron Bed for Sundance
8.    antique chest
9.    Where the Wild Things Are print
Monsters can be found everywhere these days, especially since Where the Wild Things Are made its resurrection. It's hard to resist these not so scary creatures, so why not use them as inspiration for a room! Stuffed monsters and art keep the room young and light among creepy vintage furniture and lighting. For vintage items, visit flea markets and keep your eyes on Craigslist.