We are right in the thick of what I like to call the "Pinterest Party" phase. Any party you throw must have over-the-top decor, outrageously delicious snacks, custom invitations, and a pony to take home as a favor when all is said and done. Right? Okay, so I may have exaggerated a bit but there is still the expectation that whatever party you throw for your child, there will be some over-the-top favors handed out at the end. But here's the thing: not all DIY birthday party favors for kids have to be complicated or worthy of a nod from Martha Stewart. My advice is to stick to your budget and try to channel your crafty side even if you don't have much of one.
Planning a get together for your mini and his (or her) friends? Create your own easy DIY birthday party favors for kids with these ideas. They all take a matter of minutes, and your child will be proud to hand these favors out!
Like what you see? Don't forget to PIn it!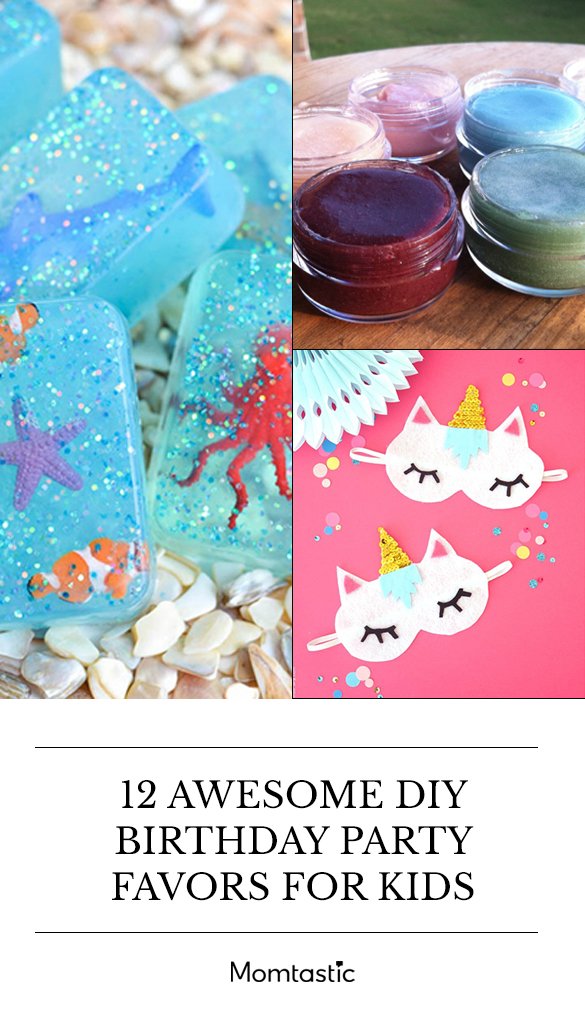 12 Awesome Kids Birthday Party Favors To Make At Home
Cotton Candy Cones  

Throwing a circus-themed birthday party? Don't forget the cotton candy! Rolled up into balls and served on ice cream cones, these look extra dreamy. See more here.

Photo: Crafty Morning

Wild Thing      

These simple animal favors work perfectly for a ton of different party themes. Safari? Check. Petting zoo? Check. Jungle? Yup. The list goes on! See more here.

Photo: Home Is What You Make It

DIY Ocean Toy Glitter Soap  

These toys in a soap favors are genius! Your kids can even help create them.  I'm thinking some ocean soap needs to be made even if there isn't an accompanying party! See more here.

Photo: A Pumpkin & A Princess

Crazy Sunglasses    

Give dollar store sunnies a fun makeover! Customize a bunch of sunglasses yourself, or let the kids decorate them at the party. Glitter foam is the main ingredient here so make sure you have plenty on hand! See more here.

Photo: By Wilma

Monogram Chalkboards    

Send kids home with their own personalized "chalkboard"! They'll feel extra special taking home their monogram slate and a set of chalk to color with. See more here.

Photo: Maison de Pax

Princess Putty    

What kid doesn't want to get their hands dirty? Send them home with a little bit of pastel putty. The pastel colors make this a bit dainty and perfect for those unicorn birthday parties. See more here.

Photo: The Gunny Sack

Kool Aid Lip Gloss    

Make some lip gloss with Kool Aid packets! It adds color AND flavor. Mix some fun berry flavors to make a bunch for both boys and girls. Personalize them with labels as a finishing touch. See more here.

Photo: I Save A to Z

Custom Capes      

Turn an old t-shirt into a super hero cape! Gather a bunch of old shirts from your closet or let the kids each bring their own. Either way, these DIY favors will save the day! See more here.

Photo: Apartment Therapy

Crafty Construction Bags

Put a bunch of plastic construction toys in a bag with some candy to "bulldoze" or "dig." Your little builder will get a kick out of these! See more here.

Photo: Fab Everyday

Monster Slime  

This is my daughter's personal fave! The added eyeballs will get a laugh out of your monster loving guests. Download free printable labels to put on the lids. See more here.

Photo: The Celebration Shoppe

Unicorn Sleeping Masks    

I'm currently in the throws of planning my daughter's unicorn-themed birthday bash and I'm bookmarking these fun sleeping masks. They double as masks to play around with for dress-up, too. Plus, no sewing is required! See more here.

Photo: Bird's Party

Elsa Wands  

For your little Elsa wannabe, these wands are a perfect take-home gift after your Frozen-themed party. You can customize the colors to fit any scheme by switching out the ribbons. See more here.

Photo: Being MVP