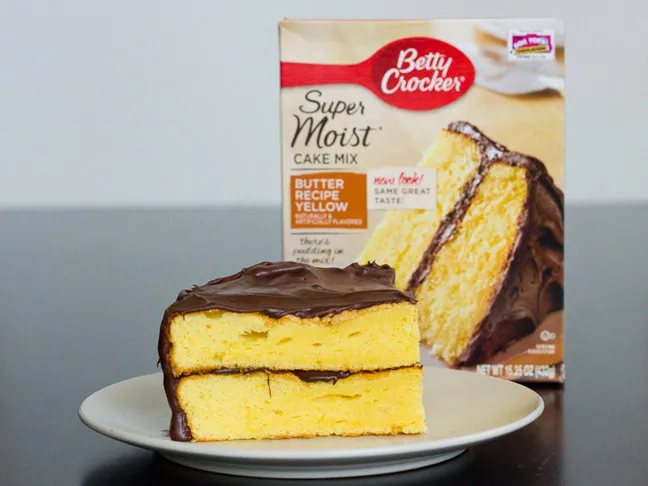 Here's the situation: Lately it feels like there's always some occasion to celebrate. My daughter's milestones, work birthdays, Junior League events…whatever it is, it calls for a sweet treat, and I rarely have time after work to go through the painstaking process of making cakes completely from scratch. But I just can't bring myself to go store-bought—it feels really generic, and I do really love making homemade treats.
I've figured out the perfect in-between solution for pretty much every occasion, though. I rotate through these 5 boxed cake mix makeovers to make homemade looking and tasting treats by just adding a few extra ingredients. I've experimented tons, and these five recipes have by far become my favorite:
Perfect Yellow Birthday Cake with Fluffy Chocolate Frosting
Cake
Ingredients:
1 package yellow cake mix
1 package instant vanilla pudding
1¼ cups of milk (preferably 2% or higher)
½ cup unsalted butter, melted
3 large eggs
½ tsp vanilla
2 9″ round cake pans
1 T sugar (to sprinkle on the top of the cakes)
Instructions:
Step 1: Preheat the oven to 350 degrees.
Step 2: Combine all ingredients, except the sugar, and use an electric mixer to beat the mixture for 2 minutes until smooth.
Step 3: Pour into 2 9″ oiled/floured cake rounds, sprinkle the sugar evenly over both cakes, and bake for 25-30 minutes.
Step 4: Allow to cool for 5 minutes, then remove the cake from the pan and cool on a wire rack for 15 more minutes. 
Frosting
Ingredients:
1 stick unsalted butter, room temperature
1 cup unsweetened cocoa powder
3 cups confectioner's sugar
⅓ cup milk
2 tsp vanilla extract
Instructions:
Step 1: Beat the butter and cocoa on low until incorporated, then add the remaining ingredients and beat for 2 minutes until fluffy. 
NEXT PAGE: Super Chocolate Sheet Cake with Chocolate Frosting