My husband and my brother wanted to attend my baby shower.  A few months later my husband and I were attending his coworkers baby shower, and a majority of the guests were men! It seems unheard of, yet for many of these men, it wasn't their first. Here is a list of do's and don'ts for a successful coed shower.
Invitation above from Tiny Prints
Don't decorate like the typical women's only shower. Since men and women will be attending, the decor should appeal to both. A modern shower set-up makes men and women feel welcome. Martha Stewart has a great example with how-tos.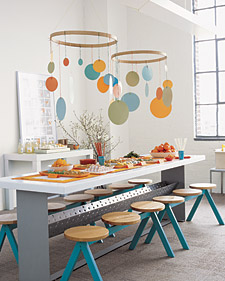 Do have a registry. At a females only shower it's good to have a registry. At a coed shower, a registry is essential. Men, having been to significantly less baby showers on average then women, might not know what type of gift to bring to a shower, so make it easy for them!
Don't leave out Dad-to-be if it is a couple's shower. Moms often get a few gifts at a shower so don't forget about Dad. Invite men to bring gag gifts for him. It will make time spent opening gifts more enjoyable all the way around.
Do have a variety of good beer. If the ladies are happy sipping on champagne and mimosas, the men should have a beverage they enjoy as well. If you stay away from the Coors Light and opt for a mixture of microbrews, the shower won't feel like a frat party. Of course, ladies may partake as well.
Don't play too many games. Some women reluctantly play them, and it would be fair to assume that even more men may feel uncomfortable playing "Pin the Baby on the Mommy," which could lead to a potentially embarrassing situation.  
Do have a game just for men. "Bottle Races" is a great game for men. About half way into the shower have all the men sit down around a table and give them each a beverage filled baby bottle topped with disposable slow flow nipples. The first man to finish his bottle (without using his hands) is the winner of a prize. This game is also very enjoyable for the women watching.