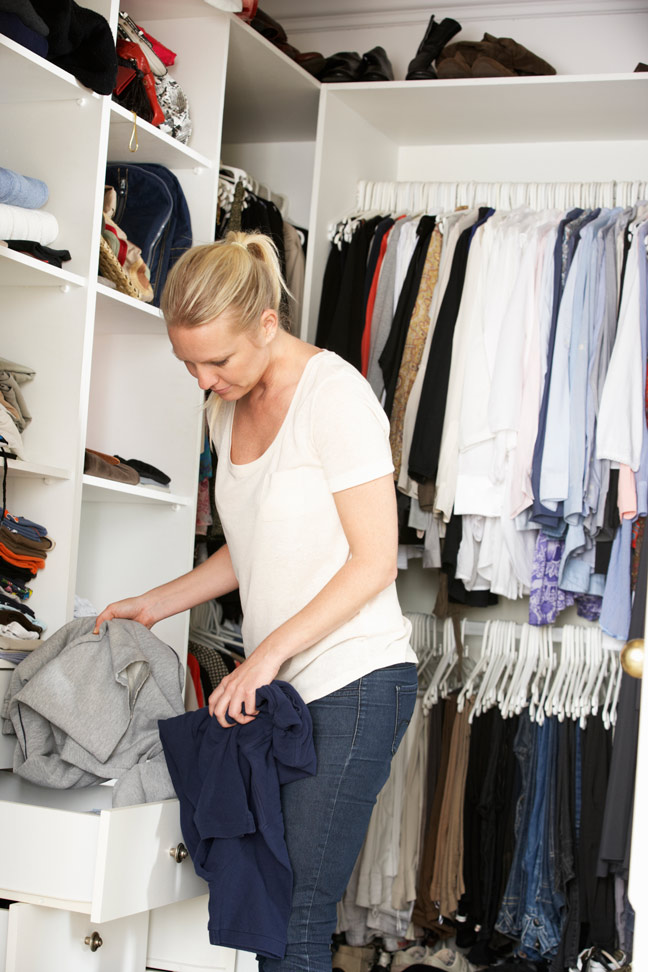 Got clutter? With kids, who doesn't? Okay, maybe that mom whose play dates you always dread because everything in her home is perfect and her kids are always clean and in smocked outfits…and she always has a craft project ready to go…well, she doesn't count.
But if you're like me and you tend to find Barbie dolls in the toilet or fridge, then read on. My friend Jenna Mahoney, author of Small Apartment Hacks: 101 Ingenious DIY Solutions for Living, Organizing, and Entertaining (Ulysses Press), is here to help. Here are my favorite 24 of her tips to declutter your home.
Create some zones. Don't have an official office or work space in your home? Delineate a nightstand or a corner of your living room as your tech zone. Mahoney says the key here is to stick to your zone. Everything in a given zone should pertain to that. Do your kids craft a lot? Give them a shelf in the closet for all their art supplies and tools. Don't let whatever is in the zone overflow elsewhere.
Do the "your side, my side," routine. Divide space in the bedroom, bathroom, and living room with your spouse or partner. For example, Mahoney says you can each have a basket that goes under your side of the bed. When you do a speed clean, all his stuff that's lying around cluttering up the place will go into his bin to be put away. You can use the same trick for kids who share a room too.
Make a landing strip. Jenna says, "I have a catchall spot by the front door for mail, keys, change, magazines, and receipts. Then once a week, I go through and edit. I get the bills paid, immediately. I shred and recycle stuff and read the magazines. It makes it easier to know where everything is and makes sure I don't have fields of paper all over the house." Jenna recommends doing the same thing in the bedroom. If, like me, you feel like you can't seem to pull it together and get stuff in the closet after taking it off every day, toss all the week's outfits on a chair. Then, at the end of the week, store the clothing properly.
Give your kids some boxes. Jenna says an old Moses basket or a fabric box works great for this. Have your kids place everything in the box before bed or dinner every day, just so the place is picked up. Then once every few days, store properly.
Do the "toss, store, keep" game. Admittedly, Jenna's approach here is pretty brutal and probably hard to do with your kids' coveted stuffed toys or all those little onesies they used to wear. But you should come up with your own version. Go room by room and ask yourself (or your kids) these questions: Does it have a function? How does it make me feel? When is the last time I used it? If you're feeling really gutsy, Jenna says, you can go so far as to ask if you'd save it in a fire! Then, decide whether you'll toss it or store it and keep it.
Stick to necessities when it comes to clothing and furniture. Jenna's book outlines the clothing essentials every woman needs to have (I'm talking to you, trench coat and dark washed jean!). She does the same with furniture. She says it's most important to think about furniture in terms of needing items for sitting, sleeping, and eating.
Hit the refrigerator and toss old food, and clean out the kitchen cupboards once a week. Ask yourself questions like, "Will I ever eat this?" "How long has it been here?"
Throw out old medicines and beauty products every so often. Jenna says you can make a date on your calendar to do this once a month. Check expiration dates and throw out any funky smelling makeup or lotion. Bonus: Use this time to clean out your gnarly hair brush too!
Digitize your office and bills. This is easy to do now that so many companies are going the paperless route. Take an afternoon and call your electric, cable, and phone companies. Ask them to email your bills instead of mailing them. Do this for any other companies you pay via paper bill.
Get bookish. Hit your bookshelves and sift through all of your books with these key questions: Do I love it? Will I read it again (or ever)? Can I find this info online? Donate old children's books to the school library or drop them off at your local Salvation Army.
Host a swap. It could be a clothing swap, a toy swap, a baby gear swap, or a kitchen swap. You can trade out lots of stuff you don't use anymore and be sure it will go to someone who will actually need it. Just be wary you don't take in more stuff than you swap out!
Get techy with your memories. Chances are you probably won't get around to making those photo albums you've been meaning to put together. Take the images and scan them, then save them to a USB drive or on a Google drive.
Start thinking vertically. Sick of seeing your stroller taking up space in the entryway? Want the kids to stop putting their backpacks on your kitchen floor? Hang hooks, shelves, and cabinets. Everything must go up!
Use your doors. Hang hooks, shelves, and more on the back of bathroom doors or inside your closets or cupboard doors. You will be amazed at the stuff you can get behind them. Here are some things I have hiding behind closed doors: toilet brush, sponges, my bathrobe, a shoe rack, and my kids' laundry bag.
Give your table and bed a skirt. Store any number of things undercover. No one will know it's there except for you!
Invest in closet organization. (Container Store, IKEA, and California Closets are just a few options.) If you don't want to pay big bucks for installation, you can find a reasonable contractor to help. IKEA and Container Store also provide easy-to-follow instructions if you want to attempt it all on your own.
Clear your counters, especially in your kitchen and bathroom! Try trading your monster coffee maker in for a French press. Put the giant bottle of mouthwash under the sink. If you keep pots and pans out on the stove top, put them away inside your oven.
Ring the ceiling. I love this idea from Jenna's book. Hang a bookshelf that rings around your living room just twenty inches from the ceiling. This makes the eye look up and gives the appearance of a larger space.
Create coffee table and end table storage. Measure and find baskets or bins that fit right under your coffee table and end tables. Store stray magazines, remotes, and other odds and ends beneath.
Caddy up the bathroom. Store shampoo and soap in pretty waterproof bins that you can keep in the tub or shower. Do the same with the kids' bath toys. Stick them in an easy-on-the-eyes basket and toss 'em in after bath time.
Invest in a storage ottoman. These little guys are genius. You can buy a reasonable priced ottoman with machine washable cover at IKEA. At my house, we have this one and it stores our extra blankets, TV remotes, and more. Bonus: It's under $100!
Get rid of that which does not serve you. Jenna admits, "I'm a bit of a pack rat, but in reality we don't need a bunch of stuff. It gathers debt and dust. So recycle, donate, or just pitch anything you don't use or need. It makes you feel so much lighter emotionally and you'll have less to clean!"
Make a date to organize. Wake up, put on coffee, blast your favorite music, and get going. In her book, Jenna suggests creating appointments and sticking with them. "Studies show that you are more likely to do anything—exercise, finish a to-do list—if you write it down. I say put it in your calendar and then make longer appointments once a month or every six weeks for a more major organization."
Finally, consider hiring a professional organizer. You would be surprised how reasonable some professional organizers can be. A little goes a long way too. By booking one initial consultation, you might find you can streamline clutter in no time. A fresh perspective is worth every penny.
image: Getty / Mark Bowden
More Organizing Tips: