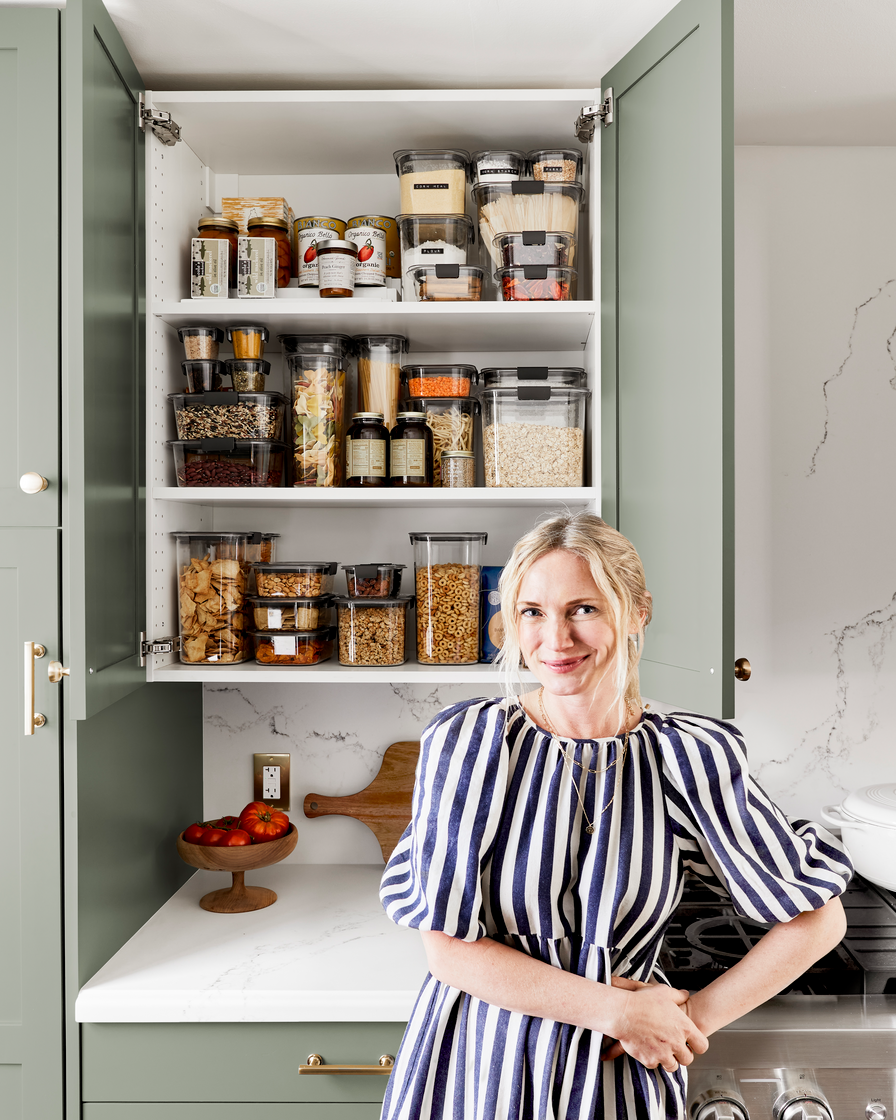 Pantry organization is not what many would consider an enjoyable activity, let alone a Zen one. Because as we all know, it's very easy for your storage space to become an out-of-sight, out-of-mind hiding place for barely-used bottles, half-empty containers and more unsightly clutter. But stylist and interior designer Emily Henderson – who recently joined up with Rubbermaid – is on a mission to show people how outer order at home can lead to inner calm, starting with the often-overlooked pantry.
"A perfectly organized pantry doesn't just make life more efficient—it also makes you feel better, knowing your space is in order and you have something beautiful to look at inside the kitchen," says Henderson. And she credits the Rubbermaid Brilliance Pantry stackable containers for making it easy to store and organize pantry essentials like rice, pasta and flour.
We caught up with the in-demand organizer to get her top tips for tidying and organizing any pantry, no matter its size, shape or quirks.
How important is labeling?
Emily: Labeling honestly makes me feel like my whole life is together, even when it's definitely not. But more importantly, it makes cooking and preparing meals so much easier. When we are moving fast, feeding our always hungry children, I don't have to second guess if I'm grabbing the right snack, flour, cereal, you name it. It's a simple (and I think fun) thing to do that looks great and will ultimately make life a little easier. Don't we all want that?
Is color sorting required to organize a pantry?
Emily: I think it depends on you and your family. We are not color sorting people but it totally makes sense that if you know what color an item is, you could potentially find it faster, especially for kids. I generally prefer organizing by function – you know, with most frequently used goods like coffee or cereal within arm's reach, less frequently used things like baking materials up higher, and kids' snacks stored at their height. That's why I love the clear containers from the Rubbermaid Brilliance Pantry collection. Maybe someday we will be organized enough to go by function and color! But honestly, it's all about preference and I can see how both techniques would appeal to busy families.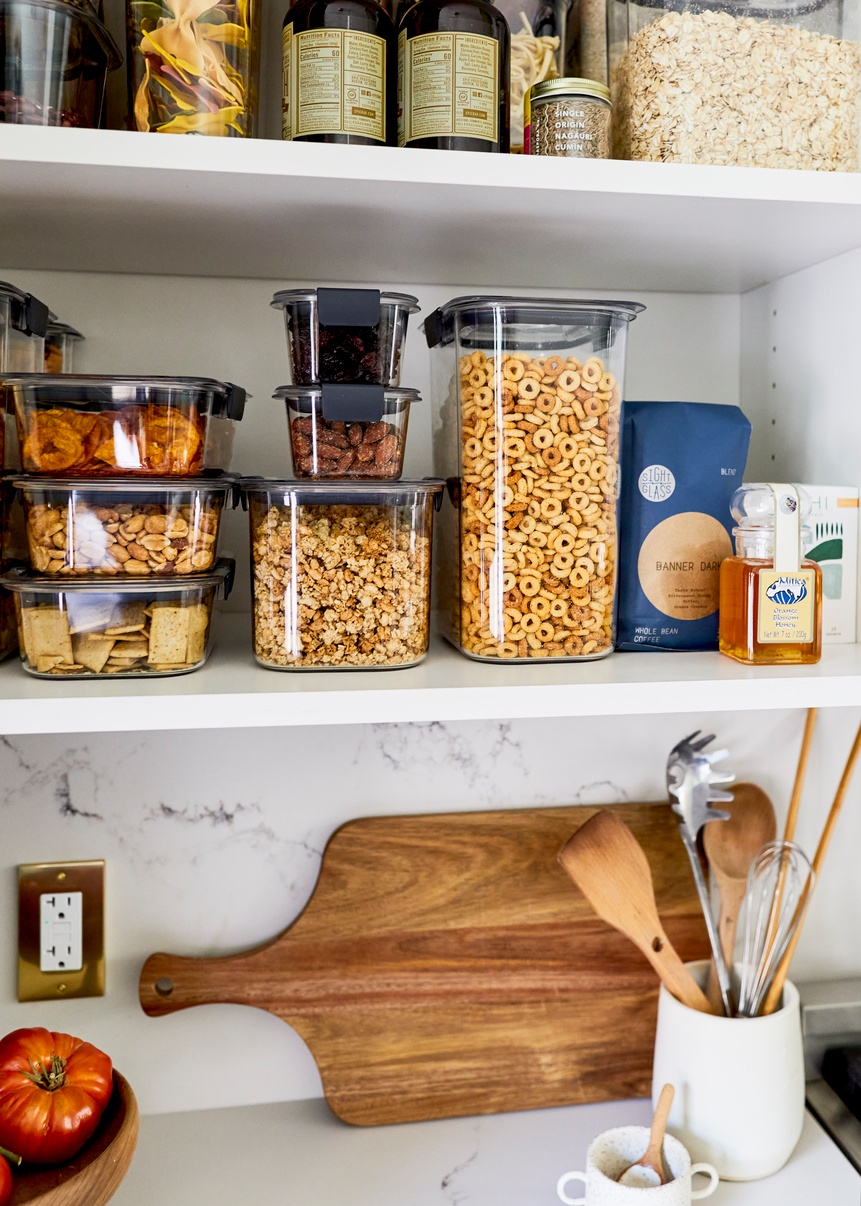 What are some things organizing rookies need to toss immediately while organizing a pantry?
Emily: Well, first things first: absolutely check all of those expiration dates. That might be seem 'duh, of course,' but you would be surprised at how many things can get tucked away in a pantry! Next up – and this feels a little luxurious – but I think if you're looking to start fresh, it's absolutely worth it to reline your pantry with some new shelf liners and toss the old ones. They will provide an easy-to-clean surface that'll inspire you to stay organized. And last but not least, replace your current packaging (and recycle what you can) in favor of decanting your pastas, cereals, spices, baking goods, etc. I really love the construction of the Rubbermaid Brilliance Pantry containers in particular for this task – the double-seal keeps things super fresh and the modular design makes them a dream to stack up so you can make the most of even the smallest cabinet spaces. In any case, a clean, a decluttered pantry will absolutely make you more efficient and productive in the kitchen – when you can see it, you'll use it… and it doesn't hurt that you'll feel very productive when you open up those doors and see a fresh, organized space.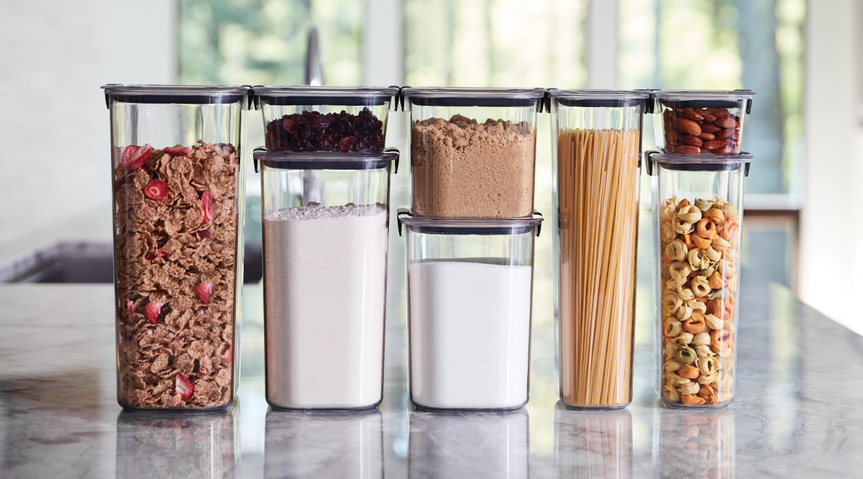 Other smart storage tips to achieve a beautifully organized pantry from Emily Henderson:
Buy in bulk: This saves on packaging waste and offers a better glimpse of what foods you have and how much – and prevents a last-minute run to the store for a missing ingredient mid-meal.
Decant: Decanting means moving pantry staples from their original packaging into a different container like Brilliance Pantry, usually a clear and labeled one. Being able to see what and how much is inside, knowing where containers are, and making them easy to grab not only looks good but also makes cooking, packing lunches and baking more efficient.
Create a hierarchy: Keep snacks like pretzels, cookies, and bars at a lower height, as it's easier to reach. Everyday cooking items like rice, pasta and dry beans should be placed a bit higher, followed by baking ingredients – and anything else used less often – up top. Whether the pantry is big or small, Brilliance Pantry containers come in a variety of sizes to store and organize any amount of food.
Adapt to your space: If you keep a system, it doesn't matter if you have a walk-in pantry or only a few shelves to work with. Choose containers like Brilliance Pantry that are modular and stackable to maximize vertical space, then designate sections for certain tasks.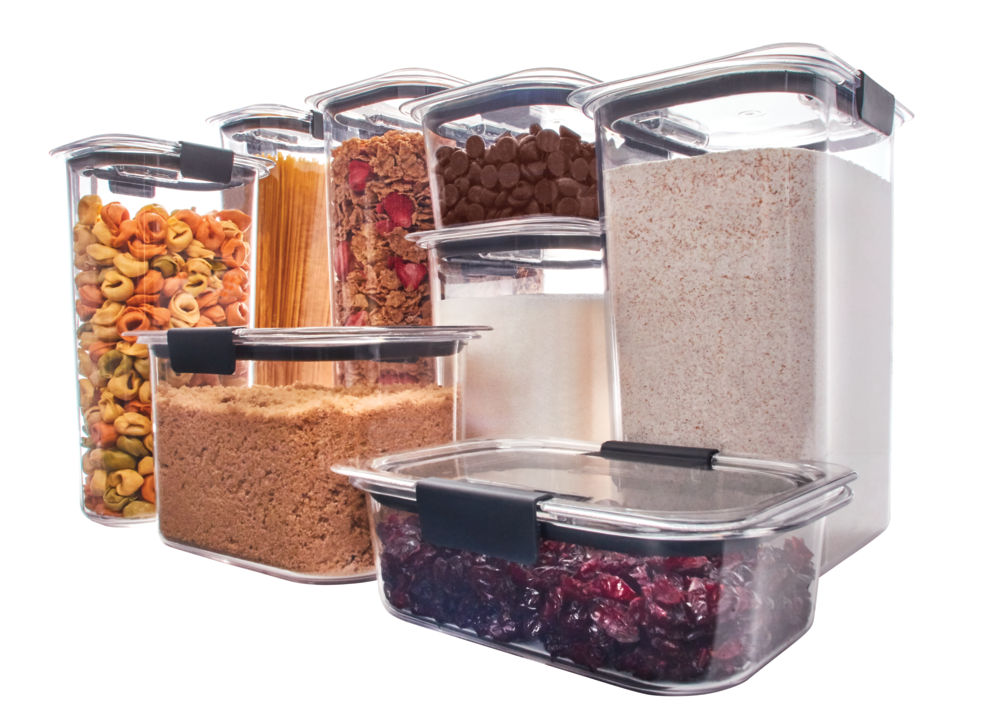 For more details on the product line, visit www.Rubbermaid.com and follow @em_henderson for additional tips to create a pantry you'll be excited to visit again and again.