Marie Kondo wants your kids to tidy up. The decluttering, folding and binning superstar is releasing a picture book for children called Kiki & Jax: The Life-Changing Magic of Friendship about how tidying up can spark joy in the lives of kids.
"It's a timeless story about friendship, and I hope that the characters of Kiki and Jax will inspire children and families to tidy and embrace joy," the organization guru and mother of two revealed on her social media. The charming book is illustrated and co-written by award-winning author Salina Yoon, and is recommended for kids ages 3-7.
It's the story of two best friends, Kiki & Jax, that each have a very different way to handle their possessions: one is a sorter and the other is collector. Conflict arises when objects begin to get in the way of their lives, and they need to find out how to make room for their joy-sparking friendship.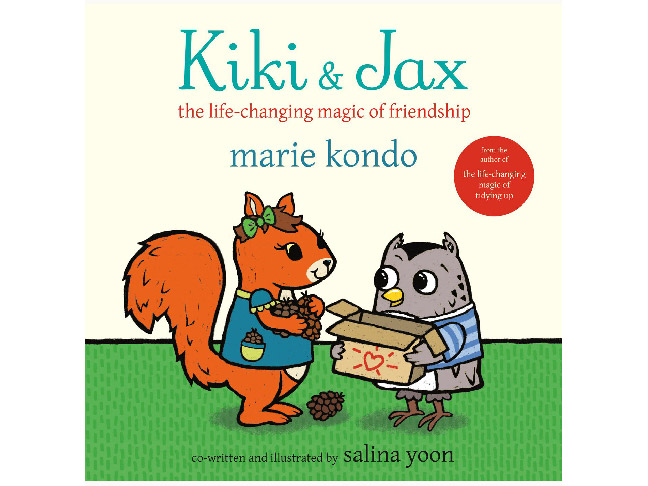 Kondo has written four books on the famous "KonMari Method," a technique she invented based on organizing one's belongings by getting rid of anything that doesn't spark joy. The amazing success of these books led to her own Netflix series, Tidying Up With Marie Kondo, in which the mother-of-two visits the homes of families that need help organizing and tidying their homes. As in – all of us.
I can tell this book is going to speak immediately to so many families out there. As parents, we try to manage the clutter and space, but also try to teach our children to respect and figure out what possessions they truly love and appreciate. I started incorporating some of Marie Kondo's lessons into my 9-year-old daughter's habits, especially during large clean-up sessions around the house. She's realized how easy her mornings can be when her clothes are folded so she can easily see them in her drawers, and how much she prefers maintaining a clean and organized room rather than dealing with lots of clutter. I think extending Marie Kondo's advice to kids by incorporating the value of friendship and relationships at a young age will be an incredibly important lesson for everyone to learn and revisit throughout life!
The book will debut on November 5th, 2019, but it is available for pre-sale now!
More Organizing Tips: