Whenever I'm invited to a summer potluck or offer to have friends over, my first thought is "What the heck am I going to make?" I want to wow my friends and guests, but I also want to put in minimal effort. Because laziness.
Enter the easy trifle recipe. Trifles make you look like a kitchen superstar but won't stress you out because most require no baking. They are like secret weapons that are especially handy during the summer season when you need easy desserts that can feed a crowd. No matter what ingredients you use, you don't have to worry about presentation, because they are all about layering (aka throwing together) delicious ingredients. No more building a cake and hoping it doesn't topple over when you go to ice it. With trifles, it's just about placement — and you can totally handle that.
Looking for an easy dessert to throw together for a crowd? Whether you're serving them in a centerpiece-worthy trifle dish or making individual parfaits in Mason jars, these 11 impressive trifle recipes are perfect on any table.
Like what you see? Don't forget to Pin it!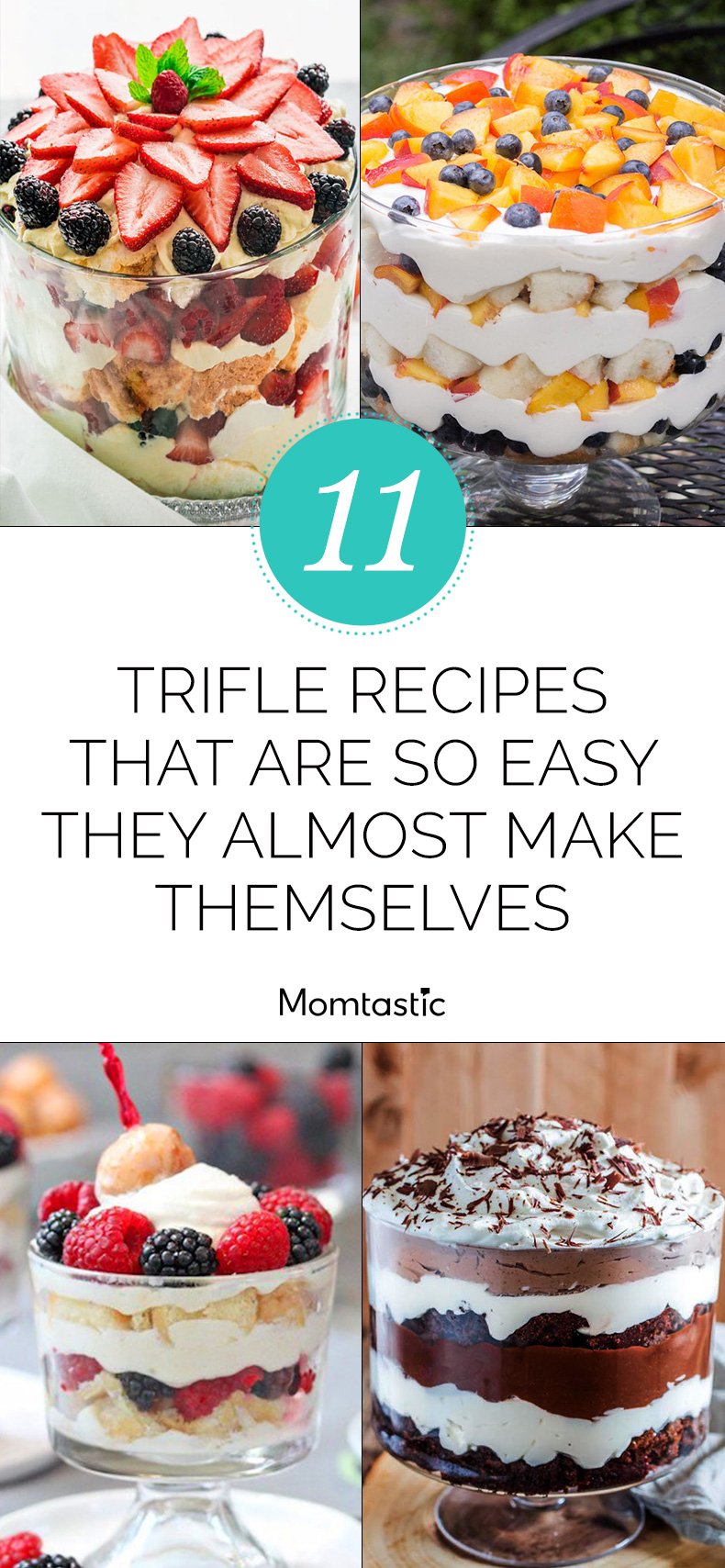 Trifle Recipes
Angel Berry Trifle

Summer is when berries are at peak season. so load up your trifle with the freshest of the bunch. This tantalizing trifle has a custard that consists of cream cheese, vanilla yogurt, sour cream, whipped cream and vanilla pudding. Repeat layers of custard, angel food cake and berries. Trust us, this dessert won't last long.

Get the recipe: Jo Cooks

Photo: Jo Cooks

Banana Split Trifle

Eating a banana split should be on every kid's bucket list. Give the traditional dessert a modern twist this summer by turning it into a trifle. Instead of ice cream, you can use vanilla pudding. Then layer in the classic ingredients: bananas (of course), pineapple, strawberries and cherries with of course whipped cream. Summer never tasted so good!

Get the recipe: Julie's Eats and Treats

Photo: Julie's Eats and Treats

Brownie Trifle

You'll want to be careful with this recipe because you may not be able to stop eating it after the first bite. Made with layers of chocolate fudge pudding, brownies and whipping cream, this trifle is going to be a crowd favorite.

Get the recipe:Olivia's Cuisine

Photo: Olivia's Cuisine

Key Lime Trifle

Nothing trasnmits an instant vacay vibe than the tart taste of key lime. This must-try recipe is made with a key lime filling that consists of sweetened condensed milk, key lime juice and whipping cream. The other ingredients include angel food cake and finely processed Biscoff cookies or graham crackers. It's sure to become a family fave.

Get the recipe: Holly's Cheat Day

Photo: Holly's Cheat Day

Carrot Cake Trifle

Who doesn't love sweet and moist carrot cake?  That's why this carrot cake trifle is so hard to resist. Bite size pieces of the cake are nestled in between layers of cream cheese frosting. Mmmm…pure heaven.

Get the recipe: A Step in the Journey

Photo: A Step in the Journey

Individual Doughnut Trifles

Don't have a large trifle bowl? Don't worry. Display your dessert in individual glass cups and get the same wow effect. We love that this particular trifle recipe features donut chunks rather than angel food cake bites.

Get the recipe: Sugar Hero 

Photo: Sugar Hero

Funfetti Trifle

Here's a fun twist on the funfetti birthday cake! Cut your funfetti cake into chunks, layer them in your trifle bowl with vanilla frosting, then simply coat the top layer of frosting with a variety of sprinkles.

Get the recipe: Simple and Seasonal

Photo: Simple and Seasonal

Lemon Blueberry Trifle

Fresh, juicy blueberries and bright, tart lemon pudding combined in a stunning dessert. Looks super impressive but it's incredibly easy to make. Can't beat that. 

Get the recipe: Amanda's Cookin'

Photo: Amanda's Cookin'

Peach Blueberry Trifle

Need the perfect, refreshing summer dessert? Check out this summer peach blueberry trifle recipe! It's colorful, quick and easy to put together. All you need to do is cut and layer fruit, cream, and cake! Easy peasy!

Get the recipe: Practically Functional

Photo: Practically Functional

Oreo Brownie Trifle

Start with brownies, then add a chocolate pudding mixture, then chopped Oreo cookies, and finally whipped topping. Repeat until you can't add any more goodness to the bowl!

Get the recipe: Simple and Seasonal 

Photo: Simple and Seasonal

Tiramisu Trifle

If you're a tiramisu fan, you're going to go gaga over this tiramisu trifle. This particular recipe has a lot of rich adult flavors like coffee, mascarpone cheese and liqueur like Marsala wine, coffee liqueur, dark rum or Irish cream. Hey, the kids can't have all the fun!

Get the recipe: Feast and West

Photo: Feast and West