Kids' luggage has gotten really cute. The best options are useful for parents, too. We do a lot of traveling with our little girls, from quick weekend road trips to cross-country flights, and I can tell you from experience that getting all those itty-bitty important items into one or two big, "family" suitcases is a legit nightmare.
Now that our older daughter is big enough to have her own seat and enjoys some light responsibility, letting her tote her own little suitcase is good for everyone. She even likes to help me sort and pack her clothes, stuffed animals, and toiletries for every trip. The whole process is, naturally, made more fun by super-cute luggage that she can take with her on board.
Looking to buy some luggage for kids? Let these top picks inspire you.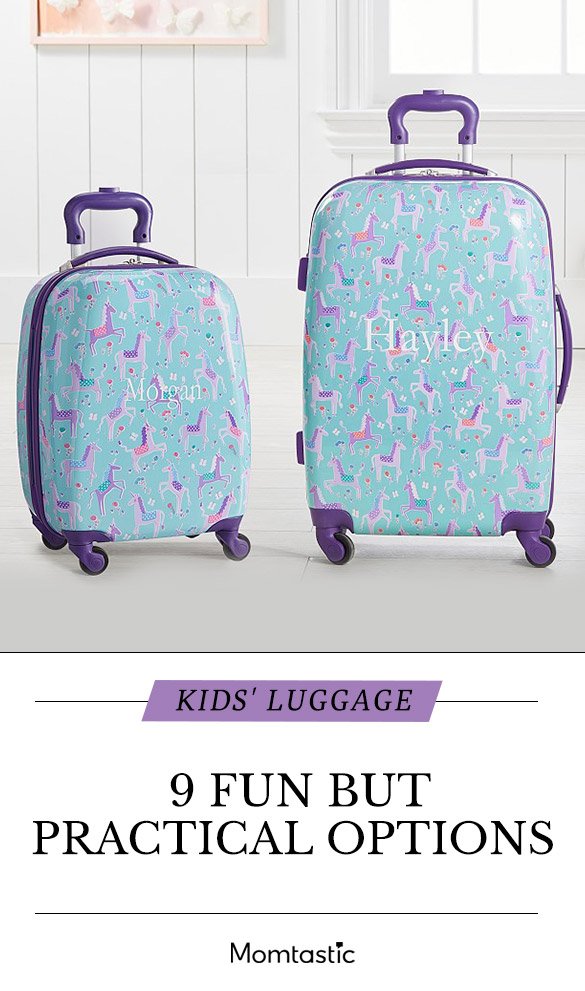 Cutest Kids Luggage
Pottery Barn Kids Fairfax Rainbow Stripe Spinner

This kids' luggage is colorful, customizable, and totally useful. Kids can pack a ton of stuff in this large rainblow wheely bag. Add a patch and/or a monogram to really personalize it.

More info

Photo: Pottery Barn

Travelers Club Kid Car Luggage

Your little travel buddy will be ready to roll with this awesome car-shaped roller bag, available in two eye-catching colors.

More info

Photo: JCPenney

Skip Hop Zoo Little Kid Rolling Luggage

This carry-on cutie is a great starter piece that your little one can use for toting essentials like small books, a toy, and some extra outfits. Plus, it features a front zip compartment for smaller items and side pouch for a water bottle.

More info 

Photo: Bed Bath & Beyond

American Tourister Star Wars Luggage

Your favorite pint-sized Star Wars fan is going to absolutely lose it over this bag, which is not only cute but structured of sturdy plastic and features four wheels for smooth rolling.

More info

Photo: Walmart



Heys Disney Frozen Hardshell Spinner

Try as we might, we just can't "let it go"... my daughter is completely Frozen obsessed, and I can't blame her! This Elsa wheeled suitcase is extra pretty though, eschewing the standard cartoonish renderings in a favor of a gorgeous capture from one of the movie's biggest scenes.

More info

Photo: Amazon

Cabin Max Bear Trolley Suitcase

Because we all know that favorite stuffy or doll cannot be left at home, why not let him ride in style with this adorable strap-on feature?

More info

Photo: Amazon

Travel Buddies: Etta the Elephant

You can't go wrong with any of the sweet characters from this collection of kids' suitcases, but something about this elephant just warms my heart.

More info 

Photo: Amazon

Pottery Barn Kids Mackenzie Hard-Sided Spinner

From tinies to 'tweens and everyone in between, personalized kids' luggage is always a good idea. Not only is it easy to spot on the baggage claim belt, but everything is better when your name is on it!

More info

Photo: Pottery Barn Kids

Trunki Luggage for Little People by Melissa & Doug

All I can say is, I'm pretty bummed these didn't exist when I was a kid. How cute is this ride-on suitcase by Melissa & Doug? Parents who have traveled with little ones can tell you that nothing is worse than the whines of a toddler who's over walking. With Trunki, they can just hop on for a ride! Brilliant.

More info 

Photo: Walmart