As soon as the weather cools I have a tendency towards hibernation. I pull the covers up, turn the television on and wait for summer and BBQ season to come back. It's like my entire social life revolves around the sun. Do you do this too?
Really, there is no reason I should be so anti-social in winter. There are plenty of great nights in to be had with family and friends, even if alfresco is off the menu. Think card nights, games nights and coffee by the backyard fire pit – winter encourages a cosiness that summer just can't match. It's the perfect time to grow even deeper bonds with your besties. Here are 21 ideas for cosy nights in with friends and family.
What's your favourite kind of night in?
Pin for later: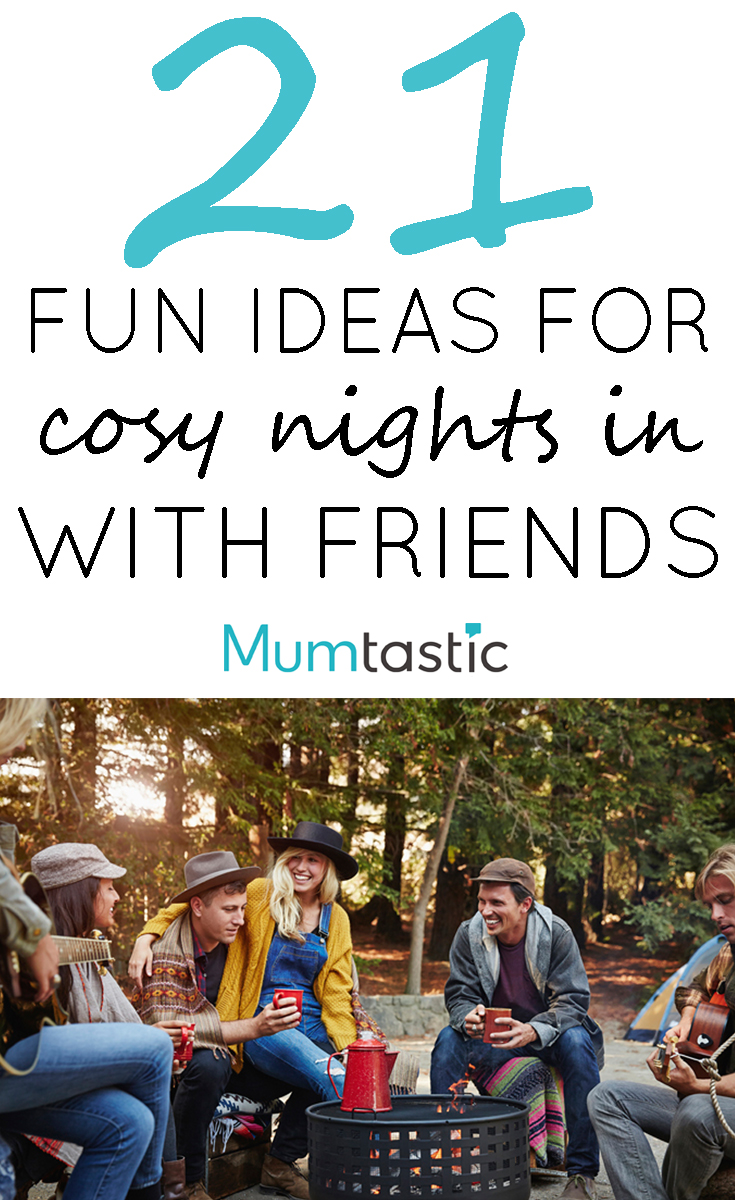 Try these other great ideas for winter fun:
Image: Getty
21 Ideas for Cosy Nights in with Friends - AU
1. Firepit Drinks

A fuss-free get together ensures you'll do it more often and it doesn't get easier than drinks around the firepit. Perfect for a Sunday afternoon - make up a big batch of hot chocolate for the kids and ask the growns to BYO. Light up the firepit and get ready to share and linger. You might order a pizza in for dinner later, or everyone might head home to do their own thing. Either way, this is winter happiness.

Image: Getty

2. Wine and Cheese

Your tastes and budget range can from goon and Coon to Dom Pérignon and Caciocavallo Podolico. Everyone has that one dear friend who is all over wine and cheese. Task them with putting together the cheese board and invite others to bring the extras.

Image: Chelsea Foy for Mumtastic

3. Games Night

Get the gang together for an old-fashioned night of fun and boardgames. Just don't invite the person that always ruins Pictionary. There is always one.

Some great games that teams or larger groups can play are:

Pictionary
Taboo
Scattegories
Cranium
Articulate

Image: Getty

4. Pot Luck Dinner

Everyone brings along a dish that fits within a loose theme. You could choose Mexican, Moroccan, Vietnamese, Italian, etc.  It's a great way to host without having to front all the expense and tidying up. Over a month or two you could taste the world with your friends.

Image: Getty

5. Clothes Swap

Closet over-full with things you never wear? Organise a clothes swap with your friends and expand your wardrobes without spending a cent. As everyone to bring a bottle of wine and a plate of nibbles and you're in for a great night.

Image: Getty

6. Card Night

Whether it's a poker, canasta, bridge or a variant thereof, card nights are always good fun. If you want to make it kid-friendly affair, why not actually play the Pokemon game that goes with the cards that are scattered all over the house.

Image: Getty

7. Dessert Decadence

What's lovelier than a dinner party? A dessert party. Start the party after dinner time and ask everyone to bring along their favourite dessert to share. It can be bought or baked - no judgement here. A few sticky wines might also be in order.

Image: Getty

8. 'How to Host a Murder' Dinner Party

We used to do these all the time when I was about twenty and liked to pretend sophistication. They are a heap of fun. You can buy How to Host a Murder kits from games stores, or you can download versions online. Everyone dresses in character, keeps in character and guesses whodunnit.

Image: Getty

9. Spa Night

Another one for your lady friends. Task each person to bring along the goods for a specific spa treatment and treat yourselves. Facials, make-overs, manis, pedis are all fair game. I would recommend giving ear-piercing, any kind of waxing and botox parties a wide berth.

Image: Getty

10. Movie Night

Pick a theme - cheesy 80s horror anyone? - and enjoy a few flicks together with your mates. If you can swing it, a movie for the kids in one room and one for the adults in another ensures the entertainment is on point. Popcorn is NOT optional.

Image: Getty

11. Karaoke Night

I'm sure someone in your circle of friends has a Wii and Sing Star. Steal it from the kids and set up a night of singing and laughter. 

Image: Getty

12. Cocktail Party

Every time I go through a duty free, I feel compelled to buy three litres of a random of spirit. I am seldom compelled to drink three litres of a random spirit. Ergo, the alcohol cupboard is looking fairly full of three litre bottles. I bet I'm not the only one. Get your mates together and ask them to bring a bottle of neglected duty free. Download some great cocktail recipes and have fun. You might want to make this one a sleep-over or at least have the taxi number at the ready.

Image: Getty

13. Kids' Concert

Remember doing this as a kid? You'd make up plays and dances with your cousins, siblings or friends and ask force the adults to watch? Kids still love it. Get the neighbourhood children or family over and host a kids' concert. Make them feel extra special by creating tickets and a program together. 

Image: Getty

14. Trivia Night

Beloved by pubs and fundraisers alike, a trivia night is always full of laughs. The host can play quiz master. Added bonus: you find out which of your friends to take into any trivia competition involving money.

Image: Getty

15. Progressive Dinner

A great night out to organise with neighbours. Everyone hosts one course at their house and then you all head off to the next venue. Works best if venues are within walking distances from each other.

Image: Getty

16. Christmas in July

I'm not sure why we are obsessed with idea of a cold winter in Australia. But we are. Christmas in July allows you to enjoy the festivities in daggy yuletide jumpers with a glass of mulled wine. Get everyone to bring along a inexpensive present and play a hilarious game of dirty santa. 

Image: Getty

17. Craft & Champagne Night

Get the girls together for an evening of bubbles and creativity. My lovely friend hosted one of these recently and showed us how to pour candles. Maybe get the goods done before you open the sixth or seventh bottle.

Image: Getty

18. Slide Night

I vaguely remember slide nights (I'm really not that old).  Someone would come home from a holiday and then bore everyone else senseless with hundreds of slides. Why not host a modern version? Download your and your friend's and family's photos and videos to a slide show. Play it through the television and take a trip down memory lane together. Kids in particular love seeing videos of themselves when younger.

Image: Getty

19. Books and Wine Club

Host a regular get together and discuss a great book over a great bottle. Extra points for those that actually finish the book, but it's not a prerequisite. If you think that a regular book club is an over-commitment, why not just get together with your bookish friends and set the conversation to all things literary.

Image: Getty

20. Skype Catch Up

 I think everyone has at least one darling friend or family member that lives overseas. Why not organise a catch-up over the interwebs? Settle in with your favourite snacks and have a proper conversation. 1980s style, but without the dodgy connection and your parents reminding you about international call rates. 

You know what, your friends don't even need to be away for a fun catch like this. Half the time I don't see friends that live around the corner from me enough - enter the Skype chat!

Image: Getty

21. Pasta Night

Everybody loves pasta, right? And it's a fantastic way to feed a crowd. You can make a few different pasta sauces and cook up some different types of pasta (try spaghetti, penne and spirals). Everyone then helps themselves to their preferred dish. Try one of these sauce dishes:

Image: Getty