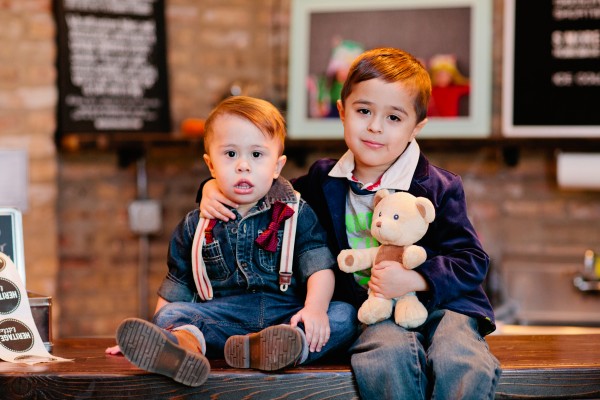 During both of my pregnancies, I became drawn to little boy clothing and accessories from the onset. Searching the aisles at GAP, Target, and Zara, I found it kind of strange that my eyes always wandered to the boy aisle, considering I'm very girly. In fact, when finding out the sex of my first (a boy), I only had little celebratory socks that read, "Daddy's Boy" and "Grandma's Guy." I didn't have anything for a girl. It's like my baby was speaking to me from the womb. "I'm a boy, mama…I'm a precious little boy."
Now with two little boys (ahem…models-in-training, as you can see below), I've learned a thing or two about styling and layering them in fashionable winter gear. 
Here's a fun styling and shopping guide for your little fella, with my two little lads as inspiration. Below is a quick list of my go-to places for finding the best winter clothes for boys, great deals, and ideas on how to dress your baby boy (and other little gents in your life).
Heritage Littles, an adorable milk & cookie bar and little tikes' bike shop in Chicago, served as the perfect backdrop and fashion inspiration for this most manly of photo shoots. I adore this unique and wholesome one-stop-shop, complete with bikes for nine months and up and vintage-inspired toys. Photography by Cassandra Eldridge.
THE SHOPPING GUIDE
First up…the babes: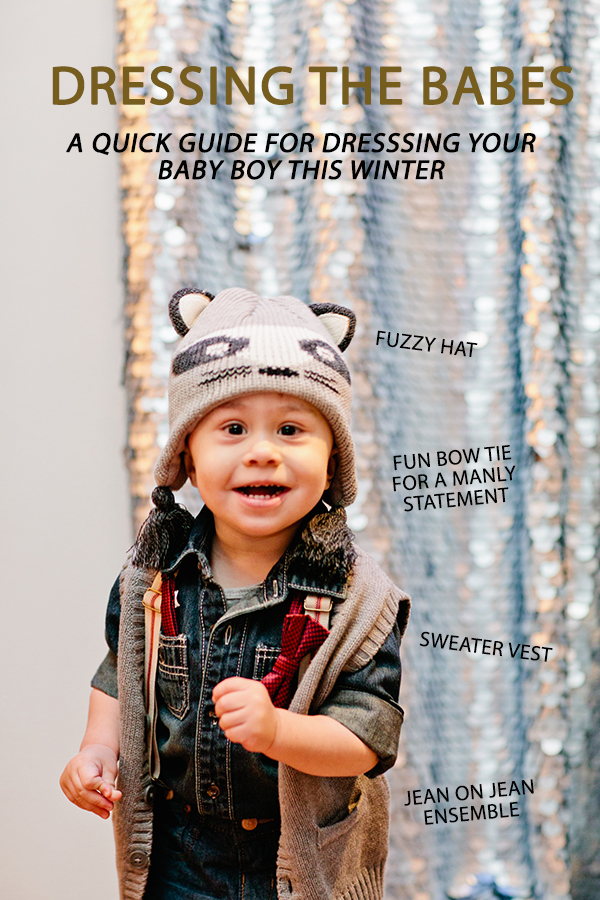 It's so much fun shopping for a baby boy or manly toddler these days. There are quite a number of fashionable accessories in the boy department now with vests, hats, and bow ties at the ready. These are a few of my favorites and where to find them…
Animal hat: I love a good animal hat, especially a foxy one. I got this sweet little number at Carter's (now sold out), but here's a super cute one from Gymboree (another good resource).
Sweater vest: Little boys certainly are barrels of energy and can get hot running around. Try a sweater vest for warmth and that certain cool factor. This little ditty is from Carter's.
Suspender pants: Suspenders on your little man will make you want to eat him up. This is a super stylish and affordable one from Zara.
Bow tie: Nothing says "little man" like a swanky bow tie. These come in different, affordable styles at Zara.
Jean on jean: Jean shirts are durable and layer-friendly, and go with everything. I adore this jean button down by Zara.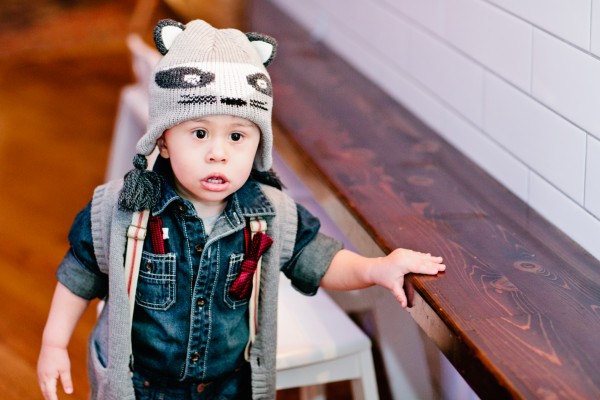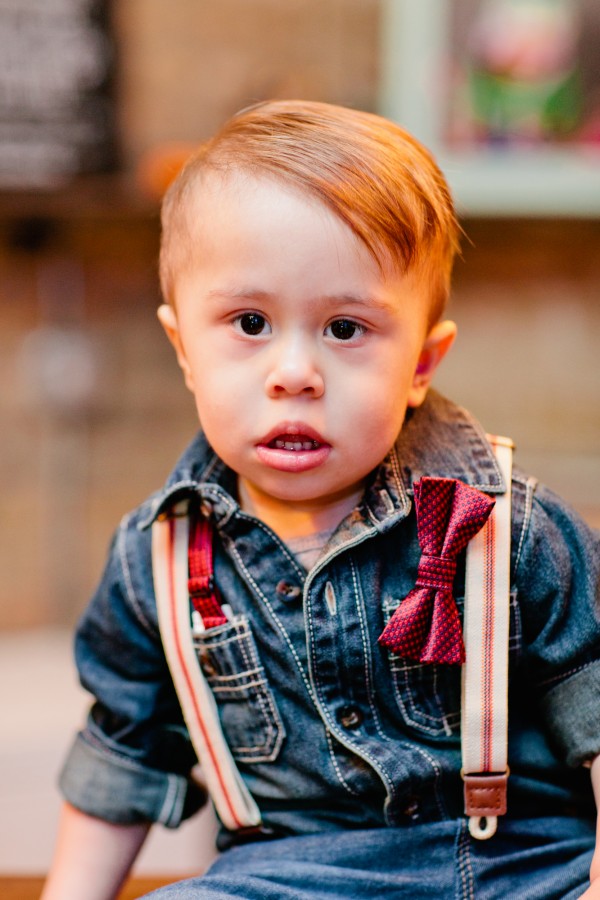 Next up, let's talk shoes: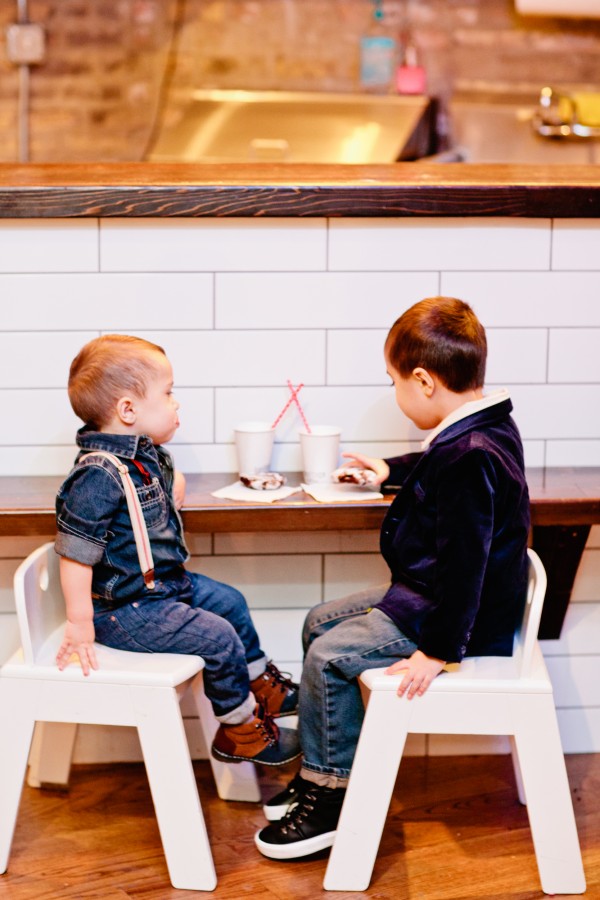 Shoes: I think it can be difficult to find shoes for my little men sometimes. Style and comfort are key, and they don't always go hand in hand. Both of these pairs are from Zara. I also like to scout shoes at Nordstrom and Finish Line (they have a great Nike selection with seasonal sales).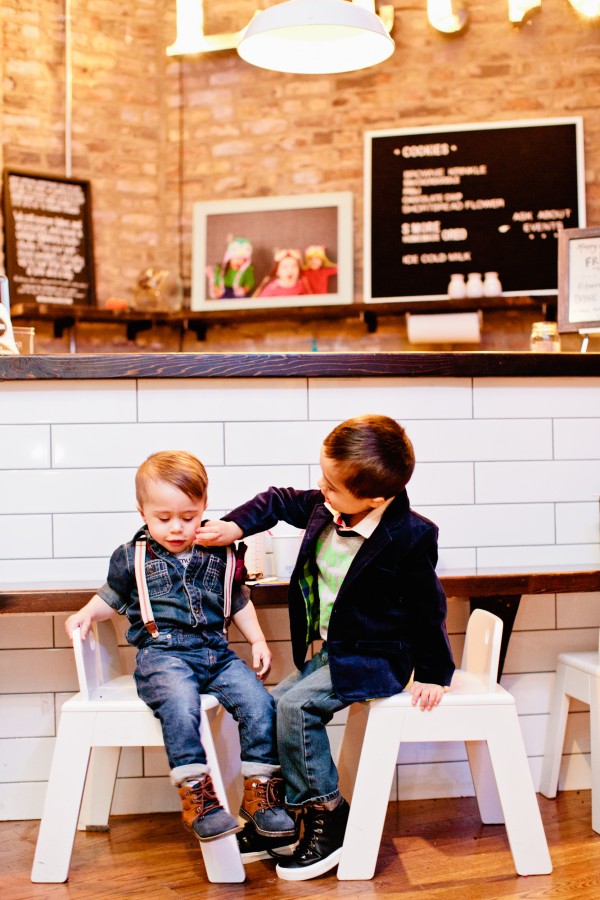 Brotherly love: "You got a little cookie on your cheek. Here, let me help you with that."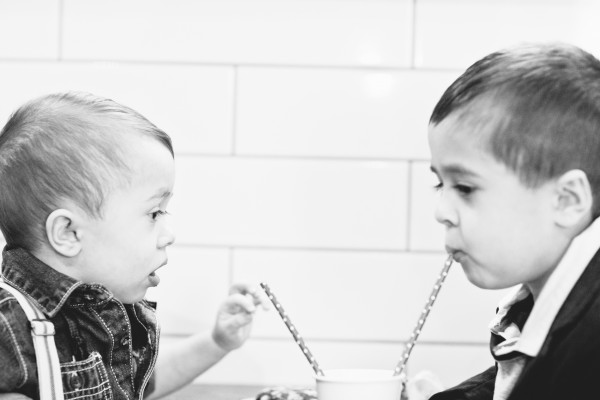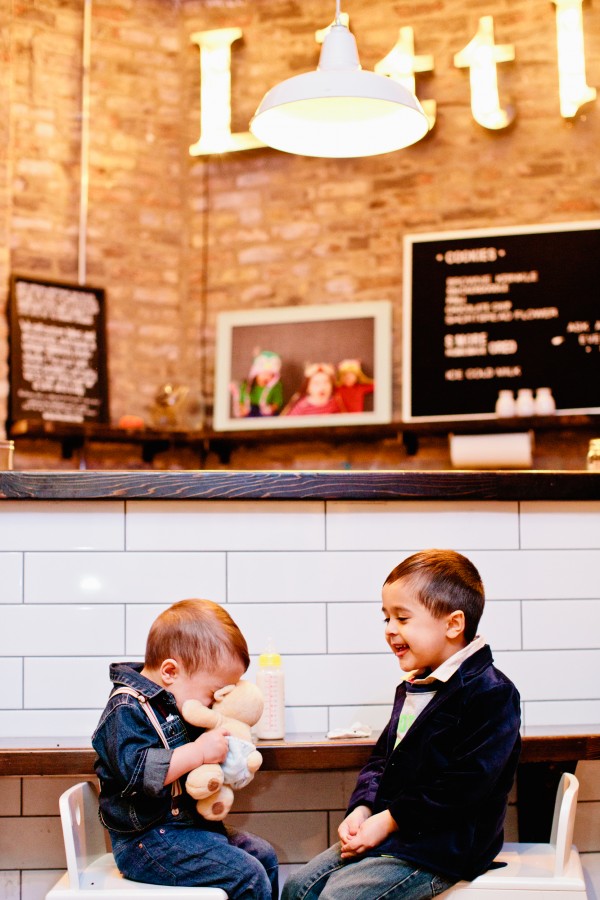 You complete me, little brother!
Dressing…the big guy: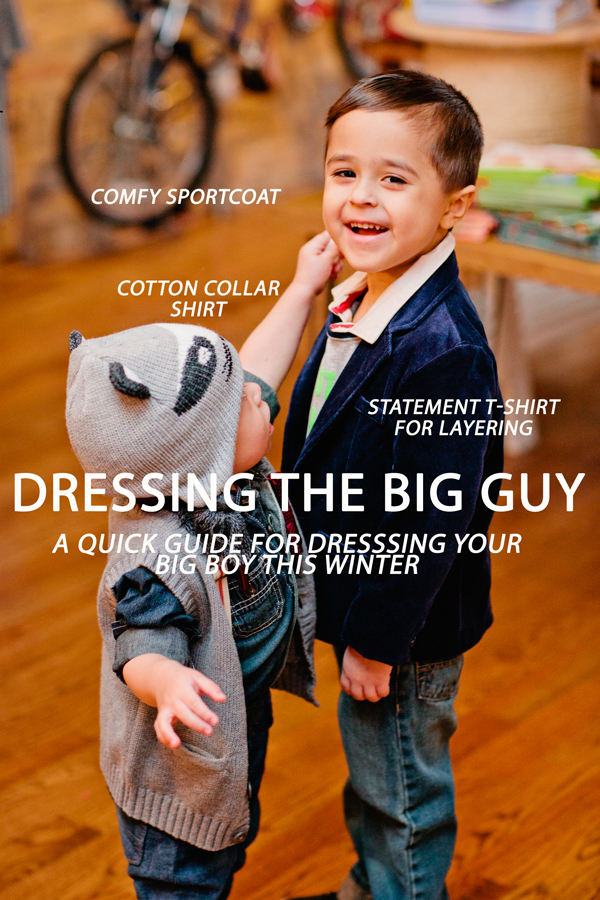 Sportcoat or sweater jacket: Sometimes a bulky sweater just won't do, and kids like the ease of removing layers themselves. An easy-to-move-in sportcoat is a fun option for a special occasion (like, let's say, a photo shoot), but sweater jackets and hoodies also work great. This was an older buy from Target that's lasted a couple of years as I purchased it a little big (which I recommend). Sweater coats can be found at Target, Gap, Nordstrom Rack, and a personal staple…Old Navy.
Collared shirt: Button-down collared shirts don't have to be stiff. I love soft cotton blends that feel like T-shirts, but are snuggly and have that special elegant appeal that can dress up any outfit. Perfect for school, brunch, or that special outing, these are standbys at my home. I love this one from Carter's.
Statement T-shirt: Statement tees are fun and easy to throw on…especially for layering in the fall and winter months. Layer short sleeved tees over long sleeved shirts, or under sweaters for extra warmth and comfort. I love this one from Carter's. It reads…
My brother is the best!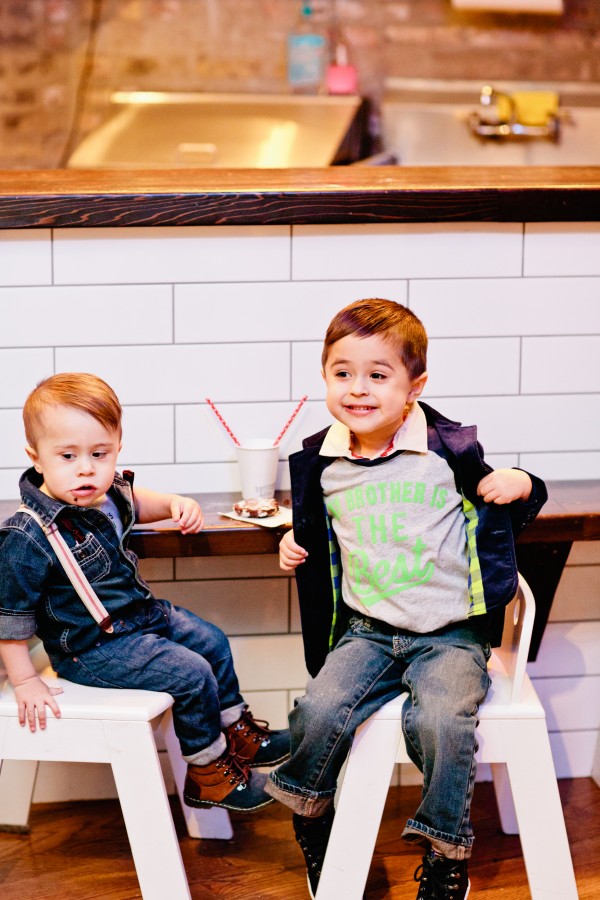 Vintage-inspired hats are always a good idea, too! I got this appliqué baseball cap at Carter's. I also like scoring cute hats at Old Navy.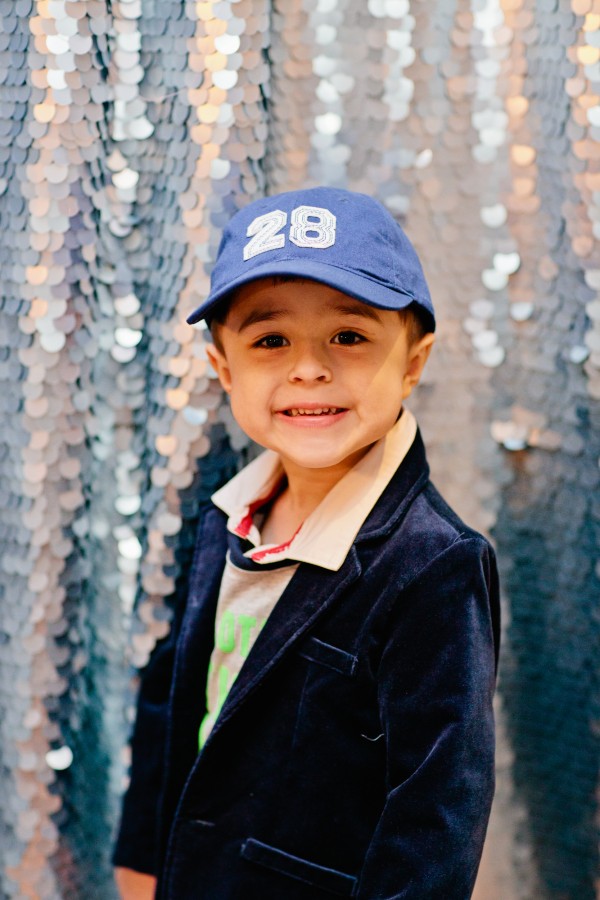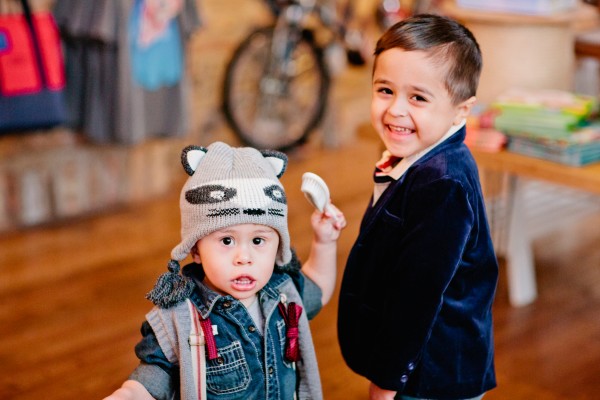 And lastly…let's zipper up: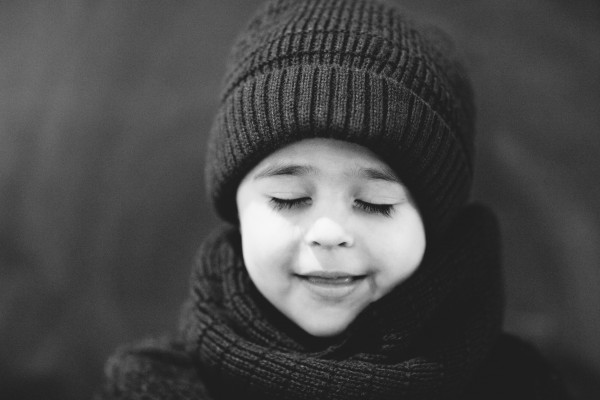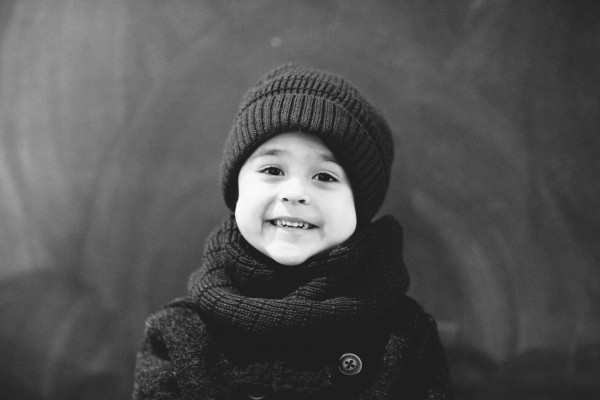 Winter coats: Winter coats can sometimes be a challenge. They have to be warm, easy to put on and take off, and ideally stylish. I love this combo score from Zara. The winter peacoat is both warm and quite the statement piece, and don't even get me started on the skull cap and infinity scarf. I got them both matching sets…twinsies! Taking advantage of the fact that they always want the same thing…ahh, one less thing to fight about.
Photographed by my talented friend, Cassandra Eldridge, who knows how to capture childhood storytelling and memorable moments
More Boys Fashion: