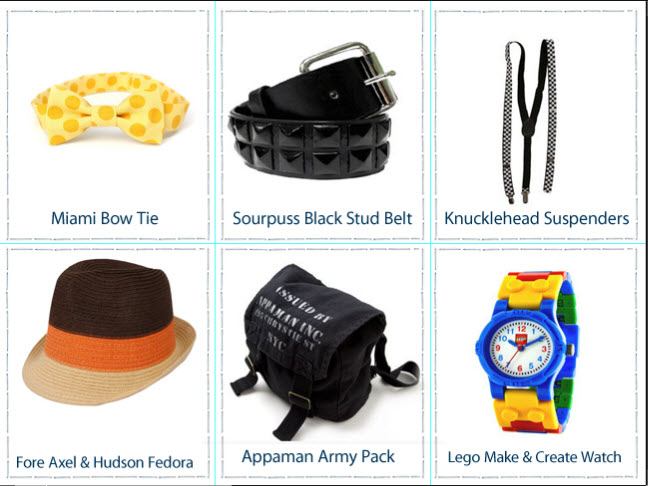 Little touches have great power to make or break an outfit. Cool hats, belts, watches, scarves, necklaces, bracelets and backpacks are integral elements of a cool boy's style.
Miami Bow Tie $23.00
Fun loving, vibrant spirit of Miami is reflected in this flamboyant tie. Perfect to spice up a summer shirt for a night out on town, or bring an element of hip surprise into dress -up outfit. The adjustable neck strap attaches with Velcro. (0-12 yr).
Sourpuss Black Stud Belt $11.99
This studded goodness is for seriously edgy, little hipsters. Don't mind the pacifier, I am rocking it too! Belt features two rows of studs on a vegan material. Belt also has a removable belt buckle. Infant and toddler sizes available.
Knuckleheads Halleujah Suspenders $11.99
Hallelujah! Finally the coolest suspenders to take the boys' style to the next level! Knuckleheads checker adjustable suspenders with clasps for easily gripping to your favorite bottoms.
Fore Axel & Hudson – 2 Tone Paper Braid Fedora $24.00
This extremely cool, paper braid fedora will become a staple of your little dandy's closet. The casual chic and smooth lines of this topper will accent any outfit perfectly.
Appaman Army Pack $33.00
This hip backpack will take on any adventure in style. School or sleepover, shopping or weekend at grandma's this bag is a must have!
LEGO Make-N-Create Watch $19.99
Bright and cheery, this watch is not just an accessory. It's a delight for LEGO aficionados who can it put it together and start enjoying its accuracy, reliability and water resisting abilities (165 feet). Perfect for sensitive skin, it's both nickel and PVC free, and comes complete with a non-allergenic polycarbonate case. For extra fun, it also includes a "Make-N-Create" fish model.