A super easy and inexpensive solution for updating last year's holiday outfit is to create a new updo and adorn it with any one of these gorgeous sparkling holiday hair accessories. Check out our glittering picks!
Sometimes all it takes is a little bit or rethinking to breathe new life into an outfit you already own.  I don't know about you, but I'm not super pumped on the idea of investing too much into buying special holiday outfits, since they tend to be some of the most limiting pieces of clothing I own.
So what better way to get some more mileage out of last years holiday outfit, than by using the old "distract and disarm" technique of creating a knockout new updo and calling attention to it with any one of these stunning hair accessories? Since messy buns and loose french twists are all the rage this year (here's a great tutorial for a loose romantic low bun via WonderHowTo; see the video above), using any one of these clips will be just perfect for freshening up the look of last year's holiday outfit.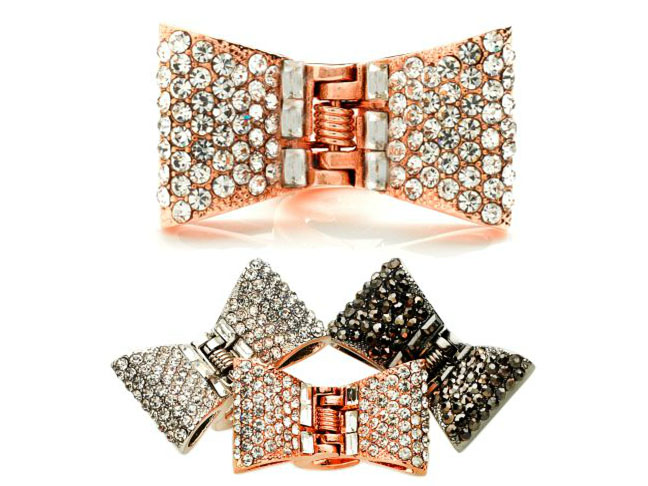 Broadway Bow Claw via henribendel.com
Rose gold has always been my favorite of all the gold tones, so when I came across this Broadway Bow Claw Clip, it really caught my eye.  It's approximately 1 inch in length, so it's small enough that you can easily wear more than one at a time and it's available in 3 different color tones. Plus, it's super well priced and they'll even give you a price break if you buy more than one.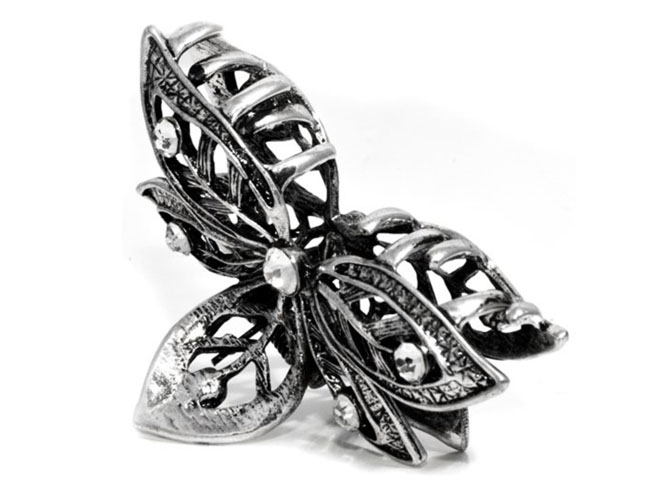 Rohodium Plated Flower clip via GladHair.com
If you want something with a more vintage look, this Rohodium Plated Flower clip has just the right amount of sparkling crystals to give your updo just the right amount of holiday elegance.

Crystal Encrusted Banana Clip via Amazon.com
If you're all thumbs when it comes to doing your own hair, you'll love how simple it is to use this Crystal Encrusted Banana Clip. It's 5 inches in length and 3/4 inch in width at the top, tapering down to 1/4 inch at the end. Simply squeeze the clip end to open and place it wherever you want to add sparkle to your hair. It doesn't get much easier than that!
How do you breathe life into last year's holiday outfits? Share with us in the comments below.