All of us moms know the biggest fashion challenge of pregnancy- dealing with the Baby Bump. This is especially tough if you have to dress up! Can you imagine if you had to work the red carpet, with all those photographers taking pictures that are going to be shown around the world, like celebrities do? Let's take a look at how they (and their stylists, of course) handle it.

Angelina Jolie was probably the most visible pregnant woman on the planet when she was pregnant with her twins, Vivienne and Knox. She had a couple of movies come out (Kung Fu Panda and Changeling), so there was no hiding for her as her pregnancy progressed.
Take a look at her in the main picture above with partner Brad Pitt. With this gown, Angelina seems to have adopted the philosophy of "Embrace it"- as in, embrace the curves and belly that come with pregnancy and flaunt them. From the pattern to the plunging neckline to the sweeping lines of the skirt, Angelina looks great.
Now take a look at Angelina below, which was taken about a month or two later. It looks like Angelina decided to minimize her baby bump with a dark color and long lines, skimming right over her midsection. There's no certainly no hiding her belly at this point, but she's not drawing attention to it, either. Very simple and elegant.
And then take a look at Angelina in another gown for the Changeling premiere in the picture below. This gown is just loose all over. Of course, she gave birth less than a month later. I think Angelina had reached the point where COMFORT was key. Who can blame her? Being pregnant with one baby gets physically uncomfortable by the end. Being pregnant with two? It was good of her to even appear on the red carpet!
Another way to hide (or embrace, depending on how you look at it) the baby bump is with patterns. Supermodel Claudia Schiffer used that strategy when she attended the Kick Ass premiere (which her husband, Matthew Vaughn) directed the film. (Brad Pitt was a producer, which is why he was on the red carpet with Claudia.) Take a look at Claudia below.
You may not even be able to see it, but Claudia was in the third trimester of her pregnancy with her daughter, Cosima Violet Vaughn Drummond, whom she gave birth to just last month. Prints really can camoflauge effectively, can't they?
Color is probably one of the most popular ways to hide/minimize the baby bump. A LOT of celebs go with black. Take a look at Amanda Peet, who delivered her second daughter Molly in the middle of the promotional tour for her new film, Please Give. Can you even see her belly? If you can, you have sharper eyes than me!
Tiffani Thiessen also chose to minimize with color, although the more fitted cut makes her baby bump more obvious.
Heidi Klum covered her growing belly while pregnant with her fourth child, Lou, with black and ruffles. It worked well- can you tell she's pregnant? I can't. Of course, it helps to be tall to carry this look off!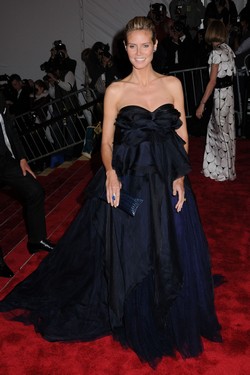 So, whether you use dark colors, patterns, or loose cuts to hide the baby bump or decide to embrace your curvier pregnancy figure, these celebs show us there's a way to look good even when pregnant. I know it helps to have a stylist (and a winner in the genetic lottery), but some of these ideas might help you if you're trying to look good when you have to dress up while pregnant.