Believe it or not, summer will be here before we know it, which means it's time to step up your hair removal M.O. And we all want to achieve the softest, silkiest, most stubble-free skin without going under the laser, don't we? That requires the best hair removal products that get the job done completely. Not so easy. Believe me, I have experimented with many hair removal methods and experienced varying results from them. Finding your favorite hair removal product can be a long and winding road of smelly lotions, painful home waxing, and complicated hand-held lasers, but once you find your solution, it makes it all worth it.
Ahead, seven of the latest and greatest hair removal products that will help you stay fuzz-free from head-to-toe all season long. Get ready to bare some seriously smooth skin.
Like what you see? Don't forget to Pin it!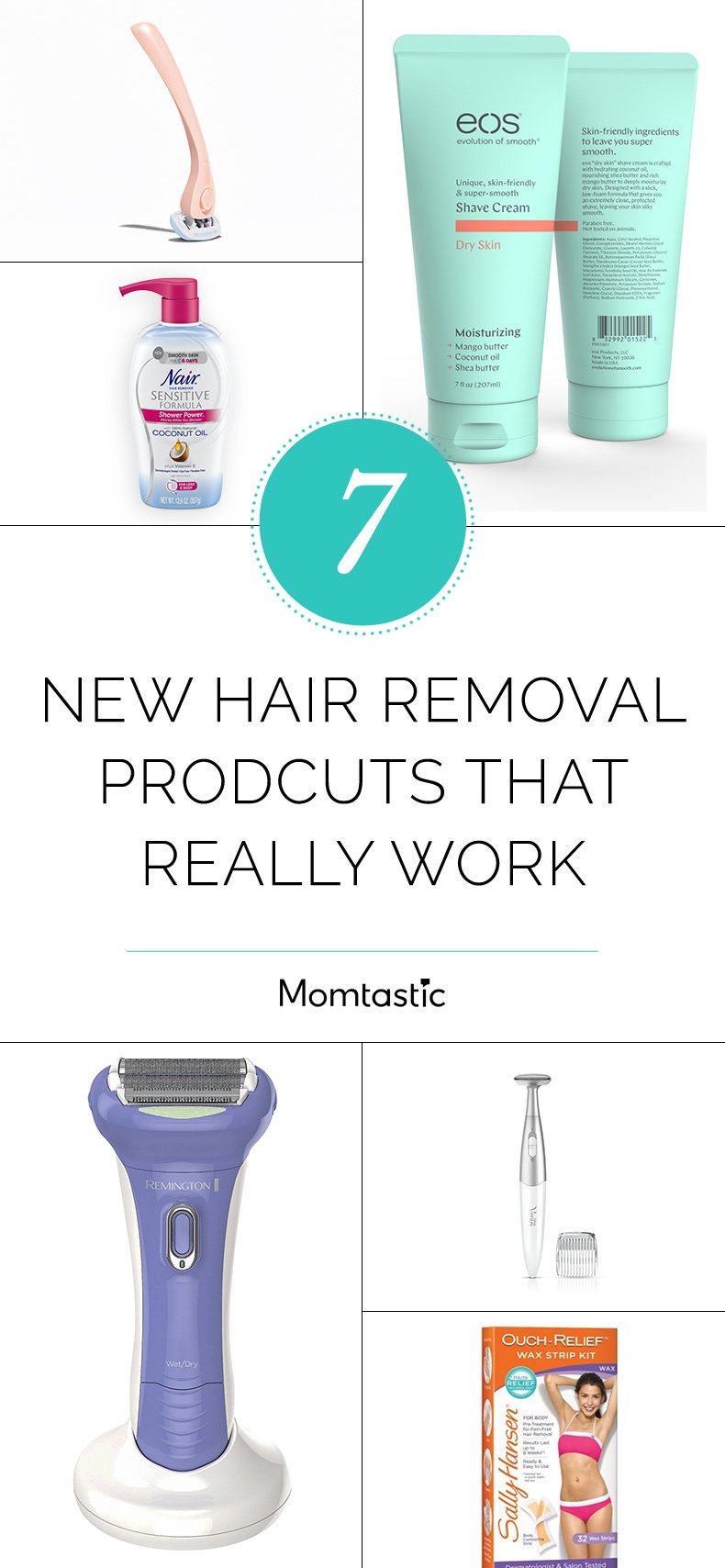 The Latest Hair Removal Products That Really Work
Billie Starter Kit

With a convenient—and extremely affordable—subscription model, this brand makes shaving easier than ever. The Bille Starter Kit ($9) comes with a handle (available in four cute colors, we should add), two razor cartridges, and a magnetic holder. Even better: The five-blade razor has curved edges and is wrapped in aloe soap, minimizing the risk of cuts and nicks, even on hard-to-shave spots.

Finishing Touch Flawless

Peach fuzz, be gone. The perfectly portable, battery-operated Finishing Touch Flawless ($20), has quickly earned a cult-like following. Credit its hypoallergenic, 18-karat gold-plated head, which spins to instantly and painlessly remove unwanted facial hair.

Nair Shower Power Sensitive Formula

This isn't your momma's Nair. Not only can you easily use Nair Shower Power Sensitive Formula ($9) right in—you guessed it—the shower, but it's also infused with soothing coconut oil and vitamin E. Free of dyes and parabens, it's a great pick for anyone prone to skin irritation. 

Remington Smooth Glide Rechargeable Shaver

For those who prefer to power up their shaving routine, the Remington Smooth Glide Rechargeable Shaver ($45) is choice. Four, hypoallergenic blades, plus a perfectly angled head, stay close to the skin for super smooth results. It's also cordless, rechargeable, and can be used in the shower with or without shaving cream. 

Sally Hansen Ouch-Relief Wax Strip Kit for Body

DIY waxing can be painful, not to mention messy. Happily, the Sally Hansen Ouch-Relief Wax Strip Kit for Body ($7) alleviates both issues. Pre-wax benzocaine wipes help minimize the ouch factor, while the pre-waxed strips can be warmed up in your hands, no microwave or goopy application required. 

Gillette Venus Bikini Precision

Stay swimsuit-ready with the brand new Gillette Venus Bikini Precision ($20). Tiny and easy to handle, the pen-like trimmer has a 90-degree angled head that lets you get around every contour, even in those sensitive spots.

eos Dry Skin Shave Cream

Even the scaliest of legs won't stand a chance against the eos Dry Skin Shave Cream ($4.49). There's no foam with this newbie, just a ton of moisturizing mango butter, shea butter, and coconut oil to leave skin soft, smooth, and hydrated for up to 24 hours. We're also big fans of the plastic bottle, which, unlike traditional metal cans, won't leave a rust ring in your shower.