Getting through crazy days of working, helping with homework, cooking dinner, and car pooling requires serious multitasking — as you well know. So the last thing you need is a complicated beauty routine, am I right? That's where beauty products that do double duty come in; they help you streamline your morning regime, so you can pull yourself together fast.
Ready to cut the clutter in your makeup bag and save time? I've done a ton of research to reveal the best double-duty taskmasters (in fact, most of these products perform triple duty), from an all-in-one body and hair mist to a blemish concealer/primer.

Love our round-up? Don't forget to pin it!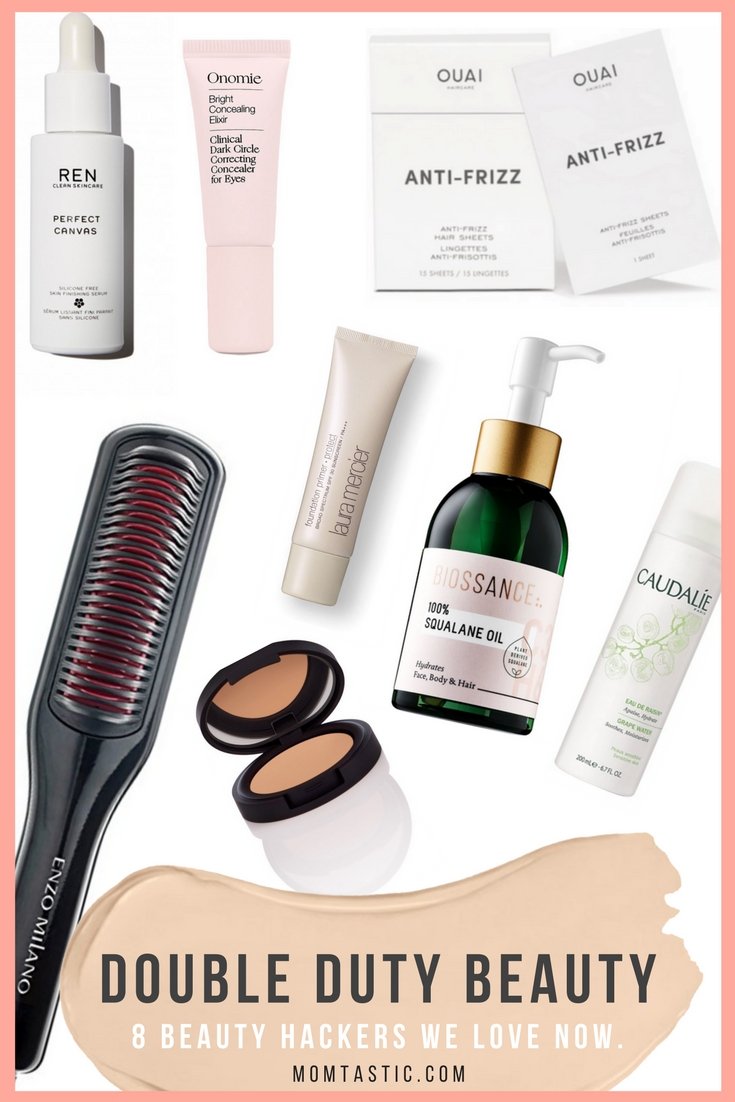 The Best Beauty Products That Do Double Duty
Caudalie Grape Water (Hydrate & Awaken)

Caudalie's Grape Water ($18) is a personal obsession! It provides an even, light mist (as opposed to heavy splotchy spritzing), making it ideal for soothing dry skin, redness, and abrasions anytime, anywhere -- without destroying your makeup.

Photo: Caudalie

Biossance 100% Squalane Oil (Hydrate & Eliminate Redness)

This weightless, oil-based multi-tasker ($49) instantly hydrates while locking in essential moisture and reducing redness. Use it to maintain all-day hydration and keep your entire body super soft. 

Photo: JCPenny

OUAI Anti-Frizz Sheets (Smooth & Remove Frizz)

Oual's Anti-Frizz Hair Sheets ($18) are a secret weapon for combatting hair static and flyaways on the go. They calm static-cling due to the elements, as well as de-puff a blowout and help hide dry ends. 

Photo: Ouai

Enzo Milano Pro SX Comb (Straighten & Curl)

The SX ENZOcool Scalp ($170) is a DIYers dream. Designed to be the most technologically advanced professional heating brush on the market, the SX allows you to style your hair perfectly straight -- or curly -- in a flash (and it's specially designed to prevent scalp burns). Love!

Photo: Amazon

Onomie Bright Concealing Elixir (Hide & Treat Under-Eye Circles)

Onomie's Bright Concealing Elixir ($25) both corrects under eye circles by concealing them and clinically reduces the appearance of dark circles over time. Genius!

Photo: Onomie

Camouflage Cream from Nu Evolution (Hydrate, Heal, Camouflage)

The Camouflage Cream by Nu Evolution ($32) is a pigment-packed concealer made with natural and organic skin-care ingredients, including castor seed oil, coconut oil, jojoba seed oil, cocoa seed butter, and shea butter. The formula is designed to multi-task by soothing, hydrating, and healing the skin, while covering discoloration and blemishes.

Photo: Nu Evolution

Laura Mercier Foundation Primer

Laura Mercier's Foundation Primer ($38) provides a protective priming makeup base with the added bonus of SPF 30. This lightweight primer hydrates skin and protects it from the elements, as well as smoothes flaws. 

Photo: Nordstrom.com

Ren Clean Skincare Perfect Canvas (Tighten, Treat, Prime)

Ren's Perfect Canvas ($55) is a lightweight, silicone-free primer with skin care benefits. Probiotics lift and tighten, while naturally derived fillers smooth lines and activate cell renewal, while the Agave extract primes skin for flawless makeup application. The end result is a glowing complexion, plump skin, and makeup that lasts all day. 

Photo: RenSkincare