Summer crafts for kids can be a total sanity-saver during those seemingly endless school-free days. Even if you've got a jam-packed schedule full of camps and pool parties, chances are—especially when it's raining or is unbearably hot outside—you'll still run into downtime and with it, those dreaded two words: "I'm bored." So to pass the time and keep your littles entertained, it's a good idea to have some fun summer crafts for kids up your sleeve.
Need inspiration? I've rounded up 30 summer crafts for kids that will keep their hands and minds busy, so you can sit back and enjoy the season too. Whether you want to be involved in helping create summer crafts with your kids or just provide the supplies and walk away while they create a unique project on their own, there's something for everyone on this list. (And by the way, you can also hand any of these off to your summer sitter.)
From toddler summer crafts to big-kid projects to activities that are even (dare we say it?) appealing to tweens, use one of these summer crafts for kids (or all of them—summer is long) to keep your kids occupied until school's back in session.
More Summer Crafts for Kids:
Like what you see? Don't forget to Pin it!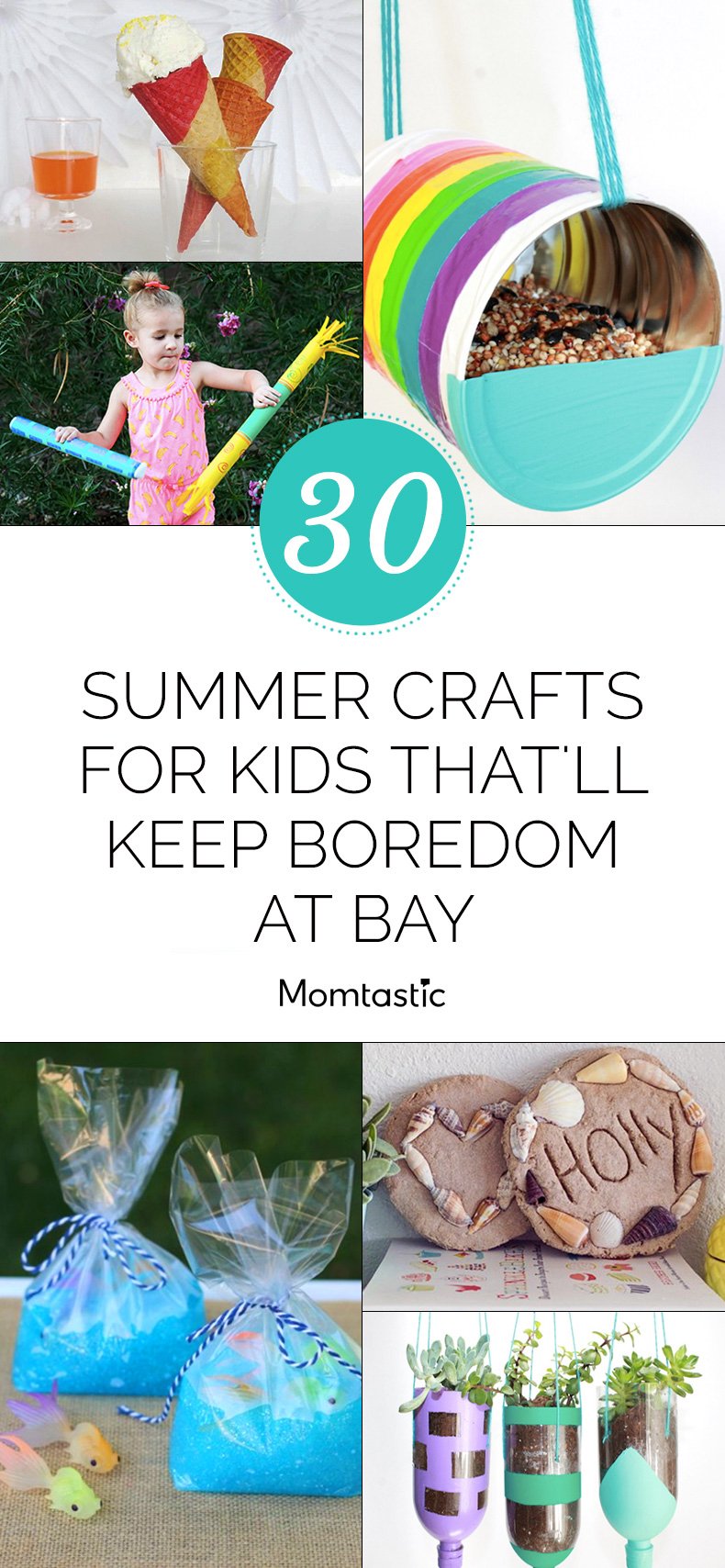 30 Summer Crafts for Kids
Balloon Dart Painting

When it comes to summer crafts for kids, nothing says "fun" like popping balloons filled with paint to create art.

Credit: Hello, Wonderful

Yarn and Feather Dream Catchers

Use yarn, beads, feathers, and other supplies to make unique dreamcatchers this summer that kids can hang in their rooms.

Credit: Art Bar Blog

Fish In a Bag Slime

Put a summer spin on slime, by dying it blue and adding fish.

Credit: My Frugal Adventures

Fruit Fans

Blow away the heat with a set of homemade fans decorated like pieces of fruit.

Credit: A Girl & a Glue Gun

Tensile Bubbles

Kids can create and play around with unique bubble structures this summer with this simple DIY made with straws.

Credit: Babble Dabble Do

Glow in the Dark Bowling

Make the most of summer nights with this glow-in-the-dark bowling activity you can make with recycled bottles.

Credit: Kix

Homemade Kaleidoscope

Mesmerize kids with a homemade kaleidoscope made with beads.

Credit: Darcy and Brian

Paper Kite

Use paper and simple embellishments to create a kite that kids will love seeing sail through the air.

Credit: Happiness is Homemade

Paper Plate Visors

Let kids decorate their own visors made from paper plates to help shield their faces from sun during outdoor play.

Credit: Handmade Charlotte 

Paper Plate Whales

Hang out in the air conditioning and let kids make cute whales out of paper plates.

Credit: In the Playroom

Pool Noodle Light Sabers

This summer craft for kids will hopefully keep them away from the dark side! Make light sabers out of pool noodles for a toy they'll love.

Credit: KidsActivities

Popsicle Stick Bracelets

Help kids make their own popsicle stick bracelets and decorate them for a simple fashion accessory.

Credit: Suzy's Sitcom

Popsicle Stick Wind Chime

Use popsicle sticks and beads to craft a simple wind chime.

Credit: How to...This and That

Felt Popsicles

Kids will love making their own felt popsicles decorated with glittter, pom-poms, and more.

Photo: Live.Craft.Love

Rainbow Blowers

These tissue paper rainbow blowers will be a bright spot in your kids' summer (literally and figuratively). 

Photo: Kids Craft Room

Ribbon Wands

Summer crafts for kids don't have to be difficult! Let them pick out ribbon and tie it to wooden dowels for colorful ribbon wands.

Credit: Somewhat Simple

Soap Boat Racing

Make soap boats and them race them in the nearest pool.

Credit: I Heart Naptime

Sponge Boats

Sponges keep these cute mini sailboats afloat.

Credit: Easy Peasy and Fun

Sponge Bombs

Instead of wasteful water balloons that you can't reuse, kids can make sponge bombs they can play with all day!

Credit: A Pumpkin & a Princess

Spray Chalk

The best painting projects rinse away easily! Make spray chalk paint for kids to draw with on the driveway or sidewalk.

Credit: Clever Pink Pirate

Plastic Bottle Sprinkler

Recycle a plastic bottle into a sprinkler for a quick summer craft that will keep kids busy and cool.

Credit: Housing a Forest

Squirt Gun Painting

What could kids possibly love more than using their squirt guns to create unique paintings?!

Credit: Fireflies + Mudpies

String Art

Simple string art projects can keep the kids busy for hours.

Credit: The Country Chic Cottage

Recycled Carton Birdhouses

Turn old cartons into adorable birdhouses. 

Credit: Craft Create Cook

Recycled Can Birdfeeder

Watching birds (and some squirrels) eat out of this recycled can feeder sure beats staring at a screen all day.

Credit: Momtastic

Hanging Planters

Your kids can learn to appreciate recycling, gardening AND art with this DIY hanging planter from used water bottles.

Credit: Momtastic

Jungle Rainstick

You probably already have all the supplies you need to make this musical rainstick.

Credit: Momtastic

Rainbow Ice Cream

What better way to combine dessert with a fun DIY than with color block ice cream cones?

Credit: Momtastic

Sand Clay Craft

Turn sand into clay with a simple recipe. Then create cute handprint molds or fun shapes or nameplates.

Credit: Momtastic

Snail Terrarium

Encourage your kid's love of dirt, bugs, and the outdoors with an easy DIY snail terrarium.

Credit: Momtastic