We are going through tons of antibacterial foaming hand soap in my house. As the winter rages on, so does flu season—also known as incessantly-washing-your-hands-until-they-are-brittle season. No matter where in the world you are, you're extremely susceptible to germs, and there's a good chance you will catch something before spring blooms. And that risk is much larger with children running around the house. I went on a mission to find a DIY foaming hand soap that won't dry out my hands, and I'm really happy with what I came up with. The soap is a blend of four essential oils that kill germs and prevent the spread of illness, but it also contains a little coconut oil so frequent washing doesn't make skin feel like sandpaper.
Bergamot oil serves a variety of purposes, including fighting certain infections and strands of bacteria. Eucalyptus oil is considered a germicide and is often used as an antiseptic to treat various wounds. Peppermint oil has antibacterial and antiviral properties, as well as a pleasant taste and scent, which is why you find it in many dental hygiene products. Finally, tea tree oil has been hailed as one of the most beneficial oils for treating infections and diseases.
Overall, the combination of all of these ingredients results in a homemade foaming soap that smells delightfully minty. I've been using it a lot, and I haven't gotten sick yet, Follow my step-by-step directions below to make your own DIY foaming hand soap.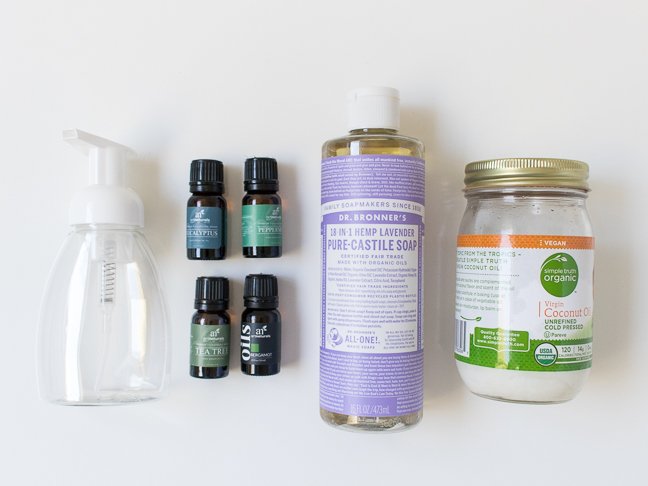 Supplies:
Water
2 tablespoons pure Castile soap
1 tablespoon coconut oil
5 drops each of tea tree oil, eucalyptus oil, peppermint oil, and bergamot oil
Foaming soap dispenser
Directions:
Step 1: Pour about a cup of water into a cup or bowl. You'll need enough to fill about three-quarters of your chosen soap dispenser.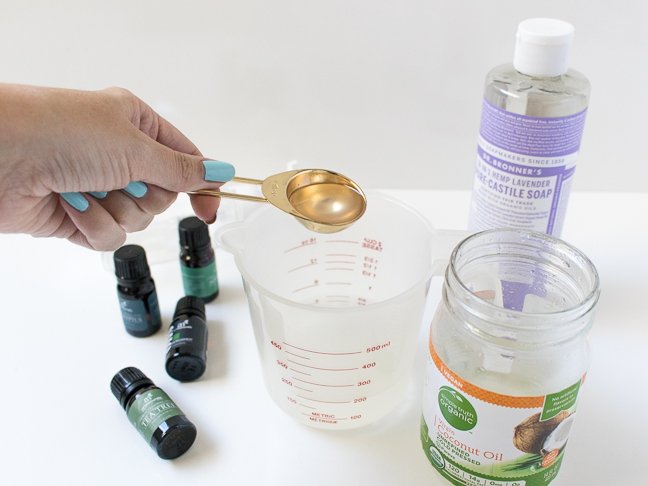 Step 2: Mix in the Castile soap and melted coconut oil.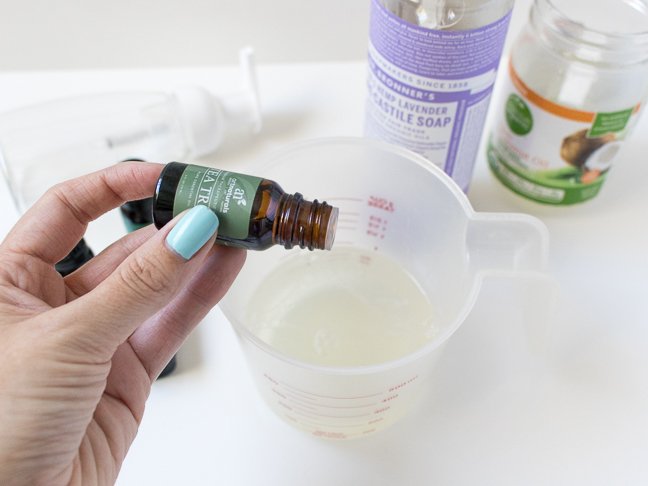 Step 3: Add the essential oils. Amounts may vary based on your sensitivity to the oils and the fragrance you desire.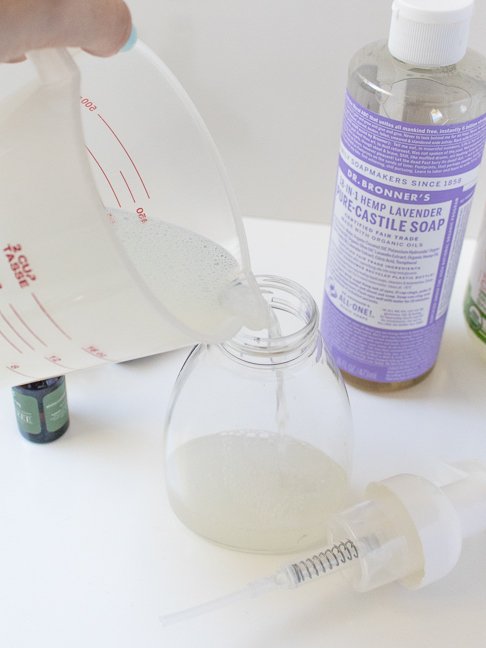 Step 4: Carefully pour the mixture into a foaming soap dispenser. Top off with a little more water if needed.