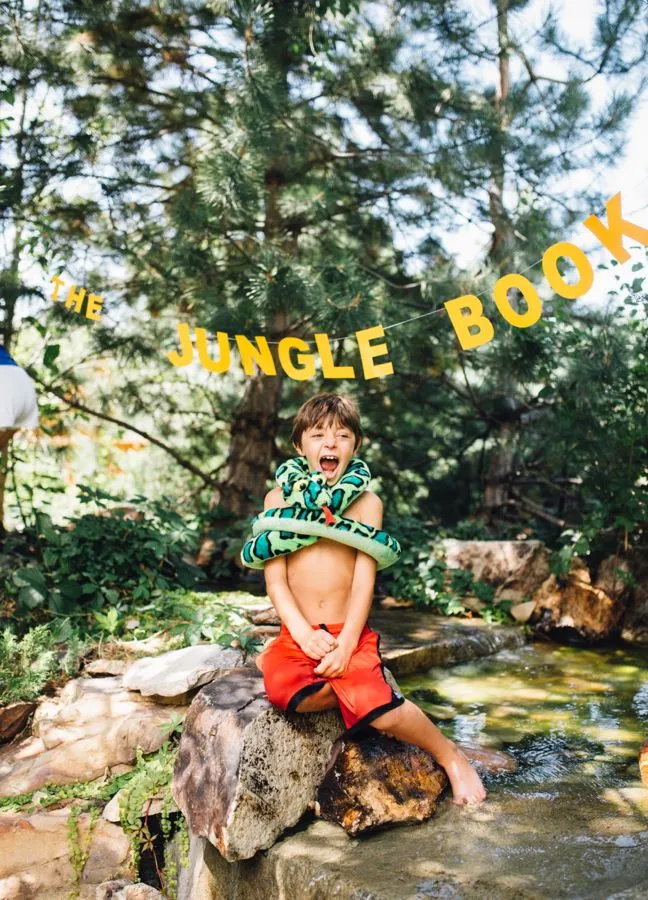 My kids happen to love The Jungle Book as much as they love playing outdoors. So, in celebration of the movie's release on Blu-ray on August 30 (it's also on Digital HD and Disney Movies Anywhere), I transformed my backyard into a jungle obstacle course that was both manageable to pull together and affordable (because I wanted to keep it fun for ALL of us)… and I had four little cubs run through it. They had so much fun! The Jungle Book is a favorite in our house, and the kids enjoyed reliving their favorite moments from it, including Mowgli's brave climb to get honey for Baloo, a gripping run-and-hide from King Louie, and a fire sprint to defeat Shere Khan.
Here's how we created our DIY jungle obstacle course.
Supplies: 
Cardboard boxes, 6 18″x18″
Wide wood plank and scrap wood
Spray paint: 3 cans black, 3 cans grey, and 3 cans white
Sharpie, oil-based marker
Nails and hammer
Fake green leaves, large and small
Foam Core Board, 1
Twisted poly rope, 1/2 inch and 50 feet long, The Home Depot
Sand box
Baby pool
Images (Dreamstime or personal photos)
Scissors
Yarn, various colors
Yard stakes, 11
Clear duct tape
Stuffed animals (snake and monkies)
Fireless torch
Twine
Tunnel (from a play tent)
Fruit (optional) 
Instructions: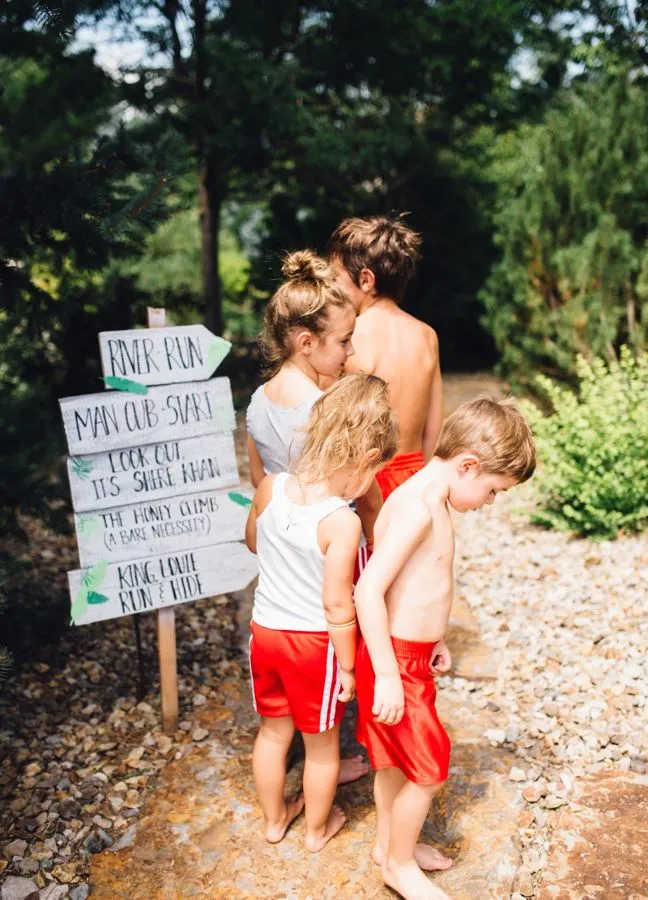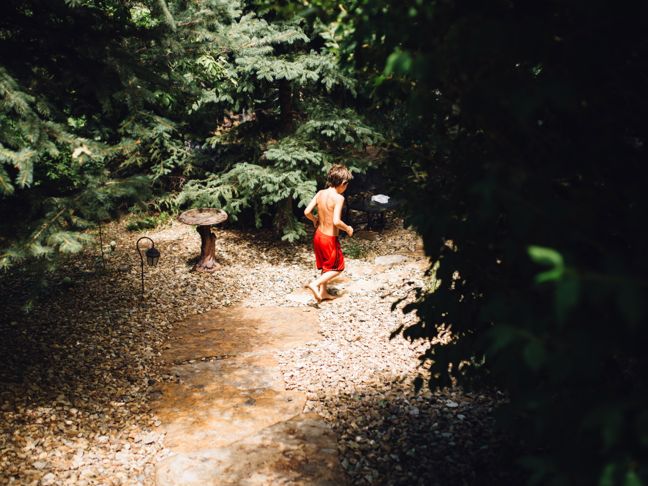 Step 1: Create cool signs to point the way through the course. To make the signs, nail scrap pieces of wood to a thin wood stake. Spray paint the wood white and then use a Sharpie oil-based marker to write the names of the obstacles (we thought about our favorite parts of the movie, as well as characters, for inspiration). For a jungle-feel, glue small leaves onto the wood.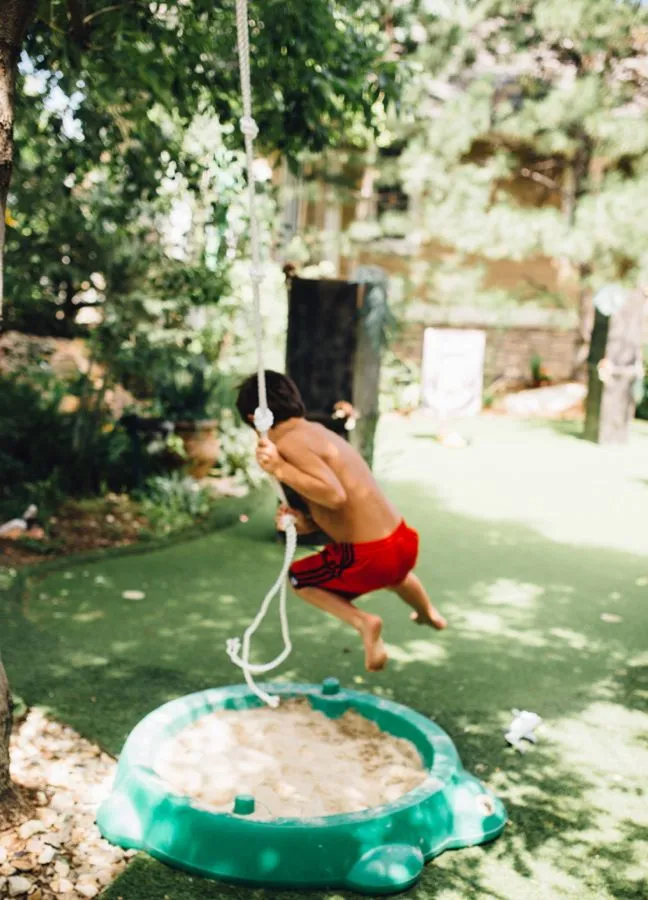 Step 2: Set up the first obstacle; ours was a quick swing across the sand box from a hanging tree rope. To make the rope, cut the approximate size needed for it to swing from the tree to the ground. Next, loop the twisted poly rope around a large tree branch, and make knots along the way up, so it's easier for the kids to climb.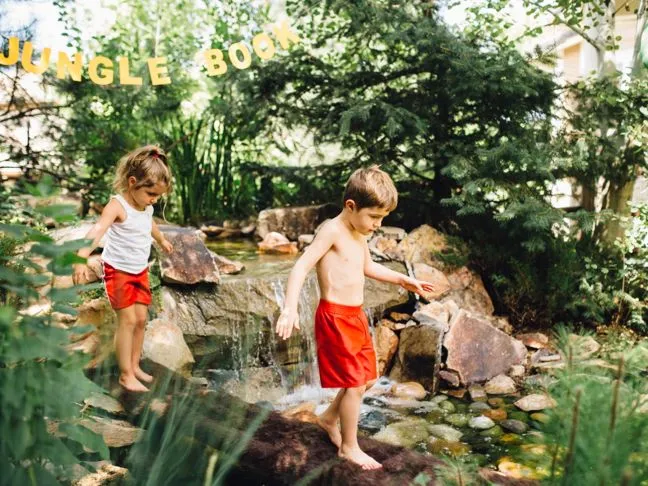 Step 3: Set up wood plank so your cubs can walk across a "river," just like Mowgli. In our course, the kids walked along a wide, wood plank over our backyard pond. The board got a little wet, so I added a blanket on top of it to keep it from getting slippery. If you don't have a pond, set up a baby pool in between cinder blocks, and lay a plank across it.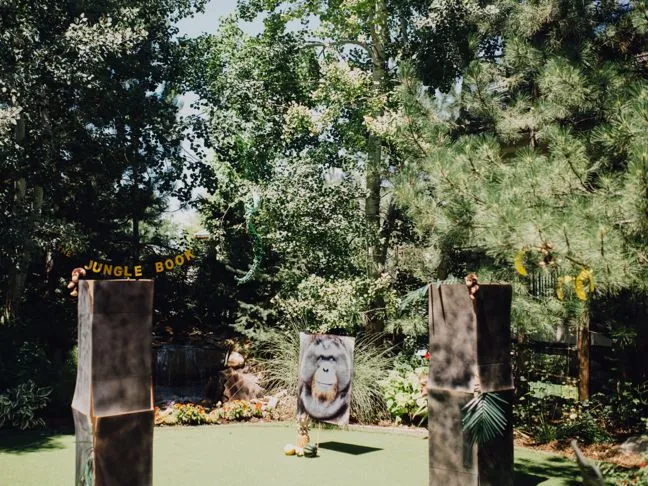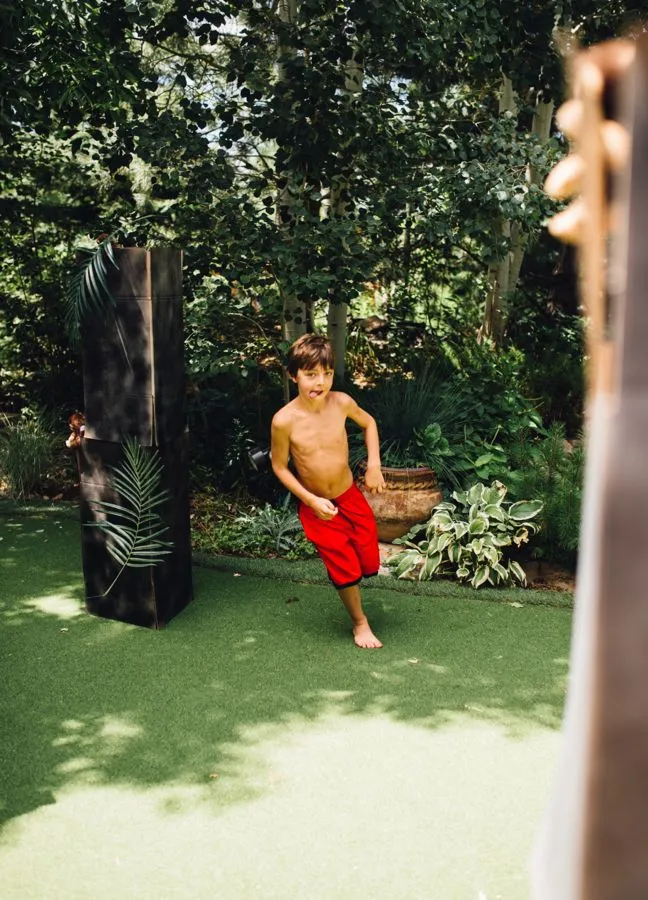 Step 4: Create temple pillars. A thrilling part of the movie for my kids was when Mowgli met (and ran from) King Louie, so I recreated the scene with temple pillars. To make, spray paint cardboard boxes grey and then black. (If you want to save time and money, you can keep the boxes brown.) Once the boxes are dry, stack them and use duct tape to hold them together. I did not fold the boxes; I kept them open for taller pillars. Set up the pillars like you would orange cones, so the kids can weave their way around them.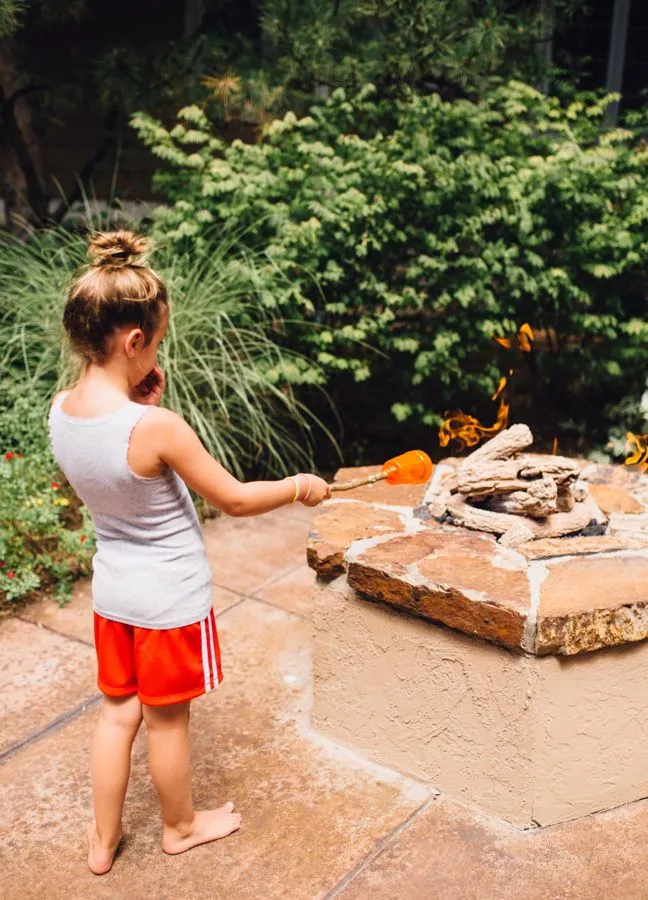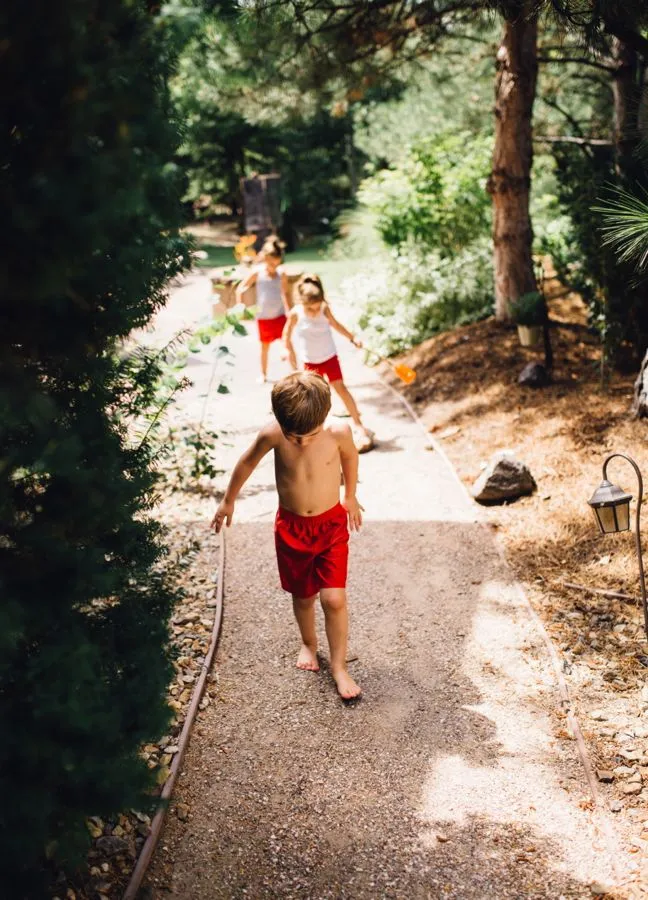 Step 5: Create fireless torches. In the movie, the red flower is used as a reference for man's red fire. I made a kid-safe, fireless torch by piercing the base of an orange spray bottle with a small tree branch.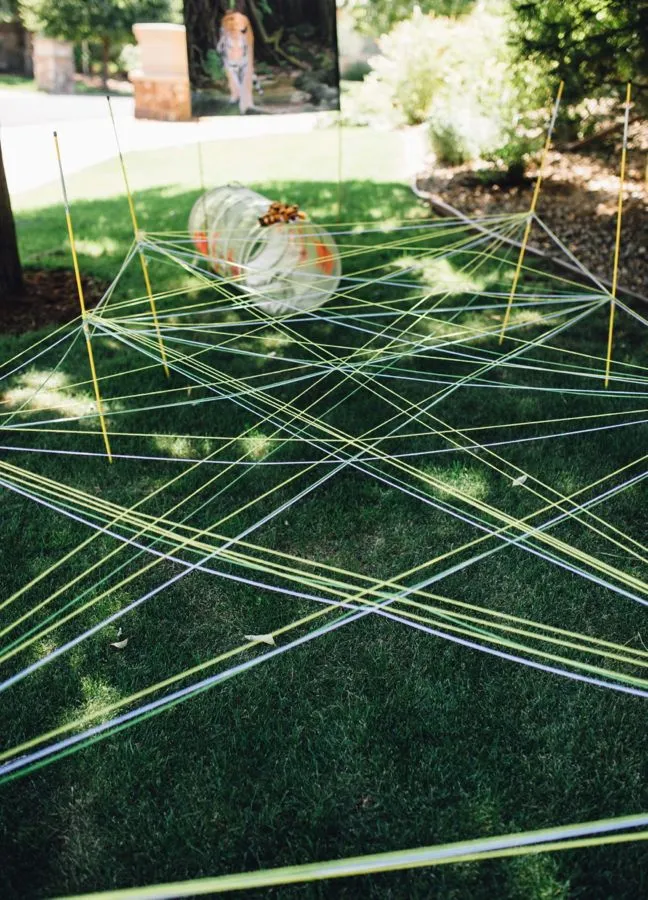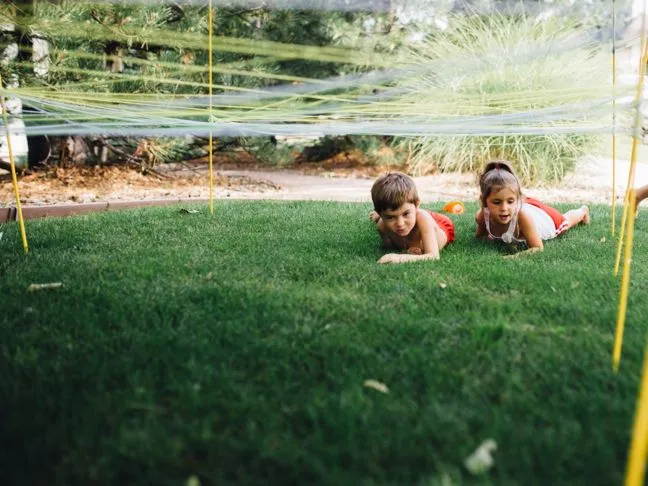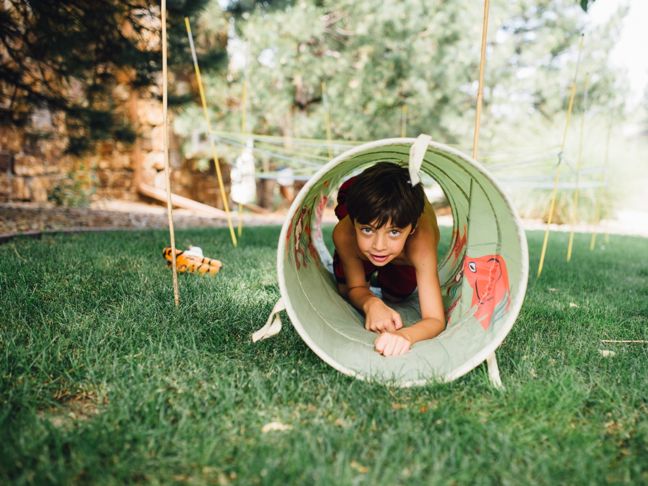 Step 6: Set up the final obstacle course: an army crawl. To do this, place eight yard stakes (angled inward) in two lines across from one another (four in each line). Each stake should be about two feet apart. Prepare the stakes by wrapping them with yarn (I used three different colors) and then zig-zagging it between the stakes in a random pattern; secure with duct tape.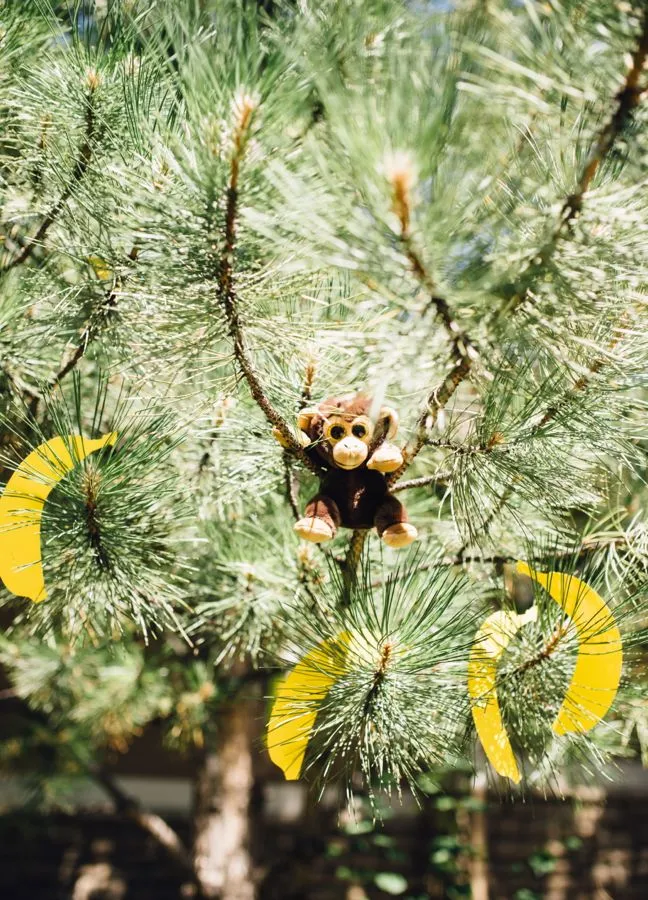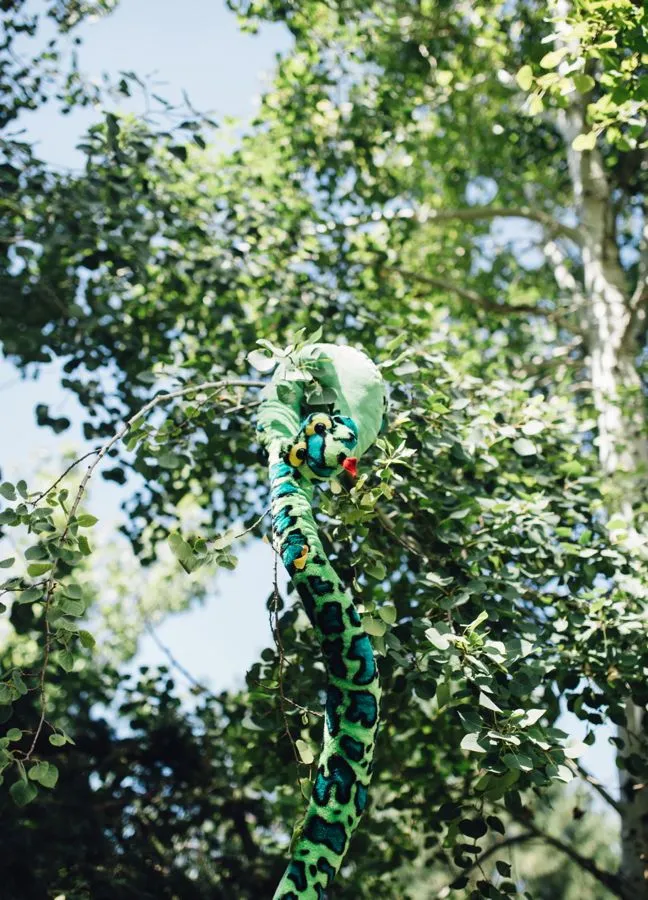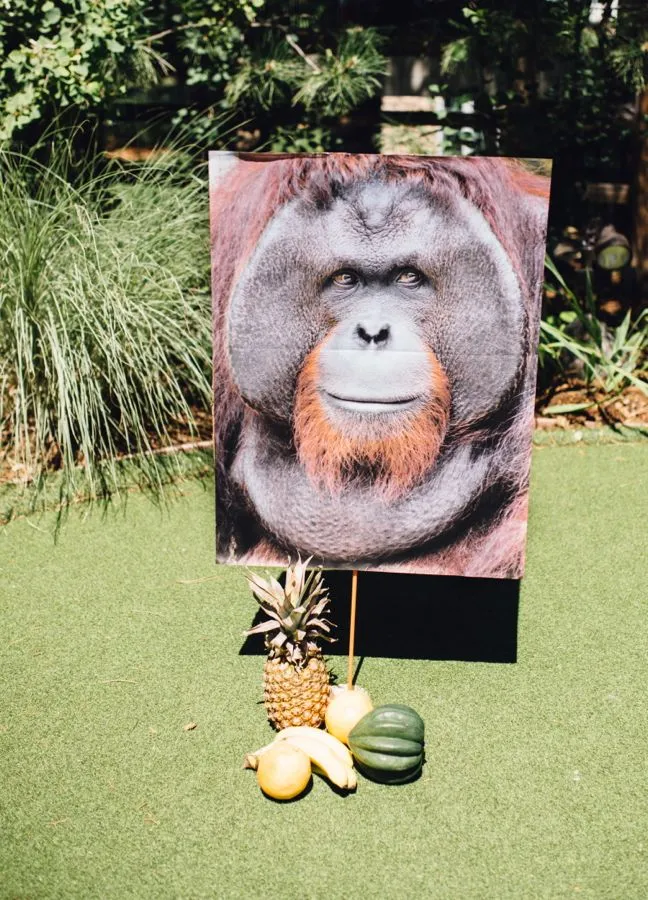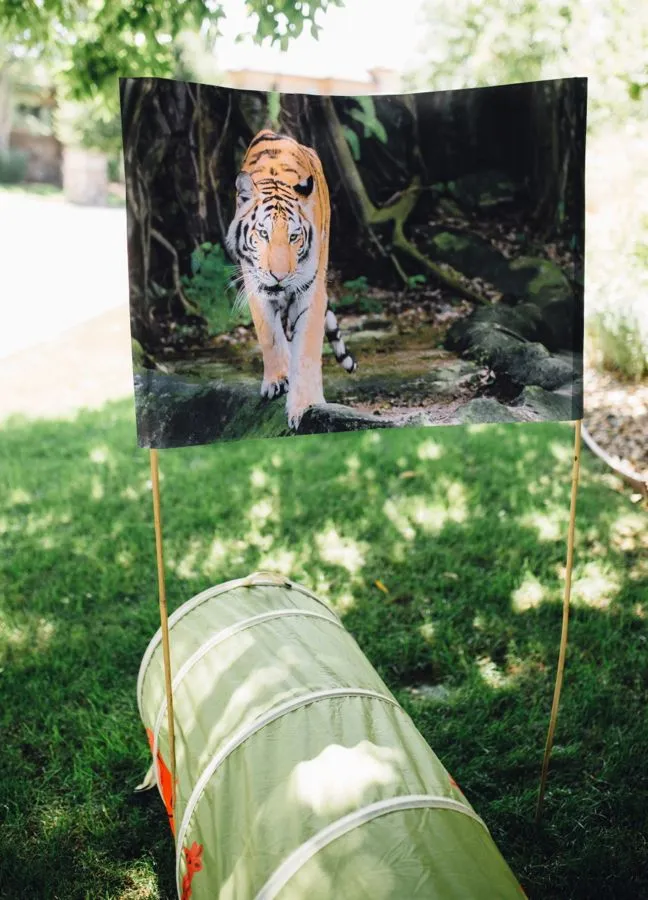 Step 7: Decorate the obstacle course. I wanted the larger-than-life animals from the movie to really come alive throughout the course, so I found fun and simple ways to incorporate them. For starters, I placed stuffed monkies all over the temple run area and on the pillars, and a snake (to represent Kaa) in the trees. Also, I set some paper bananas in the trees, as well as fresh fruit under King Louie, just like he had in the movie. I had extra tropical leaves from a fake plant in the house, so I hung them in cracks in the pillars. Next, I incorporated large prints of animals; to create inexpensively, I found images of an orangutan and tiger on Dreamstime and then printed them on engineering paper at Staples. For King Louie, I glued the image in place on a piece of foam core board, and then duct taped it to a yard stake and pushed it into the ground. To make Shere Khan, I duct taped the sides of the print onto the top of two yard stakes and slightly rolled the sides before pushing the stakes into the ground.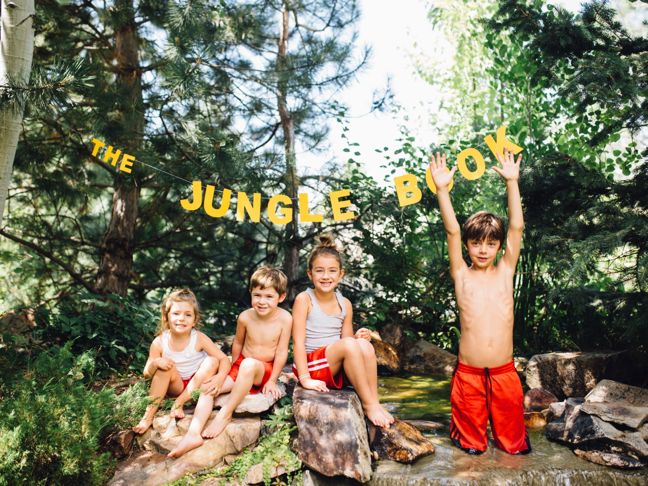 Step 8: Take fun photos. All the twists, jumps, turns, and climbs from this obstacle course will be worth remembering, so be sure to take photos at each station of the obstacle course. I wanted to remember the movie that inspired our obstacle course, so I made a banner with the words, The Jungle Book. To do this, buy letters (or cut them with an electronic cutting machine) and string them along string or twine. Tape the back of each letter to the twine with duct tape. Wrap the twine around two trees, and you're all set.
Have a wild time!

Photos: Pure Lee Photography