Playdough is the one toy in our house that the kids never seem to lose interest in. Whether it's the 5 year old creating elaborate superheroes or Mr 2 using it as a base for dinosaur adventures, they seem to be able to create endless fun with it.
I started out buying the little PlayDoh pots but combine my obsessive need for colour separation with the kids desire to mix every conceivable colour together, we ended up going through multiple pots a day! At $2+ a pot, I was going broke.
Luckily, it turns out playdough is quick, easy and CHEAP to make. Super cheap in fact. Once you've made it you'll never go back. I tried a few different techniques but I like the quick, clean microwave option the best. I tweaked a few recipes and came up with my ultimate go-to 5 minute microwave playdough recipe. I hope your kids love it as much as mine.
The ultimate 5 minute microwave playdough recipe
Note these instructions are based on a 1100 watt microwave and may vary for different microwaves.

Ingredients
2 cups water
2 tbs vegetable oil
2 tsp food colouring of choice
2 cups flour
3/4 cup salt
3 tbs Cream of Tartar
Method
Combine all wet ingredients in a medium size microwave safe bowl.

Gradually add all dry ingredients into the wet ingredients stirring well.
Make sure all lumps are removed and the mixture is totally smooth (a lumpy mixture will result in lumpy playdough…)

Place mixture in the microwave and heat on high for 2 minutes.
Remove and scape down sides. Don't worry if mixture begins to look lumpy with some cooked and some uncooked bits.

Put back in the microwave for 1.5 minutes.
Remove and mix.
Microwave for 30-60 more seconds until no wet mixture remains.

Allow to cool for 3-5 minutes.
Remove from bowl and kneed well.
Store in an airtight container for up to 3 months.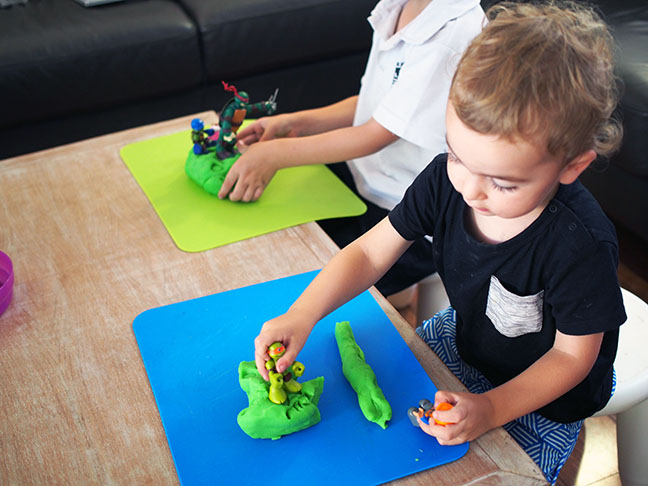 More DIY playtime for kids:
Images: Michelle Thompson-Laing