This festive project is crazy inexpensive and super easy to make, too. (We're calling that a win-win, for the record.) You know those little American flags on sticks you can find in just about any dollar store this time of year? We're whipping them up into a darling American flag bunting using a bit of sequin trim. A few dollars and about 20 minutes is about all this one takes!
This bunting would be so sweet strung along the front of a buffet table at a Memorial Day picnic or draped along the railing of your front porch. Adjust the length to make it longer or shorter to suit your needs and show off your patriotic side in style!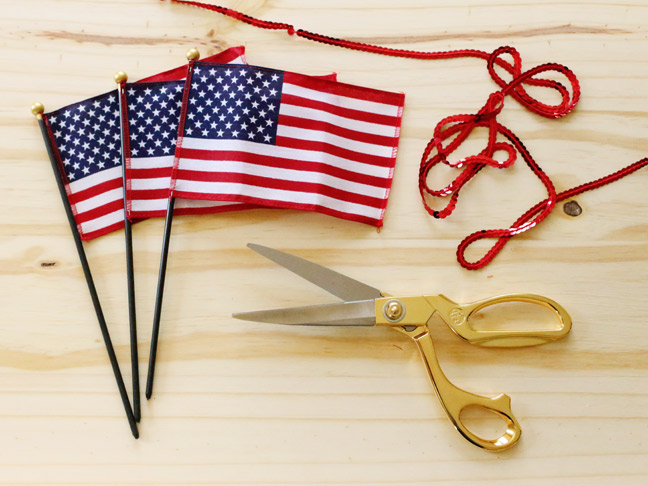 Supplies:
Small American flags on sticks (I used 9 for my bunting.)
Sequin trim in red, white, or blue (I used 3 yards.)
Scissors
Awl (not pictured)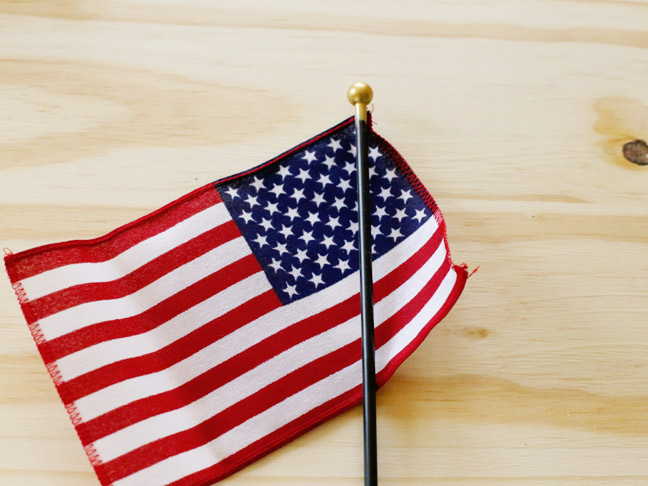 Instructions:
Step 1: Begin by carefully removing each flag from the attached stick. Most of them are attached with just a couple of tiny staples, top and bottom. A basic staple remover will get the job done, or just tug at the flag a bit until the staples pull free.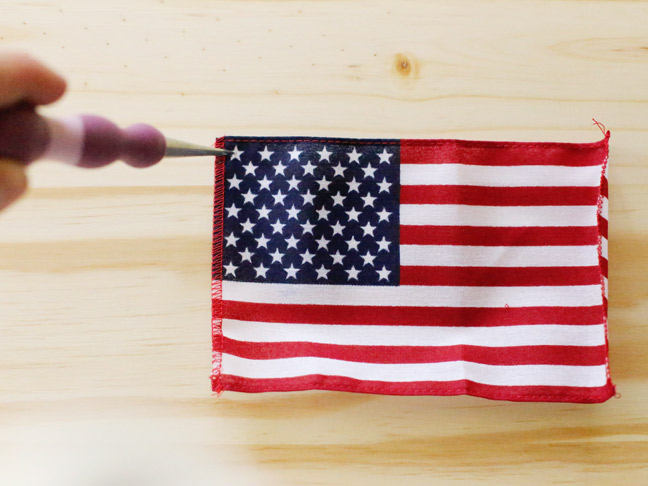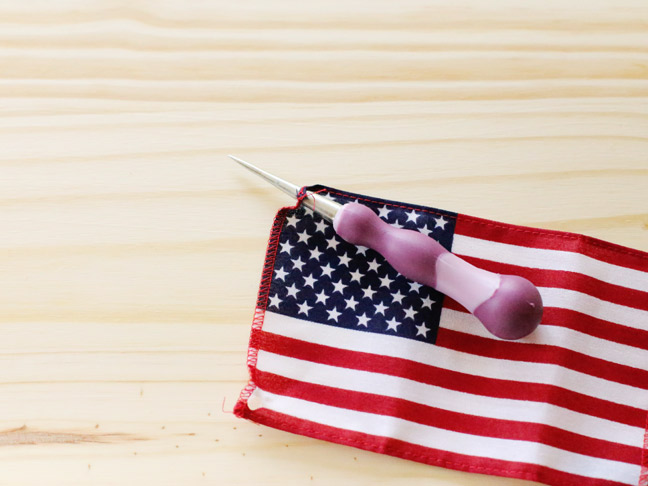 Step 2: Next up, poke a hole through either side of the end of the flag using an awl. When using an awl, remember they're very sharp, so be mindful of where your fingers are when working. Simply place a bit of pressure where you'd like your hole to be and then push the awl through. To create a larger or smaller hole, pull the fabric of the flag further down the length of the awl accordingly.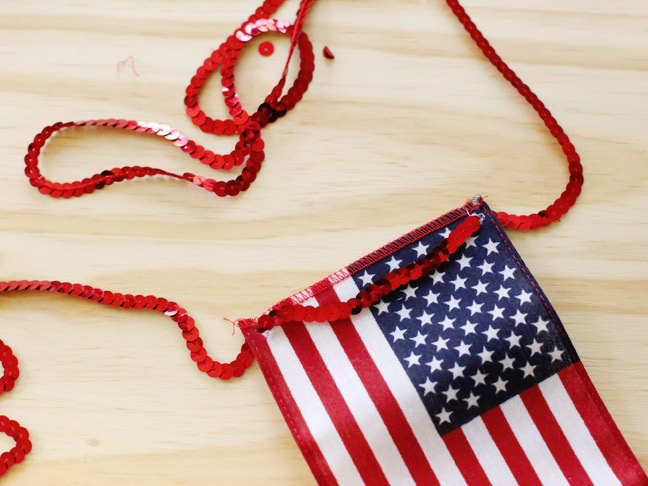 Step 3: Next up, begin stringing each of your flags along your sequin trim. (Alternately, you could use ribbon, twine, or string, too!) If the sequins are getting hung up on the flag fabric, use your awl to make the holes a bit larger.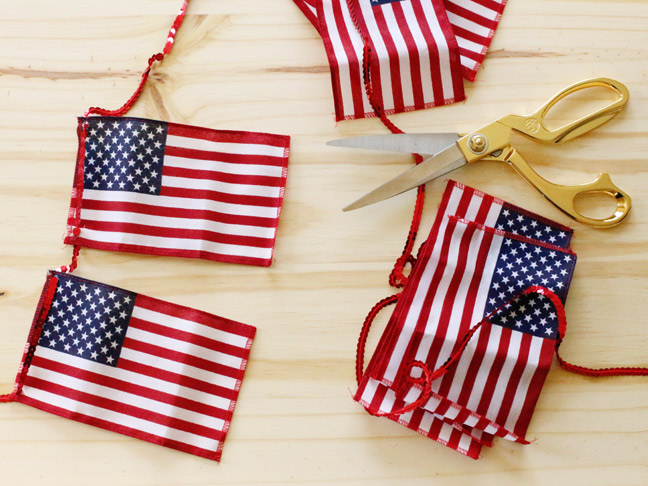 Step 4: Continue stringing each of your flags into place along the bunting. I spaced mine approximately 2″ apart, but you can string them as close or as spread apart as you like. Again, for my 3 yard length of sequin trim, I used 9 fabric flags.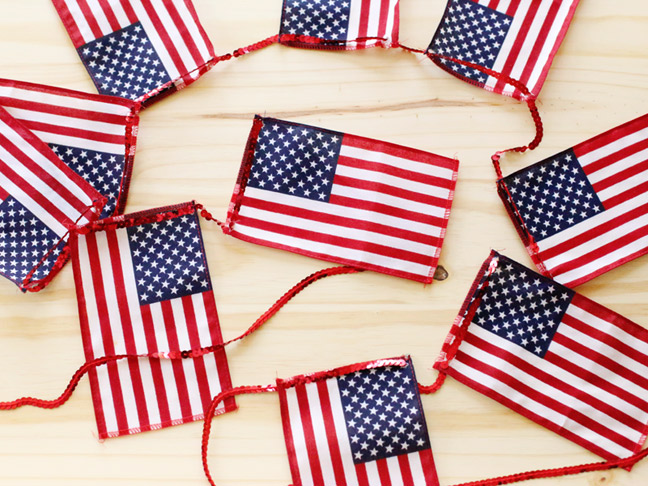 Step 5: Because my flags were packaged wrapped around the sticks, I realized they would need a bit of ironing to get them to hang flat once strung on the sequin trim. If your flags are also creased or wrinkly, use your iron on a steam-free low heat setting meant for a synthetic fabric and lightly press each one until flat.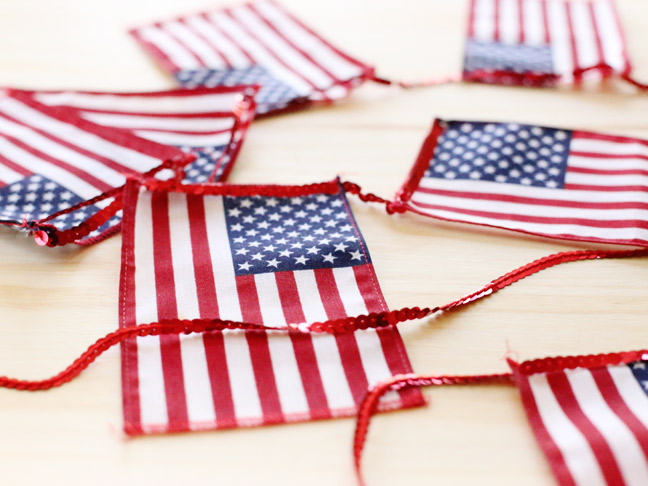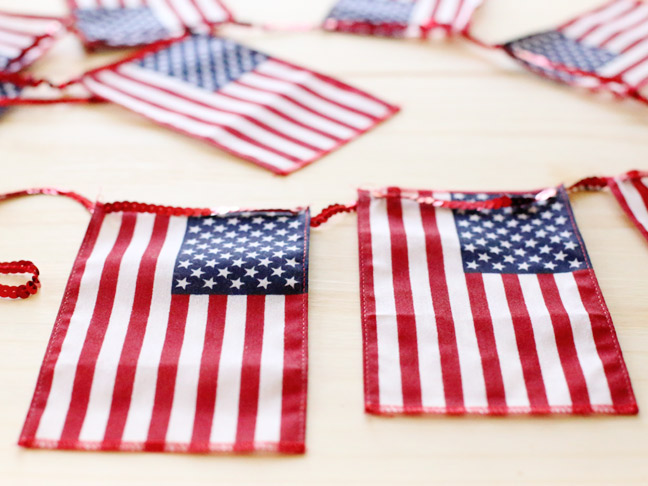 And that's all she wrote! It's really that simple. Follow these steps and you'll have an incredibly budget-friendly and charming bunting that will dress up your Memorial Day weekend in no time flat. This is, hands down, one of the easiest crafts I've made in a long time and also one of my favorites!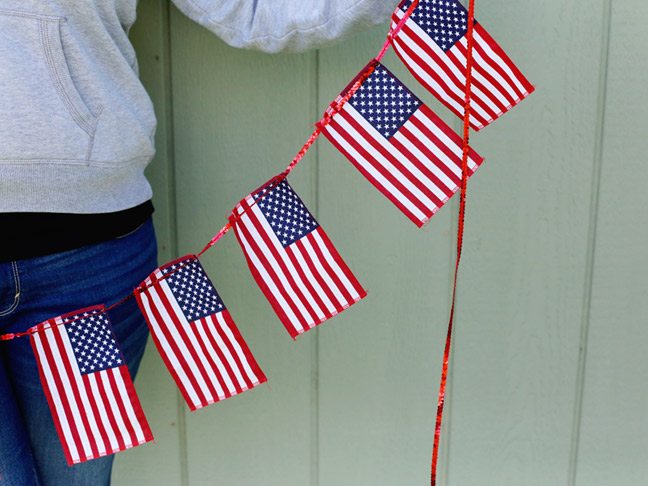 Photos by Cyd Converse/The Sweetest Occasion for Momtasic
More Memorial Day Crafts: