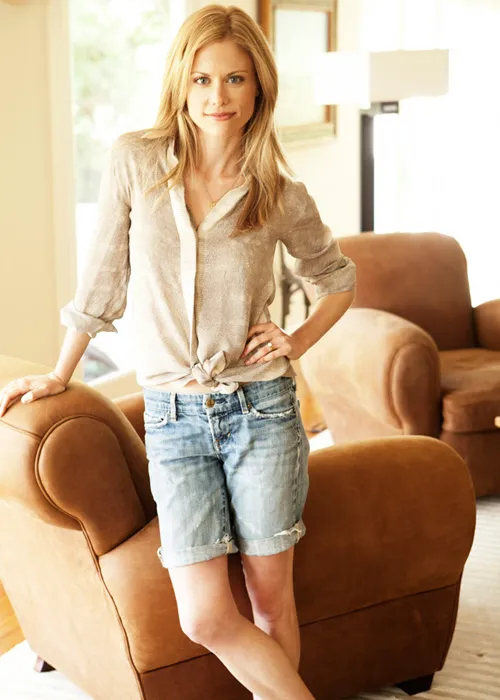 Claire Coffee, our October 2015 guest editor, has a lot going on right now. The Portland, Oregon-based actress is reprising her role as the sexy villainess Adalind Schade, on season 5 of NBC's hit drama, "Grimm." The new season premieres October 30. She's also mom to 4-month-old Calvin Eugene, her first child with her husband, musician Chris Thile. Recently, Coffee took a break from her busy schedule to chat with us about her baby boy, as well as giving birth naturally, breastfeeding, working, and more.
MT: How is the new season of "Grimm" different from previous seasons?
CC: All of the characters are appearing in new ways and my character, Adalind, is taking a 180-degree shift toward the side of good. She and Nick [her nemesis] have become roommates, so that presents a lot of interesting challenges. Trubel, one of the old characters, is back. Adalind and Nick's relationship gets very complicated in juicy ways.
MT: Beyond the show, you're a new mom! How has everything been going with Calvin?
CC: Being a mother is the best and scariest thing in the world. Calvin is a giggly, smiley, chatty thing. He's so much fun to wake up to.
MT: We love the name Calvin Eugene. What inspired it?
CC: Calvin has been my husband's favorite boy's name forever, and I love the nickname Cal. Eugene is my grandfather's name. He passed away a few years ago and was a hugely important influence on my life.
MT: Was it difficult to go back to work after he was born?
CC: Definitely, my days are 12 to 14 hours long on set. I can bring Cal along, so he and Rachel, our wonderful nanny, come with me to work. They stay in my trailer, so I can pop back to feed him or pump or just get face time with him. I feel guilty for leaving him while I work, but being a mom is difficult no matter if you work or stay home. If you are at home with the baby by yourself all day, it's so freaking hard because you don't have a moment to yourself. If you're at work, it's really hard because you feel like you're neglecting the baby.
MT: You played a mom on "Grimm" before becoming a mom in real life. Was that challenging?
CC: I didn't think about it at the time. I was like, 'Oh no, I've got this.' Once I became a mom, however, I was like, 'Ohhhhhh, I had no idea what I was doing. That was all ridiculous!' I understand what a mom's frustration feels like, as well as what a mom's love feels like. Also, at the beginning of this season, my character gives birth to another child, so this birth scene is so much more realistic than the one I did before I gave birth in real life.
MT: How was your labor and delivery with Calvin?
CC: I was really lucky. There were no real complications, so I gave birth without drugs. It was quick. I think I was in labor for a total of 12 hours, but hard labor only for about five hours. There was definitely that moment of, 'I can't do this!' But then the moment I heard, 'Oh, I can see hair!' I was like, 'Okay, okay. I can do this!'
MT: Did you plan on having a natural birth all along, or did that just sort of happen?
CC: I have a couple of friends who did hypnobirthing, so I took hypnobirthing classes, but I wasn't very good about practicing the hypnobirthing techniques. Really, I had no expectations going into it. I just thought, 'We'll see how it goes. If I do it, I do it. If I don't, it's fine.'
MT: Was becoming a mom a big adjustment for you?
CC: It was actually the simplest adjustment because Cal became my number one priority. All I care about in the world is keeping him happy and safe. I used to wake up and say, 'Okay, how am I going to structure my day? What errands should I do? What do I need to focus on?' Now, it's all about my son's schedule and what he needs. I'm no longer focusing entirely on myself. As an actor, it's really refreshing to step outside of yourself for a second.
MT: How else has life changed since Calvin was born?
CC: I don't really leave the house much anymore. I order everything online. I rely on people a lot more, which I was never good at before having a baby. Our nanny started with us when Cal was 2-weeks-old, so our family has expanded in more ways than one.
MT: Has there been any parenting advice that helped you through the tough times?
CC: Enjoy what's going on in the moment and don't be too frustrated about what you're not able to do. It's all temporary, so just try to get through those really exhausting, tough moments. I can be so tired and so frustrated one minute and the next minute, he's giggling and laughing and I'm happier than I've ever been.
MT: We love that you chose to announce Calvin's birth with a photo that's so authentic to the new mom experience. Why did you choose that particular photo?
CC: It was the first photo in a series of photos that my husband took of Calvin and me sleeping. I saw that picture and how precious and angelic Cal looks and how exhausted, but clearly happy, I look and I just thought that it was perfect.
MT: You have a lot of cool photos of Calvin on Instagram. What's been your best adventure together so far?
CC: My favorite adventure would be the times that we're outside in our Portland, Oregon, neighborhood, either visiting the rose garden near our home or hiking. Beyond that, we took him to the Bluegrass Festival in Telluride, Colorado, when he was 6-weeks-old, which was crazy, but it was really fun.
MT: You shared a great photo of your son nursing at Comic Con. Have you encountered any negativity while breastfeeding in public?
CC: If I have, I've never noticed it. Comic Con is a 14-hour day for us, so I'd just kind of stop whatever I was doing when Cal needed to eat and feed him. In that photo, I was in the lobby feeding Cal and the cast of the Fantastic Four walked by. I just feel like, 'OK, my baby is hungry, he needs to eat, I'm going to let him have at it!'
MT: What would you say to people who have problems with moms who breastfeed in public?
I'd have nothing to say to them, because, clearly, they don't get it. There's nothing offensive about breastfeeding. It's as simple as that.
MT: What are your must-haves for breastfeeding?
CC: My aden + anais swaddling blankets, which I use as covers. Loose tee-shirts — I can just lift my shirt up, he eats, and then the fabric kind of goes around him and makes a little apron so that he's not suffocating and I'm not showing anything. I don't use a pillow. Those take too much time and effort to find when the baby is hungry.
MT: Let's switch gears and talk about your fashion blog, Full Disclothesure. What inspired you to start blogging?
CC: Some weeks I'll work four days, other weeks I won't work at all. I like to keep busy and I've always liked writing, particularly blog-style writing, so I just went from there. I love fashion and I love looking at what other people are wearing. I realized that I kind of have this seat behind the curtain at the Oscar's and other red carpet events. But, I'm not on the A-List and in magazines all the time, so it was sort of like, 'Okay, I kind of have a blue collar approach to red carpet dressing, like many of my peers do.' That voice isn't really represented out there, so I wanted to be that voice.
MT: How has your fashion routine changed for big events now that you're a mom?
CC: I don't have much time to shop, so I stick to what I know works. I don't go with anything too outrageous.
MT: What are your favorite things in your closet right now?
CC: J. Crew makes these great jeans, The Lookout High Rise, with a higher waist. They're really stretchy and awesome and they cover up my pooch. I love my Bravado nursing bra. And then there are my many, many loose tee-shirts! James Perse makes my favorite tees, and you can often find them on sale on Gilt.
MT: What do you like to dress your son in, and where do you shop for him?
CC: I love the sales that Petit Bateau has online. I just discovered Nordstrom Rack has an iPhone app, so I do a lot of my shopping there when I'm feeding Cal in the middle of the night. He wears a lot of stripes and one pieces. The tee-shirt and pants combo does not work for him, it just rides up.
MT: OK, last question before I let you go: What's something that would surprise people about you?
CC: I really like doing the dishes. I often use dish washing as an escape when I'm at large parties, because I'm definitely an introvert.
Photo: Ashley Barrett