Dressing a baby/toddler for sleep is inherently stressful because they can't communicate how they're feeling. This stress is especially high in those early weeks when babies are still working to regulate their body temperature.
We all react somewhat differently to the same temperature. There have been many mornings when I've woken up covered in sweat and my husband is perfectly fine or he woke up freezing and I'm fine. Clearly he runs cold and I run hot. My son seems to similarly run hot – even hotter than me. There were quite a few mornings where I took him out of his crib only to notice sweaty sheets even though I found the room temperature pleasant. The temperature setting with our Nanit does help somewhat, but more-so to make sure it's within range, I don't count on it for 100% accuracy. Luckily thanks to the magic of Taking Cara Babies even if the temperature is a bit off, my son doesn't wake up at night (note he is almost a year – I'm not talking about newborns which require a lot closer attention).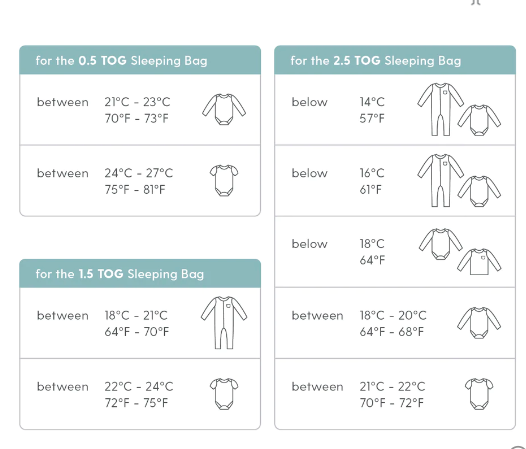 So how do I dress my baby for sleep? I do what was recommended to me by sleep exerts: a short onesie and a sleep sack. For more specifics, checkout this helpful guide from Mori above. I've also transitioned to lighter sleep sacks.
Keep reading for a look at the best (including one designed for all four seasons if you don't want to transition).
Sleep Sacks
Kyte Baby

With a tog of 1.o this Kyte sack is perfect for summer and fall and it comes in a wide range of colors. 

Nested Bean

The Nested Bean Zen Sack is a favorite because it's lightly weighted. I think regularly using this sleep sack is what got my son sleeping on his back. The few times he flips and sleeps on his stomach I feel like I'm up all night worried about his breathing - but that has never happened while in a sack from Nested Bean.

Primary

Primary rules all things rainbow, including their sleep sacks. This one is made from muslin, perfect for summer. 

Woolino

Woolino is awesome because their 4 season sleep sacks keep baby at the perfect temperature throughout the night, year-round. Not clue how they do it - wool magic apparently - but my son has used their footed sleep sack (they also have regular sleep sacks) in the dead of summer as well as the dead of winter and I've never had an issue with goosebumps or sweat. 

Mori

For soft like butter sacks, I love Mori. Everything they make is beautiful in both design and quality. Their summer sleep sack is 0.5 TOG for optimal comfort with AC.