When it comes to baby bottles it's hard to call any one bottle the best because what one baby may love another one will reject. If you can, it's best to buy one bottle from of a few different brands and test out what your baby likes.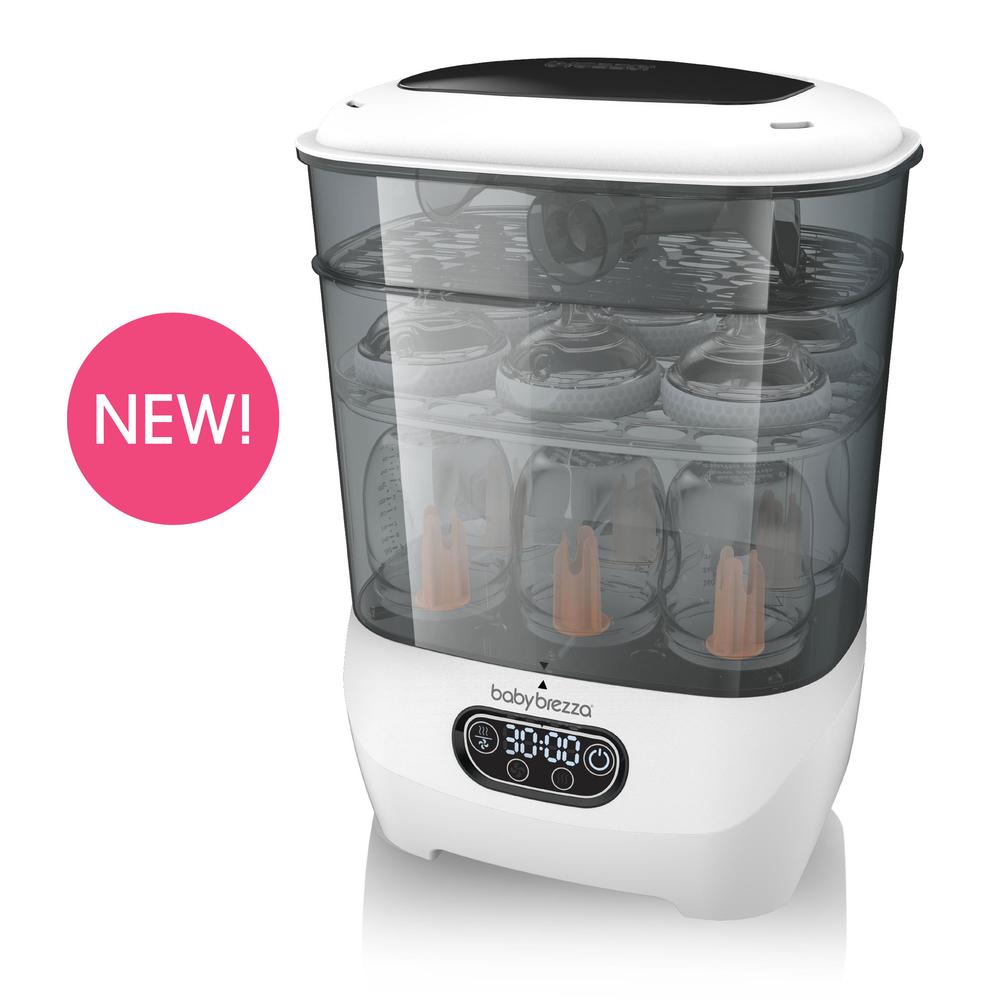 You'll also want to sterilize all the bottles before you welcome your baby – it's pretty much the last thing you'll want on your to do list once baby arrives. Baby Brezza's Bottle Sterilizer and Dryer is highly recommended to make the sterilizing process less of a headache just make sure to use distilled water to avoid mineral buildup (and don't forget you can use the device to sterilize and dry all your accessories, including pacifiers like this one). Note, you don't need to sterilize your bottles after every use – though some parents do or, at the very least, do so on a monthly basis for the first few months. As a general rule, sterilizing is really only necessary when a bottle is new or when your baby is sick.
Next, you'll want to consider if you plan on breastfeeding, formula feeding or doing a combination of both as different bottles are designed to work better for each scenario. You might also want to have a bottle designed for colic and gas on hand; these come with built-in valves which are very effective, but not easy to clean and dry (again, that's when something like a Baby Brezza device comes very handy). As for material, while most people think all baby bottles are plastic, today many come in silicone, stainless steel and even glass. Lastly, pay attention to the nipple and bottle size when buying a bottle. There are three stages, so for your newborn make sure you're opting for a bottle with a stage 1 nipple to control the speed of liquid into their mouth and you'll only need a 4oz bottle to start.
Now, let's get into specifics. Read on for some of the best baby bottle options!
Read About Breastfeeding:
The Best Baby Bottle Options
PopYum Bottles

With 5,545 reviews on Amazon, of which 80% are 5-star, PopYum is clearly a leader when it comes to bottles for formula feeding. These also work great for travel, are designed for single hand use and are easy to clean. 

Dr. Brown's Natural Flow Options+

If you are planning on formula feeding or if colic/gas are a concern, Dr. Brown will be your best bet. Parents (and pediatricians) swear by these bottles, (and for very good tried and true reason!). They come in plastic or glass. 

Philips Avent Natural Baby Bottle

The wide breast-shaped nipple of this bottle allows for a natural lash that mimics the feel of the breast making the transition from breast to bottle easier.

Comotomo Silicone Baby Bottles

These bottles feature an innovative design to closely mimic natural breastfeeding. They're ideal for babies who have trouble transitioning from nursing to bottle-feeding. 

Evenflo Feeding Balance + Wide Bottle

Designed specifically for breastfed babies, Evenflo Balance + Wide Neck Bottles feature a sloped nipple that helps promote a healthy wide latch. They come with both standard as well as wide neck options. 

Mam Baby Bottles

Mam is free of funky chemicals so you can breathe easy even if you're opting for plastic. Plus, like NUK they come in fun designs to set your baby bottle apart, which comes very handy if you plan on sending your child to daycare. 

Nanobebe Flexy Silicone Baby Bottle

The breast-like silicone material these bottles are made of make for an easy transition to exclusively bottle feeding or when combining with breastfeeding, without the worry of nipple confusion. They're also spill-proof because of their very stable base. 

NUK Simply Natural

If you're looking to transition between breastfeeding and bottle feeding this is another great option that also comes in glass as well as in a variety of fun designs (great for when you're around other babies to keep tabs on your child's bottle).