I have heard sooo much about Union Square Play and I've been itching to go for months, but with a little baby it's not exactly practical to get downtown when you live uptown – especially during a pandemic. I did get a sneak preview at one of the spaces operated by Union Square Play. They have a space in the new Lalo store where parents can partake in a variety of classes with their little ones and I was blown away when I got a tour from one of the co-founders (who is also behind the uber popular Mo'mommies), so I'm not surprised that their latest collab is beyond impressive.
Union Square Play x Rafi Nova ($58) was conceived as an alternative to screen time – we all know the kids are getting way more screen time than probably any of us want at the moment. Here's something to foster some independent play. It's basically a 12×9 backpack that opens into an activity mat filled with open-ended game starters that kids can carry. Open-ended play is the major selling point of Union Square Play and now you can get some of that at home without having to put much effort in. The idea is to foster development and imagination via play.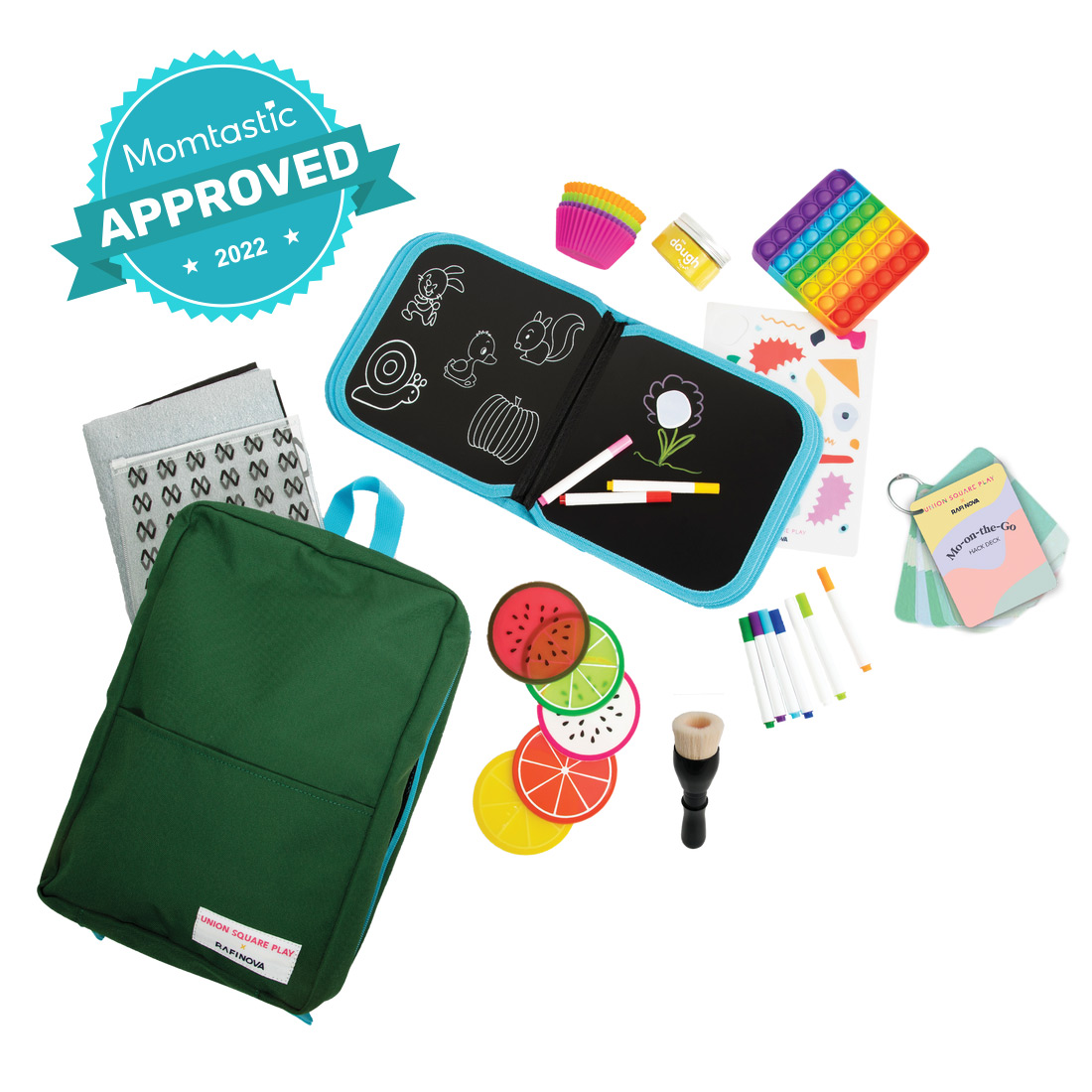 The backpacks come in green or blue and contain:
4 silicon cupcake holders
Retractable makeup brush
Sheet of reusable color form stickers
PVC clear pouch
Magic doodle board + 6 markers (this will be a favorite!)
2 oz playdough from Dough Project
5 silicon fruit coasters pop toy
2 reusable water drawing writing cloth
12 activity prompt cards to encourage exploration
Upcycled handmade textile accent made by ethnic women artisans in South East Asia. Each textile is unique and holds symbols and colors that reflect the artisans life.
This is a great buy for any parents with toddlers looking for something on-the-go or at home to entertain the kids that isn't a screen (though remember, it's all about balance and there's no need to feel guilty about screen time…it's a reality of life!).