The Best Microneedle Derma Rollers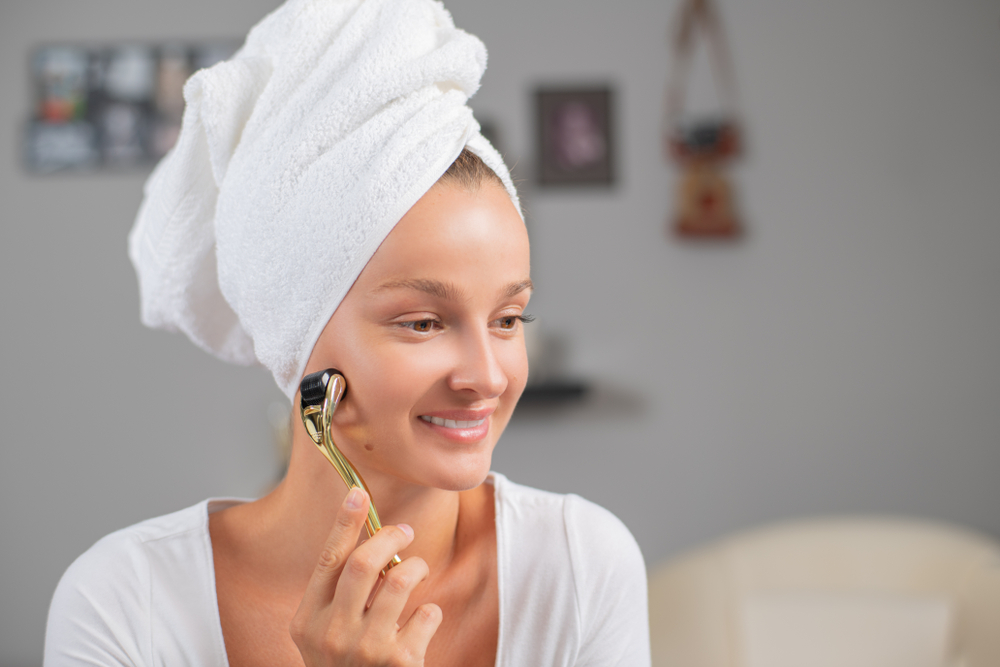 Does your skin need a little rejuvenation? A microneedle derma roller can help you accomplish that. This skincare tool has a handle on one end. The other end is a roller, with many fine needles on the surface. As you rub this roller over your skin, the needles puncture tiny, superficial holes into you. Since the holes are so small, derma rollers are considered noninvasive. This process helps exfoliates dead skin cells, helping to make your skin look radiant. If you're ready to give a derma roller a try at home, here are some of the top available models we absolutely love.
Derma Roller Cosmetic Microdermabrasion Instrument for Face
You want microneedles that are long enough to penetrate your skin, but not long enough to cause damage. These .25mm microneedles are perfect.
If you prefer a titanium microneedle, this is a great option. The 540 microneedles will help exfoliate dead skin away. Each needle is the perfect length for home treatment. Longer needles are only appropriate in a clinical setting, but the shorter .25mm length is safe for use at home. This derma roller comes with a storage case to help keep it clean between uses. The head is bright green, and the titanium needles are silver. The head of this derma roller doesn't come off, so you can't replace just the head. It's recommended that you replace the entire unit every couple of months if you use it often. That being said, considering the price and the durability of the build, this is a steal of a deal.
Pros
Good needle length for exfoliation
Storage case
The bright green color is inviting and stylish
Cons
This isn't a long-term purchase, you should replace this tool every few months
Lolysenta Derma Roller
You can add a derma roller to your skincare routine without breaking the bank.
Are you trying to get beautiful skin on a budget? This inexpensive derma roller is a good solution. The head is .75-inches wide, which covers a nice size area of your skin at once. The handle is comfortable to hold. It's 5.25-inches long. The head contains 540 titanium microneedles that will gently prick your skin. You'll want to apply a light, even pressure and not push too hard. The microneedles are a safe .25mm in length. Titanium is a durable metal, so these microneedles will last a long time without breaking. This material is also corrosion resistance, which helps make the derma roller last longer. A fantastic deal from Lolysenta, this option even comes with a nifty storage case.
Pros
Corrosion-resistant microneedles
Inexpensive option
Perfect size
Cons
It squeaks a bit while you're using it
Derma Roller Microneedling Kit for Face and Beard
This derma roller feels professional in your hand, it's very comfortable to hold.
Do you enjoy using professional-grade products in your home? This derma roller features quality craftsmanship that looks great and performs well. The handle is made from high-quality plastic. It's black in color and features the manufacturer's logo gold. It's a sharp-looking contrast. On the rolling head, there are 540 cosmetic grade needles made from titanium. Their 0.25mm length is perfect for home use.  Along with the derma roller, you'll get a storage and travel case, an instruction guide, and four eBooks to help you with your at-home skincare.
Pros
Nice design
Handle is comfortable
Strong titanium needles
Cons
The instructions come via email, so you don't get a hard copy
Derma Roller Microneedle 6 Piece Kit DERMAROLL by Prosper Beauty
Derma rollers only last so long before they need to be replaced. With this set, you don't have to buy the handle again.
Best With Replaceable Heads
If you want a derma roller with even more needles, check this one out. The head has 600 titanium microneedles. These are strong and sharp, which helps prevent injury to your skin. They're the recommended .255 mm length. As you use derma rollers, the needles become dull over time. To help you save money on replacements, this set contains four replaceable heads, a handle, and a storage case. When one head is worn out, you simply remove it and discard it. Then, you can insert a new one. To do this, you simply press the button that's underneath the handle. Then, you pull off the old roller head and slip on a new one while you press the button again. This manufacturer recommends replacing the head after every 3-5 uses to ensure the product stays sanitary. When you run out of refills in this kit, you can purchase additional heads.
Pros
Replaceable heads
More needles on the roller (600)
Each head wrapped separately in sterile packaging
Cons
Recommended replacement every 3-5 uses means you'll go through a lot of heads
Frequently Asked Questions
Are derma rollers safe to use at home?
While you can go into a salon for microneedling sessions, you don't have to. As long as you use a derma roller with short, sharp needles, it is safe to complete this noninvasive treatment at home. The needles shouldn't longer than 3mm. When used incorrectly, these longer needles can cause serious damage to your skin, so it's best to leave those to the professionals.
How do you clean a derma roller?
Since you will be pricking holes in your skin, you must keep your derma roller clean. You need to sterilize it before each use to kill any germs. Remove your derma roller from its protective case. Then, prepare a bowl with alcohol. You want to use 70 percent isopropyl alcohol for this step. Place the head of the roller into the solution, and let it sit for 5-10 minutes. While it soaks, you can begin washing your face so you're ready for the treatment. Once you're done using the derma roller, you need to clean it. First, clean it with soapy water and swish the head around. Just make sure you don't bang it into the side of the sink, as the rollers are fragile. Then, disinfect your roller once again before storage.
How often should you use a derma roller?
There are many variables that you need to consider when deciding how often to use a derma roller on your skin. Shorter needles can be used more frequently. But, if you have sensitive skin, you need to wait longer between treatments. Many people use home derma rollers every other day. However, when you are first starting, that may be too many times. Start more slowly, at a weekly or twice a week interval. Then, you can see how your skin responds and make changes accordingly. You want your skin to heal completely between uses.