The Best Cake Decorating Kits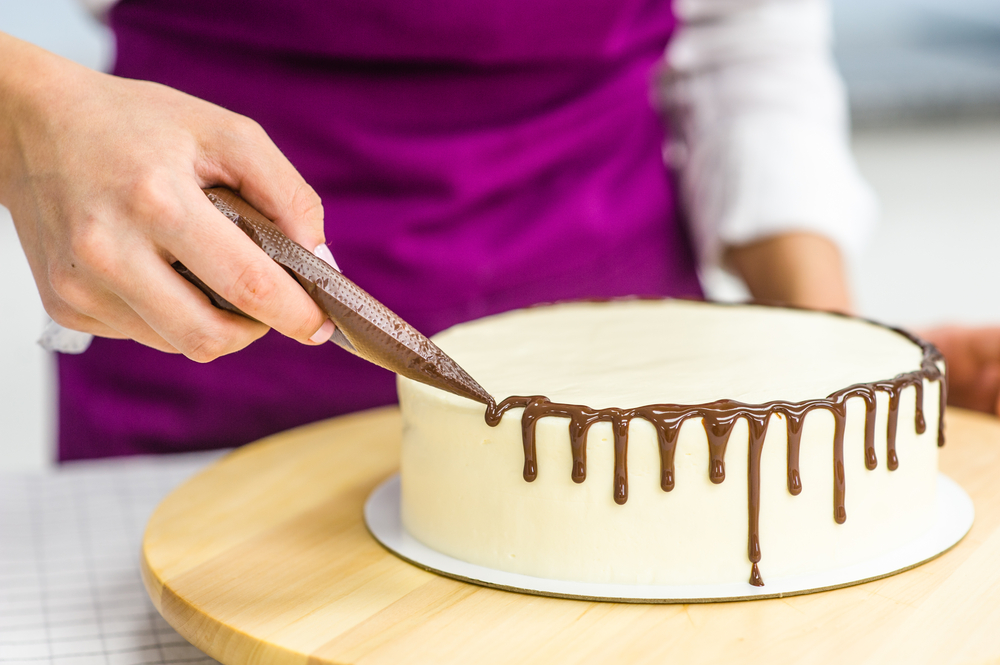 Cake decorating sets come in all shapes and sizes. Do you need a few simple basics to get started? There is a set out there for you. Looking to up your fondant game? You certainly can. Frustrated with your current system of propping your cake up on plates and baking tins? Try out a revolving cake turntable and you might never go back. Whether you're an aspiring decorator or a professional who has seen it all, read on for our top picks in the world of cake decorating.
Kootek Cake Decorating Supplies (32-Piece)
Made entirely from stainless steel and washable plastic, this comprehensive set will set your creativity free again and again.
If you're looking for an option with a little of everything, this kit by Kootek is the perfect choice. Just sort through the 24 steel tips to create the pattern of your dreams, then toss them in the dishwasher for a quick clean. This set also comes with flower nails to make perfectly shaped icing flowers. Then, when you're finished, put each tool back in its own compartment in the easy-to-use storage container.
Pros:
Very affordable
Comes with an innovative storage container
Dishwasher-safe
Reusable components
Cons:
Kosbon Cake Decorating Supplies Baking Set
Once you order this kit, you'll never need to visit the kitchen section of the store again.
If your utensil drawers are empty and you're looking for a way to jump into the cake decorating game, this is the set for you. It's the couch-to-marathon version of cooking sets. Yes, it contains 48 icing tips, but it also comes with pans, muffin molds, cupcake molds, spatulas, knives, a turntable, and more. In other words, it's got everything you need to get your decorating skills up to speed.
Pros:
An incredible selection of utensils
Cake pans are nonstick and high quality
Perfect to make any type of dessert
Cons:
RFAQK Cake Decorating Supplies with Turntable (64-Piece)
Another great overall option, this one from RFAQK includes a fantastic cake turntable.
You won't be able to play DJ with this turntable, but you can still express yourself. Essential for icing a cake with symmetry and evenness, this turntable spins smoothly and is easy to use. This kit also comes with couples, disposable icing bags, a cleaning brush, icing spatulas, a cake leveler, and 24 precise icing tips. Better yet, the tips are all numbered and include a chart displaying what types of patterns each tip creates. It's a great way to remove the guessing game out of cake decoration.
Pros:
The cake leveler and turntable really help make sure your cakes are even, symmetrical, and precise
The tools are all easy to clean
Great value for the price
Cons:
The turntable is 11 inches in diameter, so cakes bigger than that won't fit
Watson and Webb Airbrush Cake Decorating Kit
For the true pastry artist, this airbrush cake decorating kit from Watson and Webb is a must-have.
if you're ready to take your cake decorating to the next level, consider this airbrushing system from Watson and Webb. With eight starter colors included, this professional machine lets you personalize your desserts with ease. The compressor itself has three different speed settings and the needle tip allows you to paint with insane precision. In fact, you can detail your pastries with lines as thin as 1.6mm.
Pros:
The system is compact in size
Included colors are vegan-friendly
The single-action trigger presses down easily for precise control
Included instruction manual is clear and helpful for beginners
Cons:
The compressor unit is lightweight, so it can vibrate if not placed on a level surface
Hicdaw Piping Set Icing Tips (16-Piece)
Simple and affordable, this set from Hicdaw keeps it basic.
Hicdaw knows that most of us just need a quick-and-easy toolkit for icing our cakes. This 16-piece set comes with reusable icing bags, tips, and bag ties. We especially love how easy it is to clean the silicone bags, which rinse off in seconds. The seven stainless-steel tips are great too and offer a variety of styles and patterns.
Pros:
Super affordable
Easy to clean
Great for beginners and experts alike
Cons:
The tips aren't labeled, so you'll have to memorize which shape does what
Frequently Asked Questions
I've never decorated my own cake before. What do I need to get started?
Cake decorating isn't rocket science, even if you might think so after spending hours comparing different decorating kits and wondering what the heck a "coupler" is. All you really need to get started are decorating tips, disposable or reusable bags, and icing. With just these tools, you can make a wide variety of designs, all without breaking the bank. We suggest looking for some free videos online to walk you through the basics, though many of the options on our list include instructions.
Do I need a cake turntable? 
It depends. If you make a lot of cupcakes and only the occasional birthday cake, you may not need one. However, if you make cakes often, a turntable can be a great investment — especially if you want to make cakes more often but tend to avoid it because it's frustrating. A turntable takes a lot of the pain out of decorating. It allows you to move the cake while adding the icing, which can create a more cohesive design and reduce mistakes.
How do I clean piping tips?
The short answer? Right away. Waiting too long to clean your tips, nozzles, and couplers will give the frosting time to harden make it much harder to get off. Still, you can always remove the hardened frosting by giving the tips time to soak in soap and water. Some piping tips are safe for dishwasher use but always check on the box or instruction guide before you put them in the dishwasher.