The Best Wine Decanters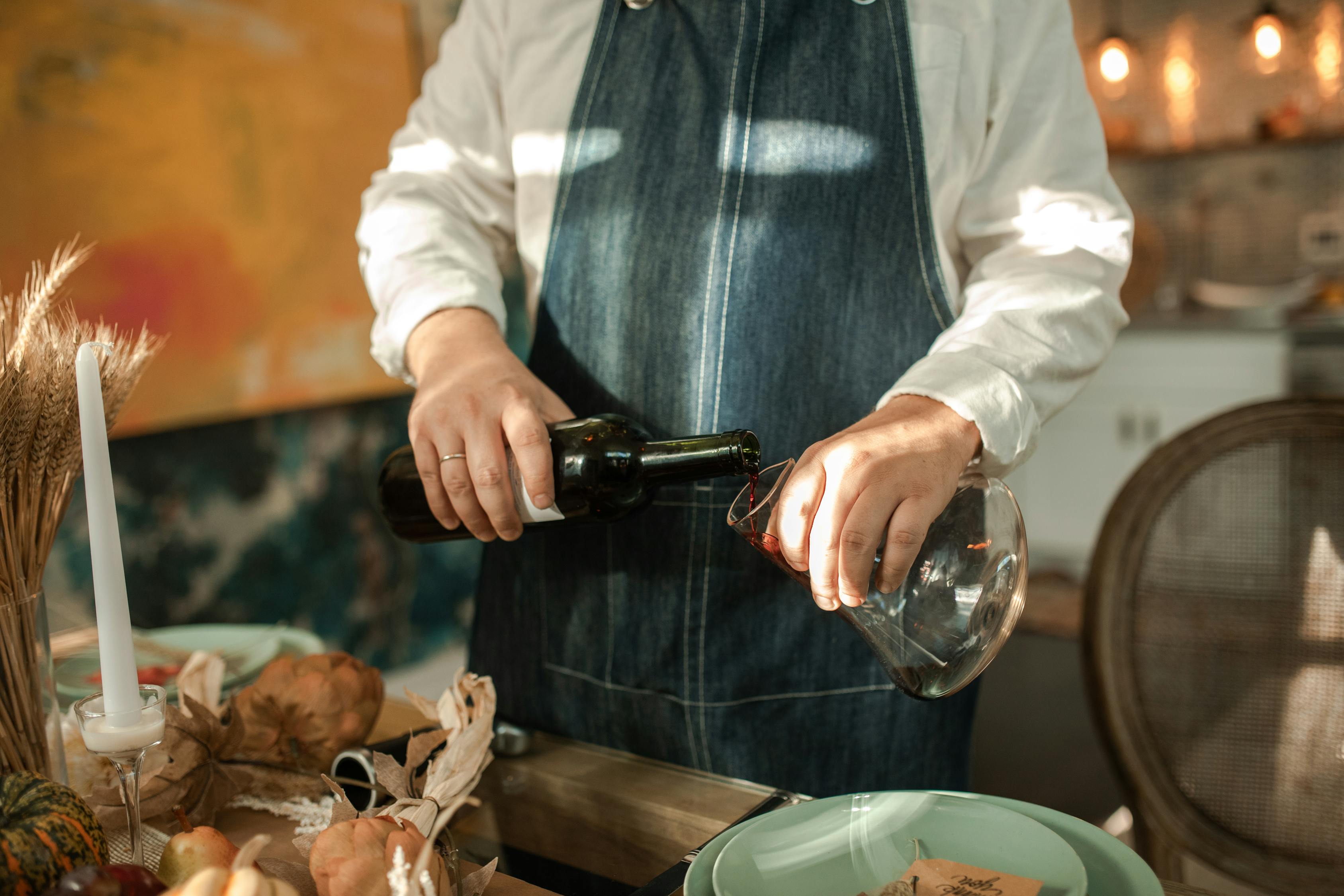 We all know that wine culture can be daunting. But enjoying wine doesn't require exclusive club memberships or timeshares in Napa. All you really need is a solid bottle of the good stuff and a vessel to aerate it. Even for the occasional imbiber, a trusty wine decanter is essential--not to mention, it makes a stunning centerpiece. We've compiled a list of the best wine decanters that will make your bottles bloom with flavor and complexity and tickle your design tastebuds, too.
Le Chateau Wine Decanter
Your wine will reward you for giving it a home of its own.
Your wine will love this hand-blown crystal decanter from Le Chateau almost as much as you will. It's lead-free and specifically engineered for a 750 mL bottle, meaning the wide base maximizes air exposure to allow the contents of an entire bottle to properly breathe. After the oxygenation process is complete, the slanted spout ensures a spill-free pour into your glass of choice. An all-around winner, this decanter makes a useful and beautiful addition to any kitchen.
Pros:
8.5-inch base diameter maximizes surface exposure to air
Hand-blown crystal is durable, dishwasher safe and elegant
Designed to work with an entire 750 mL bottle of wine
Cons:
May need to purchase a brush to handwash properly
Godinger Wine Decanter
This decanter is as effective as it is affordable.
We're always a fan of products that lower the barrier of entry into a niche field, and Godinger's ultra-affordable wine decanter does just that. Its construction maintains the industry standard of hand-blown and lead-free crystal glass, and the pour spout is slanted to avoid spillage. The vessel does hold a full 750 mL bottle of wine, but it's recommended to decant a half bottle at a time to maximize air exposure. If you're curious about the noticeable effects of decanting, go ahead and give this one a try. It might just become your go-to cabernet companion.
Pros:
Ultra-affordable
Hand-blown and lead-free crystal glass
Smaller size can be more manageable for occasional imbibers
Cons:
Base diameter not optimized for aeration of a full bottle
Jiaran Wine Decanter with Built-in Aerator
The included aerator on this decanter allows you to uncork and imbibe in under five minutes.
Call us impatient, but we don't love the idea of waiting 30 minutes before enjoying our freshly-opened bottle of wine. This decanter has a built-in aerator that accelerates the process of oxygenation and filters the residual sediment at the bottom of your bottle. While decanting normally requires a steady, slow pour to keep unwanted sediment at bay, the double-layer filter in this aerator will catch it all. That means you can empty this lead-free crystal decanter into your drinking glasses within three to five minutes. We'll drink to that.
Pros:
Built-in aerator made of durable, easy-to-clean stainless steel and silicone
Bi-directional, double-layer filter catches sediment while pouring both from the bottle and into your glass
Saves time by accelerating oxygenation process
Cons:
Slightly more time-intensive to clean, but we think it's saving time where it counts
HiCoup Wine Decanter
You'll never want to put this decanter away.
This stunning decanter from HiCoup is enough to make Dionysus envious. The lead-free, hand-blown crystal body is extraordinarily graceful, but don't let its looks distract you from its practicality. It holds an entire bottle of wine, and the delicately slanted pour spout avoids any unwanted dripping. Though cleaning may be slightly more challenging, HiCoup includes suggestions for how to properly "agitate" soapy water to remove any residual coloring or sediment.
Pros:
Unique, aesthetically pleasing design makes it great for display
Holds a full 750 mL bottle of wine with enough space for proper aeration
Pour spout is very effective
Cons:
Delicate construction may be prone to cracks, so handle this beauty with the care it deserves
YouYah Iceberg Wine Decanter Set
Washing this decanter is a cinch, thanks to the included drying stand and cleaning beads.
YouYah takes decanting to new heights with the innovative design of its Iceberg Wine Decanter set. The built-in aerator gently cascades the wine down the decanter's sides and slowly submerges the iceberg below. While immensely pleasing to watch, this process also increases the wine's exposure to air and accelerates the oxygenation process. A fine stainless steel filter also removes unwanted sediment and impurities. Washing and drying–often the least enjoyable parts of using a decanter–are made easy by the included cleaning beads and drying stand.
Pros:
Unique, hand-blown, lead-free crystal construction
Holds and aerates a full 750 mL bottle of wine
Purchase includes cleaning beads and drying stand
Cons:
More parts mean more to clean, but YouYah's included tools help you get the job done
Frequently Asked Questions
What type of wines should be decanted?
It's widely accepted that most red wines will benefit from some level of decanting, but white wines become flat and dull when decanted. Wines exposed to ample oxygen while being vinified will respond the best to the oxygenation that comes with decanting. Examples include Barolos and Riojas, but don't limit yourself–drinking wine is about enjoying it. A good rule of thumb is to record the mouthfeel, aromas, and flavors before decanting, then reassess at 10, 20, and 30 minutes into the process.
What is the benefit of an aerator?
An aerator's primary purpose is to accelerate oxygenation by increasing the wine's surface exposure to air. Many aerators rely on a waterfall design, which is effective while being a visual spectacle in its own right. Some aerators will also include a filter that removes excess sediment, often substantially shortening the time between uncorking and drinking.
About the Author
Why Trust Us
Since 2010, Momtastic has provided millions of parents with a complete guide to raising a family in a healthy home by offering our expert advice on everything from car seats for kids to baking supplies for the kitchen. It takes a village to raise a family, and our experts are here to make sure every parent finds a little bit of that village in us.