The Best Stockpots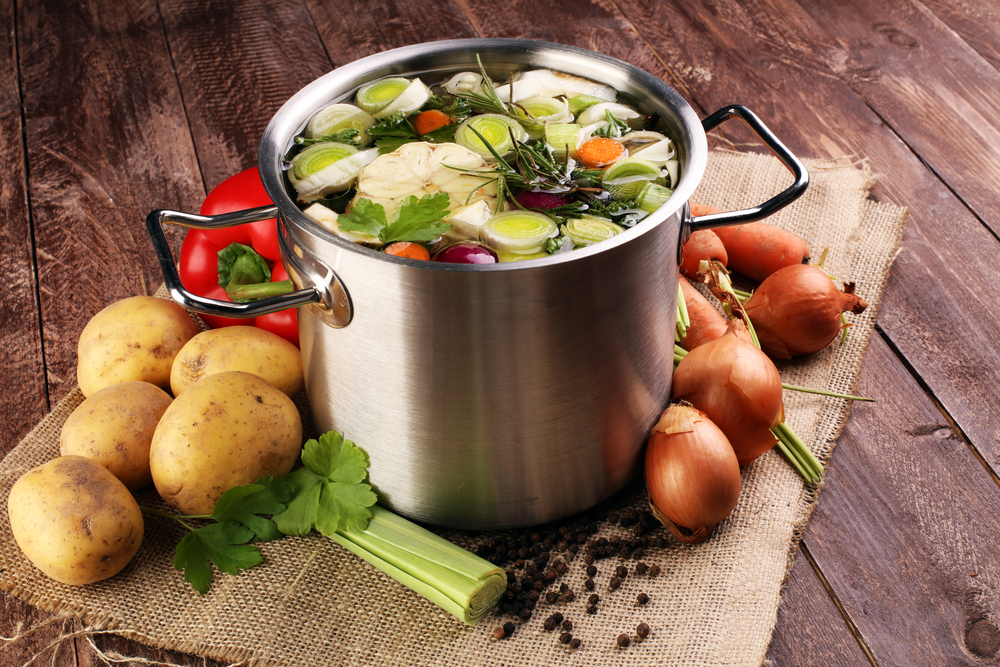 If you're a true foodie, you know there's no such thing as "soup season," especially when it comes to making your own stocks. Whether you've just harvested a load of homegrown vegetables or you're too sad to waste the bones from last night's short rib, boiling your own stocks is a sure way to get the most bang for your buck. It does require an extra-large pot, but you'll be glad to have the additional real estate next time you're canning, frying, or offering to make dinner for a big group of friends. With features ranging from professional-grade durability to nonstick coatings, our round-up of the best stockpots will suit all your soup and stock needs.
Cook N Home 8-Quart Stockpot
Straightforward with oven-safe silicone handles, this affordable stockpot won't let you down.
If you're new to the world of homemade stocks and big-batch soups, you'll want to start with something simple and reliable like this 8-quart stockpot from Cook N Home. The perfectly sized pot is made of durable stainless steel with a mirror finish, along with an encapsulated aluminum plate on the bottom, which ensures even and quick heating. Silicone handles make it easy to maneuver, even when it's full of boiling broth, and they're oven-safe up to 350 degrees Fahrenheit. Topped off — literally — by a tempered glass lid with a steam vent, this pot makes checking your stock easy and hassle-free.
Pros:
Encapsulated aluminum plate for even heating
Silicone handles stay cool and are oven-safe
Tempered glass lid with steam vent prevents liquid from boiling over
Cons:
Stainless steel may not be as thick as some competitors
Homichef Commercial Grade 20-Quart Stockpot
This pot's 20-quart capacity will allow you to cook comfortably for the whole neighborhood.
This pick is for all the stockpot professionals out there who live for homemade stocks and have the stove space to accommodate a bigger buy. The base of this 3-ply pot features an aluminum disc sandwiched between two layers of stainless steel, totaling 7 millimeters in thickness. Even so, the whole unit only weighs 7.5 pounds, including the tempered glass lid, which makes checking on your stock easy and mess-free. The tightly riveted handles also help you transport your soup without burning your hands. At 20 quarts, this is one of the biggest stockpots you can find, so be ready to show off your new boiling behemoth for years to come.
Pros:
20-quart capacity ideal for big-batch cooking
Weighs in at a manageable 7.5 pounds, lid included
Oven- and dishwasher-safe
Cons:
Size may not be suitable for smaller kitchens and stovetops
Cooks Standard Professional Grade Stockpot
You won't have to worry about warping or denting this strong stockpot.
Cooks Standard earns their name with this professional-grade stockpot. It can hold up to 11 quarts, which is a practical happy medium for those who want more than 8 quarts but don't have the stove space for 20 quarts. The aluminum disc-capsuled bottom ensures even and proper heating to avoid hotspots, and the whole unit is oven-safe up to 500 degrees Fahrenheit. Rather than sporting a flashy mirror-finish, this stockpot features a subtle brush-finish on the interior and exterior. When you're done scooping out the last of your homemade soup, just throw the pot in the dishwasher and call it a night.
Pros:
Brushed finish is modern and subtle
11-quart capacity is a large but manageable size
Oven- and dishwasher-safe
Durable, high-grade stainless steel
Cons:
Stainless steel lid does not have a vent
T-fal Specialty Nonstick Stockpot
You won't have to worry about food burning the bottom of your pot thanks to the handy nonstick coating.
Whether you're prone to walking away while your soup simmers or your stovetop seems to have a mind of its own, we're not judging you. Scraping off burnt remains of a failed dinner is not only a waste of food, but also a waste of a good cooking utensil. You won't ever have to worry about that again thanks to this nonstick stockpot from T-fal. The 12-quart capacity pot is made of heavy-gauge aluminum for maximum heat conduction, and it's lined with a nonstick coating for easy release. The glass-lid is vented and clear enough to check your stock's progress without releasing too much heat. This pot is also oven-safe to 350 degrees and will happily take a scrub-down from your dishwasher when you're done.
Pros:
Nonstick coating ideal for finicky stoves
Glass lid is vented to release the proper amount of steam and heat
Heavy-gauge aluminum promises even and quick heat distribution
Cons:
Glass lid not listed as tempered or shatter-proof
Cooks Standard Multipot
You'll be prepared to simmer stock, boil pasta for a bolognese, or steam a side of vegetables with this all-in-one option.
Cooks Standard proves that they understand the various capabilities of stockpots with this edition of their mulitpot. If you're not taking advantage of the 12-quart capacity to boil up a homemade stock, utilize the pasta insert to easily cook and strain a hefty serving of your favorite bolognese recipe. Sides of vegetables are also a cinch to make thanks to the steaming rack. Though you can't use both inserts simultaneously, feel free to use the same batch of water for both your bucatini and your broccoli. This stockpot is oven-safe up to 500 degrees and dishwasher-friendly, so you'll definitely want to have this stackable set next time the extended family comes over.
Pros:
Aluminum disc bottom layer for even heating to avoid hotspots
Pasta and steaming inserts included with purchase
Oven- and dishwasher-safe
Cons:
Stainless steel lid does not have a vent
Frequently Asked Questions
How do aluminum discs work to ensure even heating?
While stainless steel is durable and oven-friendly, it's far from the best when it comes to conducting heat. Aluminum and copper are significantly better at providing even heat, which is why they're often found in encapsulated discs in the bottom of stainless steel pots. They work to distribute the heat along the interior stainless steel surface to prevent hotspots, the main cause of burning.
How do I care for my stainless steel pots?
Though stainless steel doesn't require as much attention as cast iron, there are still a few things to keep in mind when cooking with and washing your stainless steel: heat your pan before adding oil to ensure a temporarily nonstick surface for browning meat; let your pot cool before soaking it in warm soapy water to avoid warping; and remove pesky white spots by boiling a mixture of 1 part vinegar to 3 parts water.
About the Author
Why Trust Us
Since 2010, Momtastic has provided millions of parents with a complete guide to raising a family in a healthy home by offering our expert advice on everything from car seats for kids to baking supplies for the kitchen. It takes a village to raise a family, and our experts are here to make sure every parent finds a little bit of that village in us.