The Best Stainless Steel Mixing Bowls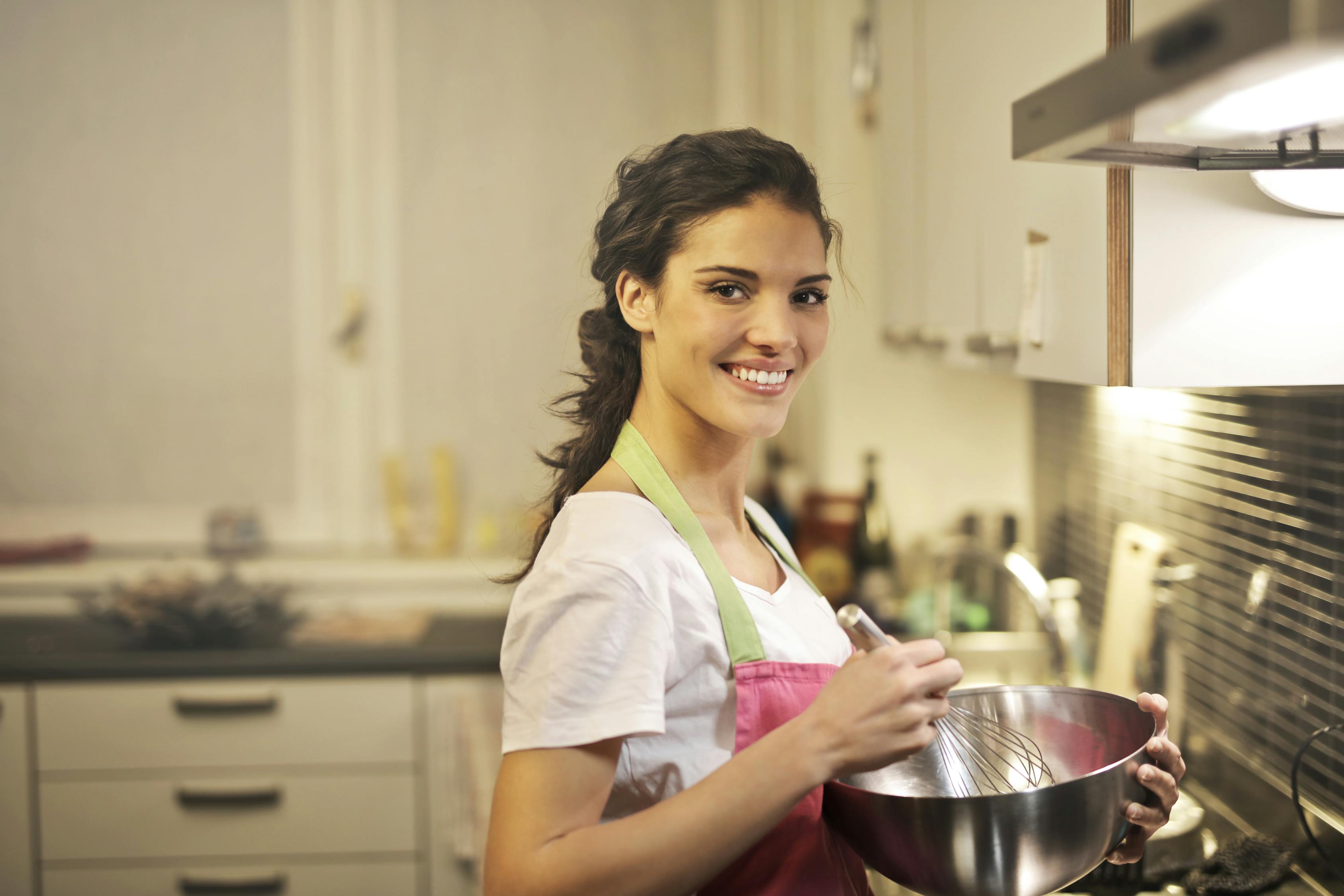 Whether you're making delicious cookies or stirring up a batch of pancakes for breakfast, you need a great mixing bowl. You need a bowl that's sturdy and stable so that it doesn't rock all over the counter as you stir. Your mixing bowl also needs to be lightweight so that you can easily pick it up and move it around without dropping it. After trying lots of mixing bowls with my large family, stainless steel arose as the clear winner, and it's what I use almost exclusively in my kitchen. This material is durable enough to withstand drops from my young helpers, but it's still light enough that they can fetch whatever size is needed without struggling. These bowls make cooking (especially cooking with kids) so much simpler. If you're looking for stainless steel mixing bowls, give these ones a try. You'll soon find yourself reaching for them whenever you need to mix something.
FineDine Stainless Steel Mixing Bowls
These stainless steel mixing bowls won't take over your cupboards. Instead, they nest neatly to keep them all together.
You need more than one mixing bowl or you'll constantly be washing it between uses or dealing with a bowl that's too big or too small. To ensure you always have the size you need, check out this set of six stainless steel mixing bowls. They range in size from large (8-quart) to small (3/4-quart), so no matter what you want to cook, you'll be well-equipped. The sizes are marked on the outside so you can quickly grab the right one.
All six of these bowls are made from high-quality stainless steel. Since they have a mirror finish, they'll look sleek and elegant in your kitchen. You'll also appreciate how flat they sit on the counter. Furthermore, they stay put as you're working, and when you're done cooking, they're a cinch to clean since the stainless steel is dishwasher-safe. Once they're clean and dry, they stack neatly inside each other for compact storage. It won't take long, and you'll wonder how you ever managed without these amazing bowls.
Pros
Set of six stainless steel mixing bowls so that you can stock your kitchen with the bowls you need
Shatterproof material, so if your kids accidentally knock them off the counter, they won't break
Rolled rim at the top so you can easily pour without dripping all over the place
Cons
These bowls don't come with lids, so if you're looking for something to double as storage, you'll need a different set
Umite Colorful Mixing Bowls
You'll quickly be able to grab the lid you need with this set of stainless steel mixing bowls since each size has a different color.
Add a pop of color to your kitchen with these cute stainless steel mixing bowls. You get six of them in this set, each one ranging from 1.5-quart to 7-quart. The bottom section and lid of each are bright and colorful. Since each size has a different color, this design makes it simple to grab the right bowl the first time. It's also easy to ask your kids to get the "green" bowl or the "yellow" bowl, so they bring you the size you need.
The colorful bottoms on these bowls aren't just pretty – they also provide a non-slip surface to keep things steady as you mix. And when you're done, you can pop on the tight-fitting lid to keep insects and debris out of your food. After everyone has enjoyed your cooking, these bowls clean up easily. You can even put them in the dishwasher if you'd like.
Pros
Packaged nicely, so these would make a great gift
Fingerprint-resistant finish so your bowls will still look great even if your kids are helping and keep touching the sides
Deeper design than many other bowls, so you're less likely to splash out of the top
They nest inside each other for easy storage
Cons
The lids push down into the bowl a bit when they're on, so you can't fill them to the brim and then put the lid on. Leave a bit of headspace to avoid messes
FineDine Premium Stainless Steel Mixing Bowls with Airtight Lids
The lids on these stainless steel mixing bowls are recessed just enough that you can stack another one on top.
Airtight lids can help keep your food fresh for longer, which reduces food waste. This set of five mixing bowls comes with tight fitting lids to create an airtight storage bowl. The lid is made with BPA-free plastic. Once it's on, you can even store food in the freezer and it won't pick up odors. You'll be able to use them for meal prep, so you can make life a little simpler on those crazy days.
When the lids are on, you can stack the bowls on top of each other. This really maximizes the vertical space in your fridge, and helps you keep things organized. When the lids are off, the bowls nest inside each other so you can use your space efficiently. The lids also stack together, so you are less likely to misplace one. These are the perfect set of mixing bowls for everyday use, so you'll find yourself reaching for them often.
Pros
Lids have a handle, making it easy to pop them off
Dent- and rust-resistant stainless steel, so they'll look great for longer
Safe in the fridge, freezer, and dishwasher, so you can use them for just about anything in your kitchen
Nice set of five different sizes (.75-quart, 1-quart, 1.5-quart, 3-quart, and 5-quart) for almost all of your mixing needs
Cons
Lids are a tight fit to put on, especially at first.
There's not a really large bowl in this set, the largest is 5-quart, so if you frequently mix a lot of food, you'll want to supplement this set with a larger bowl.
PriorityChef Premium Mixing Bowls
Each bowl touts clearly marked measurements so that you can measure your ingredients as you add them.
This set of stainless steel mixing bowls has a lot going for it. Each bowl has a non-slip silicone bottom that'll keep it from sliding around on your countertops. Inside, you'll find clearly marked measurements in quarts and liters, so you can mix and measure at the same time. It's a very convenient feature.
Also, these bowls each come with a lid. If you have extra food to store, the lids are more environmentally friendly than constantly using plastic wrap. It's much more sustainable. Additionally, the bowls and lids will hold up to a lot of use, so you may even find yourself replacing your other mixing bowls with these.
Pros
Set of five bowls ranging from 1.5-quart to 5-quart, so you'll have plenty of bowls for cooking
Etched measurements inside that remain easy to read for quite a long time
Thick stainless steel looks great and feels professional-grade
Cons
The measurements aren't in cups, they're in liters and quarts, so you'll need to do some conversions to use them.
The lids can't go in the dishwasher without warping, so you'll need to wash those by hand after each use.
American Metalcraft Stainless Steel Mixing Bowl
When you need a large mixing bowl, a small one won't do. You'll be able to make enough for a crowd in this 13-quart stainless steel mixing bowl.
Are you cooking a ton of food? If you need a bowl that can handle doubled (or tripled) recipes, this gigantic bowl is for you. Measuring 16 inches in diameter, this thing is gigantic. It holds a whopping 13-quarts. It's the perfect vessel for mixing up bread dough, serving popcorn on family movie night, or making a giant batch of potato salad to bring to a barbecue.
Most sets of stainless steel mixing bowls don't contain a bowl that's large enough to do all those things. Since this is a single bowl, it's the perfect option to add to your kitchen. You can nest other bowls inside of it, so it won't take up a lot of extra room when it's not in use. Then, you can pull it out whenever it's time to make a large batch of something.
Pros
Extra large size that holds a lot of food
Durable stainless steel that can hold up to frequent use
Rolled outer rim that makes it easy to grab and handle
Cons
Even if you stack other bowls inside of it, this one takes up a ton of space when you're storing it. It's just big.
Lighter in weight than some other steel bowls, so this one may get some dents in it over time.
Frequently Asked Questions
What are the benefits of using stainless steel mixing bowls?
There are so many different types of mixing bowls available, so why should you go with stainless? Here are three great reasons to make the switch. First, this material is really durable, especially if you have kids helping in the kitchen. These bowls aren't going to break and shatter into at thousand little pieces like glass. Second, stainless steel is lightweight. If you need to hold your mixing bowl while you're stirring or scraping out batter, you won't find it as heavy as other materials. Finally, you can safely use your stainless steel bowls over heat or in freezing conditions. If you're trying to quickly cool a pudding or something, plunk the bowl down on top of some ice water. If you're trying to cook a custard, you can use your stainless steel bowl over boiling water, similar to a double boiler. It's an excellent all-purpose material that you'll reach for often.
How do you clean stainless steel mixing bowls?
Stainless steel cleans easily. You won't notice strange odors or a weird layer of oil building up on the sides. To keep it clean, you'll want to wash your bowls after each use. You can use hot soapy water and wipe it down, or you can put them in the dishwasher. However, you'll want to wash any plastic lids by hand, since the high heat of the dishwasher can cause those to bend or warp.