The Best Soda Makers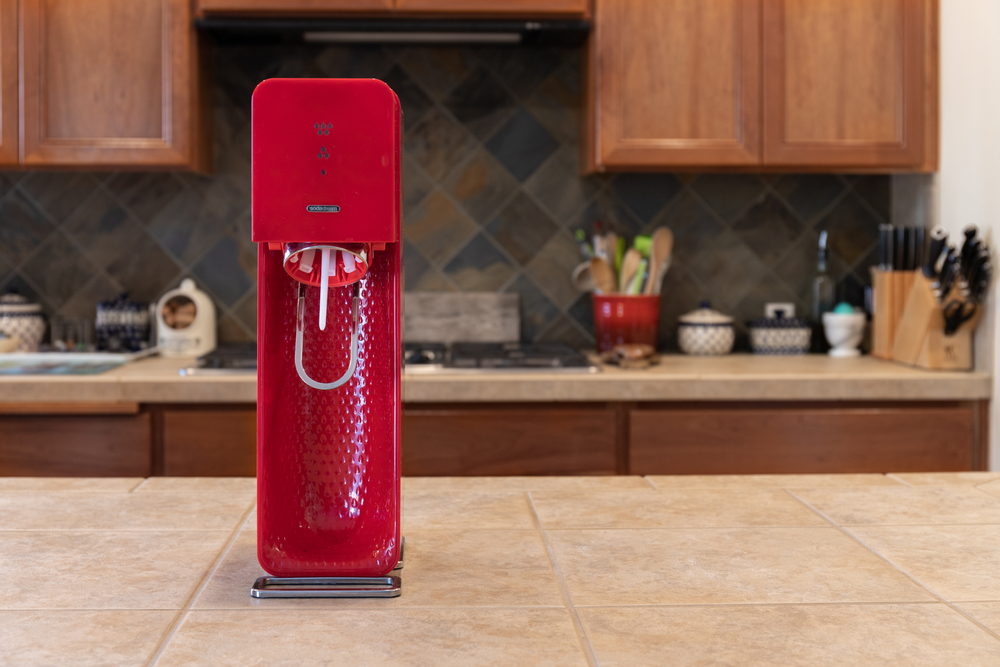 We can't get enough of our favorite bubbly beverages, but it can get pretty expensive to constantly restock the supply. Plus, it's daunting to consider the ecological footprint of all those single-use cans and bottles. That's why we recommend a quality soda maker to anyone that wants some carbonation at the push of a button. Easy to use, super convenient, and fairly eco-friendly, soda makers are a must-have. That's why we've done the research and found the best of the best. Read on to discover our favorite soda makers so that you can find the perfect pick to wet your whistle.
SodaStream Fizzi Sparkling Water Maker
Turn boring water into bubbly soda at the touch of a button with the SodaStream Fizzi One Touch.
A leading name in the world of soda makers, SodaStream offers the best overall fizz-maker by a long shot. For starters, it's about as user-friendly as it gets. Simply insert the bottle, press the single button on top, and let the SodaStream work its magic. You can even press the button a couple of extra times to add more carbonation. It may take some experimenting to determine how many presses are required for your preferred amount of bubbles, but the included tank of CO2 gives ample room for trial-and-error. In fact, the included tank can carbonate up to 60 liters, so it lasts a long time. Best of all, since SodaStream knows you care about the environment, they throw in a 1-liter, BPA-free, reusable bottle to get you started.
Pros
The single-button design is super convenient and easy to use
Great value for the price, considering the sheer amount of carbonated beverages this one machine can produce
The included CO2 cylinder is refillable, so you don't have to toss it when you've run dry
The space-saving design doesn't take up too much space on your kitchen counter
Cons
It's not dishwasher-safe, so you'll have to clean it by hand
SodaStream Aqua Fizz Sparkling Water Machine with Glass Carafes
This option from SodaStream sends a stream of carbonation into the two fancy glass carafes (also known as "bottles").
If you prefer your bubbly in a fancy glass bottle, check out this pick from SodaStream. It comes with two glass carafes, so you don't have to worry about nasty plastics or other worrisome materials. It also doesn't hurt that these glass bottles are dishwasher-safe. And if you think a glass bottle is going to be kind of wonky to fit securely into a soda maker, think again. Simply insert the bottleneck into the connection port, press it forward, and voila. The Soda Stream forms a secure connection. With glass bottles and an affordable price, the SodaStream Aqua Fizz makes elegance easy.
Pros
Includes a refillable classic SodaStream CO2 cylinder
The glass carafes can be washed in a dishwasher, so they don't retain the essence of previous flavors (ahem – who thought chocolate soda would be a good idea?)
Not much more expensive than the options that use plastic bottles, so it's a worthwhile investment for those that prefer glass
Single-button operation
Cons
It only really works with the SodaStream glass bottles
The necks are pretty narrow, so you have to be careful when filling them
DrinkMate Sparkling Water and Soda Maker
DrinkMate can add carbonation to just about any beverage, including cocktails and sports drinks.
With a DrinkMate in your kitchen, anything can become soda. That's because, unlike most other designs, this one injects the carbonation directly into the drink. That means you won't clog the machine with your thick, syrupy concoctions. Seriously, you can make all sorts of bubbly drinks with the DrinkMate, including cocktails, spritzers, lemonades, and punches. Another great overall option, the DrinkMate comes with a BPA-free reusable bottle to get you started. You'll have to buy a CO2 cylinder, but at this price point, we're more than happy to buy the extra accessories.
Pros
The "Fizz Infuser" technology adds fizz to any drink without cross-contaminating the flavors
DrinkMate offers its soda machine in three different colors, so you can find the perfect pick to complement your kitchen aesthetic
It's fast and relatively quiet
Works with a wide range of compatible CO2 cylinders
Cons
Doesn't come with a starter CO2 cylinder
Sparkel Beverage System
Rather than requiring bulky CO2 cylinders, this option from Sparkel uses efficient little carbonators that come in small packs to help bring out the flavor and fizz of your favorite drinks.
Though we were wary at first of a system that claims it requires no CO2 tanks, we were eventually won over by Sparkel's safe and innovative design. Rather than littering your kitchen with metal CO2 tanks that require refilling, the Sparkel Beverage System uses carbonator packets. These packets basically use a reaction of citric acid and baking soda to produce those precious bubbles. But don't worry, the actual contents of the packets don't make their way into your drink; instead, only the CO2 is collected and injected right into the bottle. It's an innovative, all-natural way to reduce the use of metal CO2 tanks.
Pros
Includes a reusable bottle and a starter pack of 10 carbonators
You can choose your level of carbonation with the simple button system
Fairly affordable price point
Cons
Only works with Sparkel-brand carbonators
Aarke Carbonator II
A premium machine, this one from Aarke delivers an attractive design and unmatched performance.
With a name like "Aarke Carbonator II", you can rest assured that this option fizzes drinks like a tank. With a sleek matte black aesthetic and a minimalist design, the Carbonator II looks good and performs even better. Able to carbonate a drink in a matter of seconds, this kit comes with the Carbonator II system, a high-quality bottle, and a clear and concise user manual. And although it doesn't come with a cylinder, it's compatible with a wide range of readily-available CO2 tanks. Best of all, Aarke is a responsive company that provides top-notch customer support and a 2-year warranty.
Pros
It looks really fancy yet boasts one of the easiest operations around
The included bottle is made out of high-quality PET plastic, so it should last for months (or even years)
Possibly the fastest carbonator on the market, this one can carbonate a bottle in about 2 seconds
The handle gives you greater control over how much carbonation you want to add to your bottle
Cons
Quite expensive, but worth it for those that want the best in design
Frequently Asked Questions
Will a soda machine save me money?
Soda machines can absolutely save you money. Especially for those that drink a ton of soda or sparkling water, a soda machine can cut costs significantly. Because one refillable tank of CO2 can carbonate up to 60 liters of water, you'll break even in months or even weeks. Of course, you'll have to do a bit of your own drink-making. That being said, experimenting with different flavors and carbonation levels is part of the fun.
Do soda machines require batteries or electrical power?
All of the options on our list require no electrical energy. Instead, they work simply through the power of compressed gas. Each CO2 tank is highly pressurized to ensure that the carbon dioxide that's injected into your drink is easily dissolved with the push of a button.