The Best Silk Pillowcases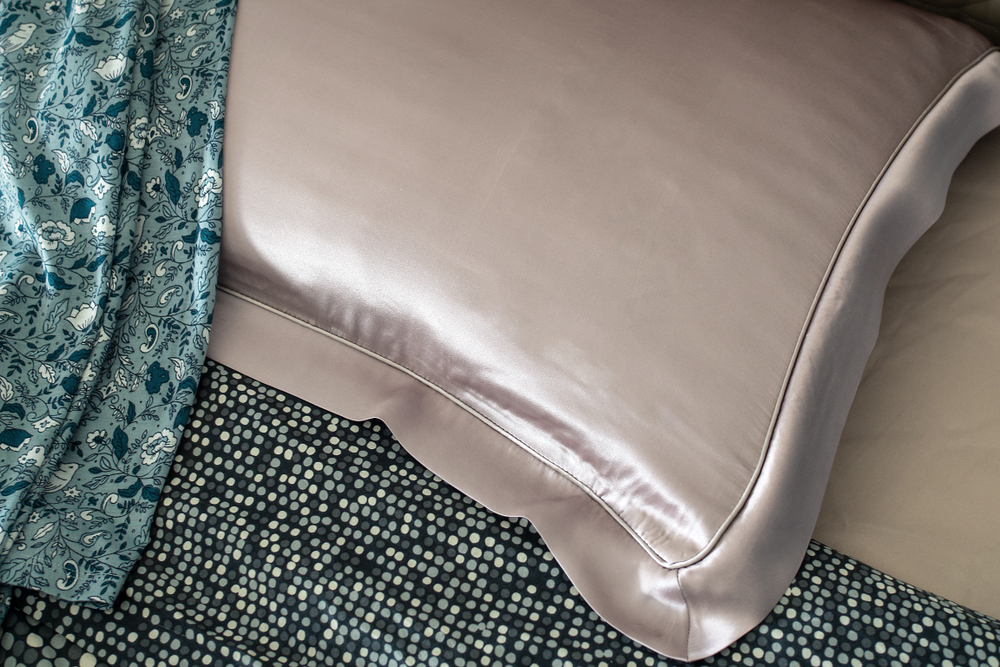 Silk is known for being smooth, soft, and easy on skin and hair. It is the recommended pillowcase fabric to keep hair healthy and frizz-free while preventing breakage and damage. These pillowcases come in a variety of sizes and colors, so there will always be one to match your bedding set or home decor. But finding high-quality silk can be tough, so we are here to help. We have searched high and low to bring you this list of our favorite silk pillowcases on the market today.
Zimasilk Mulberry Silk Pillowcase
Save your skin and sleep in comfort with this high-quality silk pillowcase.
Silk is known for being gentle on your hair and skin, which is why it's become so popular to use while sleeping. The Zimasilk Mulberry Silk Pillowcase is an excellent example. It's made of high-grade natural Mulberry silk for ultimate comfort and smoothness you can see. Just looking at it makes us want to jump into bed and cuddle up with a comfy pillow for the night.
Pros:
Available in a wide variety of colors, making it easy to find one that matches your decor
The hidden zipper makes keeping your pillow in place simple
Mulberry silk is one of the most luxurious available due to its softness
Cons:
It can get warm throughout the night
The zipper isn't as durable as we would like
J Jimoo Natural Silk Pillowcase
The long fibers and soft finish leave us longing for our beds.
Are you a fan of luxury bedding? If so, we want to show you the J Jimoo Natural Silk Pillowcase. It's made of the highest grade of silk possible and is thicker than the average silk pillowcase. In addition, it's designed to help regulate your body temperature, which means it stays cooler in the warmer months and warmer in the cooler months. Just zip it onto your pillow and head off to dreamland.
Pros:
It comes in several colors, so you can choose one to fit your style
This pillowcase doesn't make you too warm or too cool as you sleep
The packaging is very clean and professional, making it perfect for gifting
Cons:
High quality comes with high maintenance
It can stain if you go to bed with any type of product in your hair or on your face
Love's Cabin Satin Pillowcase Set
Get two fabulously silky pillowcases for a great price.
If you're on the hunt for a great deal, then the Love's Cabin Satin Pillowcase Set is for you. These pillowcases are made of polyester satin, which gives you some of the smoothness and benefits of silk without the high price tag. You also lose the frustrating wash routine. If genuine silk isn't your top criteria, these pillowcases are an affordable way to furnish all the bedrooms in your home since you could purchase multiple sets for the price of one Mulberry silk option.
Pros:
You get two pillowcases at once, so you can share with a partner or have both of your pillows covered
It is easy to wash these pillowcases, and they don't wrinkle easily
They protect your hair from breakage and frizz
Cons:
Satin pillowcases tends to get warmer than silk ones
They don't have secure closures to keep your pillows inside
Slpbaby Silk Pillowcase
This silk pillowcase offers a huge variety of prints and colors so you can style your space however you like.
Although silk pillowcases can do a fabulous job of protecting your hair and skin, the designs can leave a lot to be desired. We love a classic style as much as anyone, but when you want to punch it up, Slpbaby's silk pillowcases have you covered. They offer dozens of vibrant colors and stylish prints, so you can use your pillows to accent your space. Plus, they're made of beautiful Mulberry silk, so the quality is hard to beat.
Pros:
Available in dozens of colors and prints so that you can find one to fit your aesthetic
The hidden zipper makes it easy to keep the pillow securely tucked inside
Choose from three different sizes
Cons:
The silk used to make this pillowcase is on the thinner side
Some of the more vibrant colors bleed onto the sheets
Ravmix Silk Pillowcase
Share the benefits of silk with your friends and family with this pillowcase.
Whether you are searching for a pillowcase for yourself or as a gift, the Ravmix Silk Pillowcase is an excellent choice. It's made of high-grade silk and has a hidden zipper to make it easy to tuck your pillow in. There are tons of color options, making it even easier to pick one out for your friends and family members. All that's left to do is put it into a gift bag, and you'll have a ready-made gift anyone can snuggle up to.
Pros:
This pillowcase comes packaged in a sweet gift box
It is available in several sizes to make choosing the right one easy
The hidden zipper is well-made and keeps your pillow in place
Cons:
It tends to wrinkle easily
This pillowcase is on the pricier side, but its gift-ready packaging is a bonus for us
Frequently Asked Questions
What is Momme, and how is silk graded?
Silk has two measurements that we check for: Momme and grade. Momme refers to the weight of silk for every 100 yards. Momme generally ranges from 11 to 25, although you want somewhere around 21-22 Momme for bedding. Regarding grade, silk comes in A, B, and C grades. A is the highest, as usual. Then it is further broken down into numbers, with 6 being the best. So 6A silk is considered the best.
Why should I use a silk pillowcase instead of the usual cotton?
Silk is a finer, gentler material than cotton is, which means it causes less friction to your skin and hair. When you have less friction, you have less damage, which is exactly what you are looking for when you buy a silk pillowcase. Silk is not without its pitfalls, however. For example, caring for it is much more complicated. The added care is worth it for many people since silk can significantly reduce hair frizz and breakage in many cases.