The Best Puzzles For Kids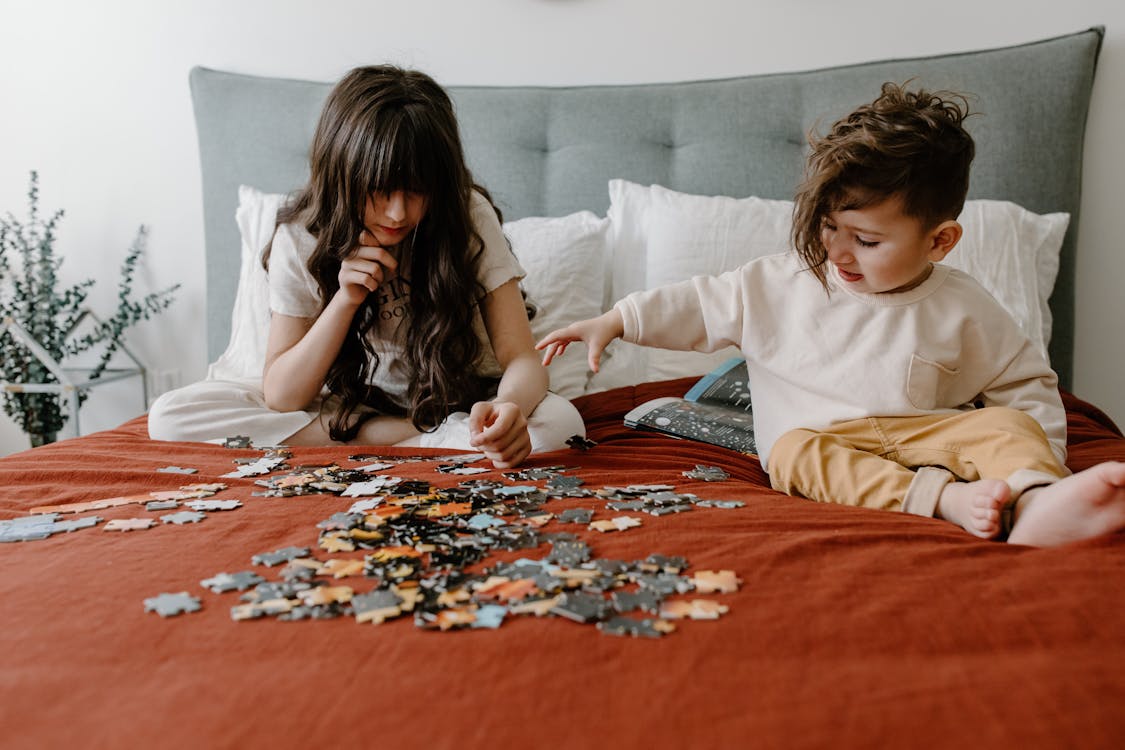 Puzzles are one of the most educational boredom-busters out there. From simple, one-piece puzzles meant for babies to more complex puzzles geared toward older kiddos, they are an excellent toy for developing a variety of skills. Best of all, there are fresh and unique options popping up left and right these days. But not all puzzles are created equal, which can be a bummer for youngsters just learning the ropes. We've weeded through the duds to bring you a few of our favorites.
Melissa & Doug Wooden Jigsaw Puzzles in a Box
This sweet little wooden set is an ideal way to get kids in on the fun.
This four-in-one jigsaw puzzle set makes for a cheery challenge. Each 12-piece puzzle features a vibrant, detailed illustration. When broken up, they fit neatly into a sturdy storage box. Appropriate for children from three to six years of age, these puzzles help to develop fine motor skills, hand-eye coordination, problem-solving abilities, spatial reasoning, and more. The chip-resistant wood means that the illustrations resist fading, scratching, and other wear and tear common with wooden puzzles.
Pros:
Each storage box is sectioned to fit the different puzzles
Key on the back of the puzzle to eliminate mixing pieces
Ideal for older toddlers to preschoolers
Cons:
The puzzles are surprisingly small
It's easy for the puzzle pieces to get jammed in the storage box
Melissa & Doug Underwater Floor Puzzle
A vibrant ocean scene comes to life in this jumbo floor puzzle.
This underwater-themed floor puzzle takes your little one under the sea. The detailed illustrations offer a beautiful look into an ocean scene teeming with fish, ocean floor plants, and large water mammals. Each of the 48 pieces is sturdy and thick, made of durable, heavy-duty cardboard that resists tearing. This pick is ideal for families and younger kids just learning the ropes of puzzle work.
Pros:
Large enough for a full family activity
Washable surface
Bright, realistic depictions
Cons:
The guide on the box isn't clear
Can be difficult to put pieces together
DDMY Wooden Jigsaw Puzzles
This set of puzzles is perfect for tiny hands.
Even toddlers love a good puzzle. This set, made precisely for tiny hands, is an excellent starter puzzle kit for your curious little one. Each wooden puzzle is thoughtfully made with children in mind. The use of BPA-free wood and non-toxic stains make this puzzle totally appropriate for teething tots. Additionally, smooth edges and bright colors keep your little one actively engaged in the problem-solving process.
Pros:
Available in packs of two and six
Small, travel-friendly size
Simple design helps to develop interest in puzzle toys
Cons:
The paint isn't the most peel-resistant
Puzzle pieces are small enough to fit into mouths as a choking hazard
Top Bright 100-Piece Puzzle
This tricky puzzle is ideal for the preschooler in need of a challenge.
This 100-piece puzzle is a great find for children who are budding puzzle pros. Featuring sturdy wooden pieces that collectively make a whimsical coastal city, the entire puzzle sits into a durable wooden tray when completed. The sides and edges of this wooden puzzle are smooth to resist chipping and fraying. Made for children between four and eight years of age, this is a challenging puzzle that will give kids a confidence boost once they successfully master the delightful scene.
Pros:
Solid, durable wooden pieces
Encourages fine motor skills, hand-eye coordination, and problem-solving
Fun, detailed illustration
Cons:
Wooden pieces may be tricky to fit together at first
The frame is a tad large for the puzzle
Crocodile Creek Solar System Junior Puzzle
This puzzle presents a unique challenge to your junior puzzler.
If your youngster is looking for a bit more of a challenge, this 72-piece puzzle features high-quality recycled cardboard, soy-based inks, and a variety of flashy, fun illustrations. But what makes it a fair challenge is not just the amount of pieces; the design is what pushes it over the top. With gorgeous illustrations and pieces that are a bit smaller in size, this is the perfect leap into the adult puzzle world.
Pros:
Variety of illustrations available, including the solar system, dinosaurs, animals, monsters, mermaids, and more
Durable, high-quality cardboard construction
Includes a handy storage box
Cons:
It can be difficult to take the puzzle apart once pieced together
The front of the box doesn't feature a full key, but a smaller image can be found on the back
Frequently Asked Questions
How do I know the appropriate size puzzle for my child?
There are a few factors in determining the correct size puzzle for your youngster. Assessing the difficulty of a puzzle is as easy as gauging a few key points — first, the number of pieces. The fewer the pieces, the easier it'll most likely be. The size of the pieces, the detail of the illustration, and the precision of the cutting all matter as well. For younger or beginner puzzlers, go with a larger-pieced puzzle with few pieces overall. A simple, large illustration is more accessible than a more busy or monochrome picture. We suggest keeping an eye out for precisely cut, high-quality puzzle pieces.
Why are puzzles good for child development?
Puzzles help with early math development, and they also help develop other skills such as hand-eye coordination, space and shape recognition, goal setting, and problem-solving. They also help to boost cognitive abilities through comprehension, power of choice, and strategy development.