The Best Pitchers With Lids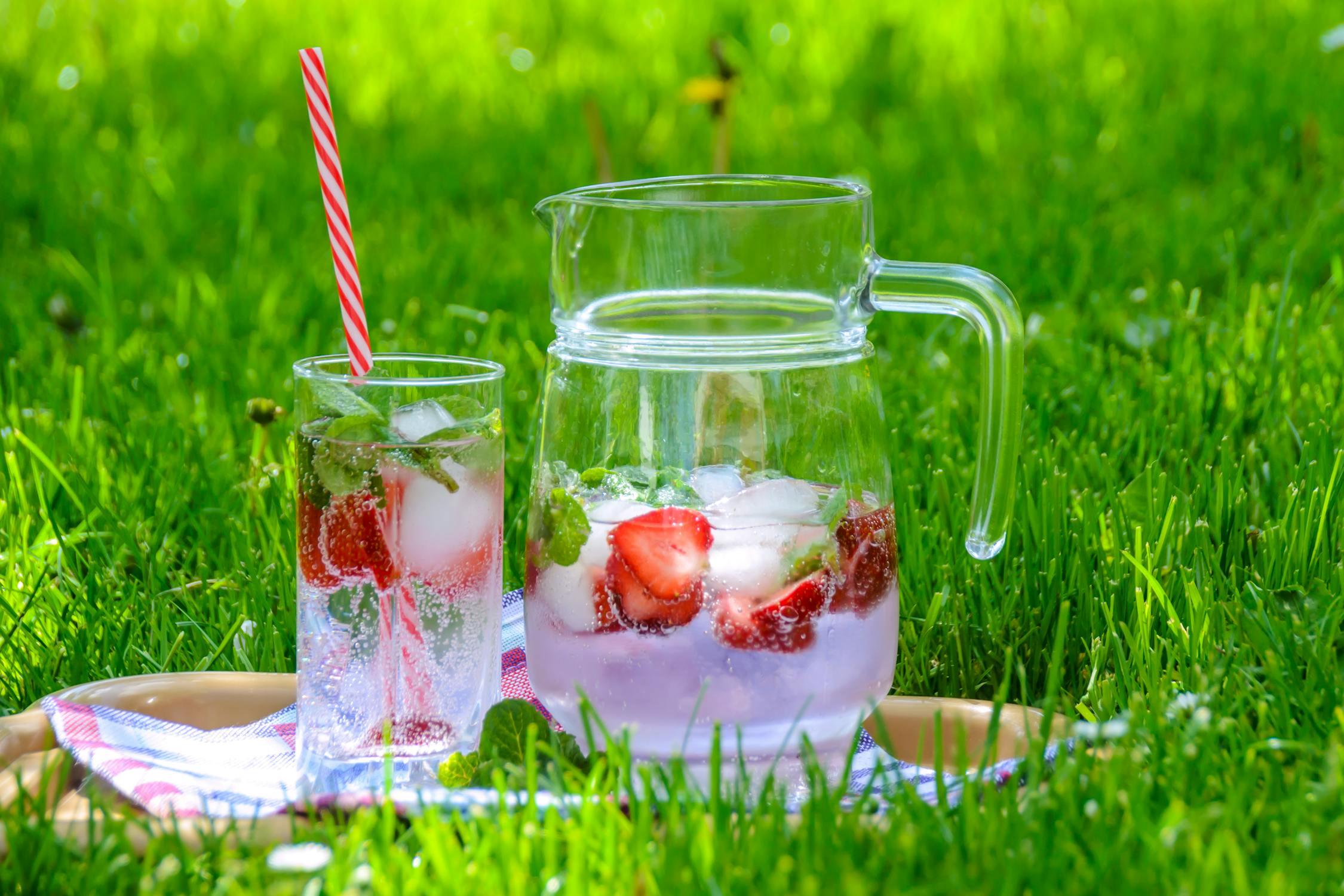 Whether you're enjoying iced tea on the porch with the kids or serving up punch at a party, pitchers are a great way to serve up your favorite beverages to your favorite people. When they come with lids, they become even more versatile. Below, we've gathered plenty of these products with well-fitting tops for you to look over. We're confident you'll find your new favorite by simply scrolling through this list of our top picks.
Lock and Lock Pitcher with Flip Top
This pitcher may look basic, but its lockable lid is anything but.
This pitcher is all about convenience. It has a simple design and an affordable price point, so you don't need to break the bank on your new drink container. Its lid also locks tight, making it both airproof and waterproof, ensuring your drinks stay fresh and spill-free.
This product comes in two sizes — two-quart and three-quart. It's made of BPA-free plastic for your family's safety, and it's microwave-, freezer-, and dishwasher-safe for ease of use, too.
Pros:
You can customize your purchase by choosing the color lid you like best

It's designed to fit in your fridge door to save you space where you need it most
It's sold at an extremely low price
Cons:
Can only go on the top rack of the dishwasher, which makes it difficult to stand it upside-down for proper rinsing
Dr. Brown's Formula Mixing Pitcher
This convenient mixing pitcher makes formula feeding simpler than ever before.
Feeding babies is hard work, but this pitcher from Dr. Brown's makes it just a bit easier. It's designed to help mix and store formula to simplify the process. Just pour in your water and powder, move the top handle up and down to combine, and place the whole product in the fridge to store four bottles worth of milk at a time.
This pitcher has a spill-free lid that locks and won't drip, so you don't have to worry about wasting that expensive baby food. It's BPA-free and dishwasher-friendly for safety and convenience as well.
Pros:
This pitcher is designed to keep formula from clumping or forming air bubbles

It has measuring marks on the side for easy feeding-related calculations
The mixing device has a stopper to ensure it stays in the pitcher at all times
Cons:
This won't make a whole day's worth of bottles, but it does still save you plenty of precious time

It's designed for formula and might not make sense to use for other types of drinks
County Line Mason Jar Pitcher
Not only is this pitcher strong, but its mason jar style is super cute, too.
This sturdy mason jar-style pitcher is both cute and functional. It's simply a 32-ounce glass mason jar on the bottom with a durable, locking lid on top. Its large handle makes it easy to hold and pour, and the high-quality cap makes it perfect for indoor and outdoor use.
This pitcher has a silicone seal to ensure it won't leak as you pour your drinks. You can use the jar for other purposes between pouring sessions if you'd like, too — since it's a mason jar, it's just about as versatile as a vessel can be.
Pros:
The glass material is more sustainable than the average plastic pitcher

Convenient flip-top lid

Designed to fit in most refrigerator doors
Cons:
Heavier than many pitchers sold today due to its extra-sturdy build
Warm Crystal Glass Pitcher
It's hard to beat the stunning style of this embossed glass pitcher and its stainless steel lid.
This pitcher from Warm Crystal is absolutely gorgeous. Its embossed glass design is unique and eye-catching, and its gold handle makes it stand out from other options. The lid makes it perfect for all types of drinks and serving circumstances, as it keeps the contents fresh and strains out items like fruit or ice cubes as you pour.
This pitcher holds 60 ounces at a time, making it perfect for sharing a drink with family or friends. Matching cups are available as well if you'd like to create a cute little set.
Pros:
This product can hold both cold and hot liquids

It's dishwasher-safe for easy cleaning
You can use it with or without the lid
Cons:
The glass material makes it fairly heavy, especially when it's filled with liquid
Hiware Filtered Pitcher
This pitcher with a built-in filter is excellent at creating infused drinks.
This pitcher is perfect for creating the tastiest infused drinks. Its lid has a built-in filter, so you can fill your beverages with fruit, fresh herbs, and more, knowing that none of the bits and pieces will enter your cups as you pour.
This product is made of glass and has a cute, rounded shape. The handle is glass as well, giving it a stylish yet minimalist feel overall. It even comes with a cleaning brush to ensure that making and serving your custom drinks is as easy as can be.
Pros:
This pitcher comes in three different sizes: 35-ounce, 50-ounce, and 64-ounce
You can use it for both hot and cold liquids
It's dishwasher-safe for extra-easy cleaning
Cons:
The filter is only meant to strain out additions to your water — it doesn't filter the water itself
Frequently Asked Questions
Q: Are all pitcher lids airtight?
A: No. Some lids are designed to make pouring easier, while others are made to keep contents fresh. Be sure to choose a product that aligns with your specific needs in this area when you make your purchase.
Q: What size pitcher should I buy?
A: It depends on the number of drinks you'd like to pour without having to refill the whole device. Keep in mind, the average beverage serving is at least eight ounces. That means a 32-ounce pitcher can pour four cups, a 64-ounce version pours eight, and so forth.
About the Author
About the Site
Momtastic
Since 2010, Momtastic has provided millions of parents with a complete guide to raising a family in a healthy home by offering our expert advice on everything from car seats for kids to baking supplies for the kitchen. It takes a village to raise a family, and our experts are here to make sure every parent finds a little bit of that village in us.