The Best Pillow Protectors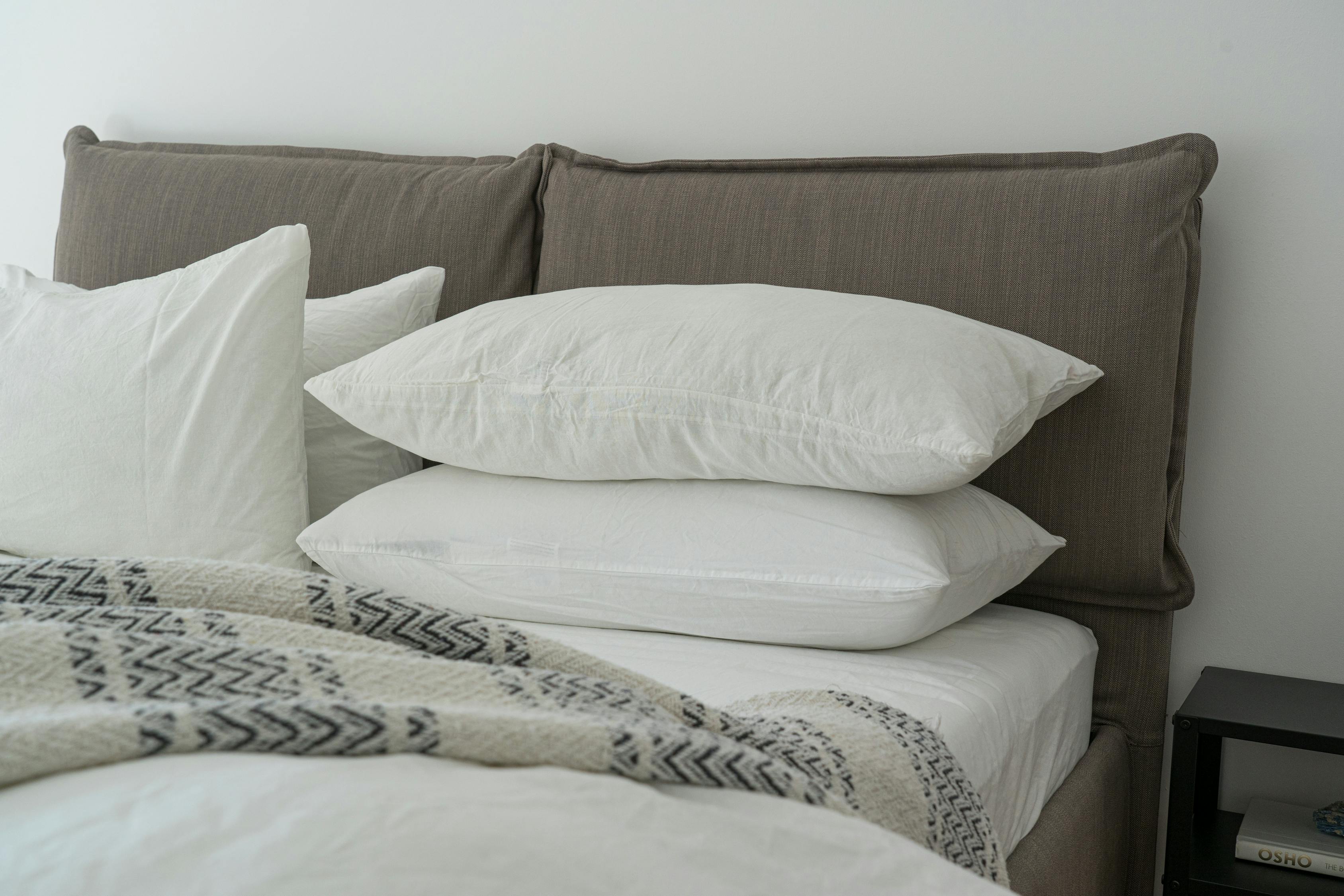 When choosing bed linens, the first factors we tend to look at are design and material. And while both of those are important, we often miss another critical one: what's underneath. A pillow protector functions as a barrier between your pillow and the pillowcase, prolonging the lifespan of your pillow, minimizing allergens and mites, and preventing mold from forming. If you or your kids have allergies or experience night sweats, a pillow protector may be the very thing that's missing from your bed setup. Here, we've done the research to give you our top contenders in cushion protectors for an easier, more comfortable snooze session.
CGK Unlimited Premium Quality Pillow Protectors
Fall asleep easily and stay that way with this super soft and affordable pillow protector.
There are lots of things that can impact our sleep. From aches and pains in the morning to restless unease on hot, humid nights, sometimes it's just hard to stay snoozing. And believe it or not, your pillow plays a significant role. While you may not be able to control the construction crew outside your window, you can control what your face touches at night. This two-pack from CGK Unlimited uses durable, hotel-quality microfiber for an ultra-soft touch that works as a barrier against irritants that can keep you up at night. And best of all, you get two shams in any of the 19 available colors for half the price of other brands.
Pros:
Great cost value
Wrinkle-free design
Durable seams throughout the protector
Cons:
Color may be slightly different than pictured
AllerEase Zippered Breathable Pillow Protectors
Providing a barrier against dander and mites, this hypoallergenic pillow protector is perfect for sensitive noses.
If someone in your family has allergies, we don't have to tell you why hypoallergenic bed linens are essential. And even if you don't tend to wake up with a runny nose and itchy eyes, sleeping with dander and dust mites can change your sensitivity to both over time. That's why we prefer to use a pillow protector to keep all the bad stuff away while we sleep. Perfect for anyone with sensitive skin, this zippered protector by AllerEase lets your skin breathe with comfort and security. Plus, this cover doesn't just act as an allergen barrier at the moment; it also extends the life over your pillow over time.
Pros:
Balances temperature to keep you cool at night
Antimicrobial protection
Quiet underneath normal pillowcases
Cons:
Loose stitching around the zipper
Four Seasons Essentials Pillow Protectors
This soft, breathable pillow protector will make you forget its loud, plastic predecessors ever existed.
Ok, we know — pillow protectors were never the "cool" thing to have in your bed. They used to be made of hard plastic that was super obvious under your regular sham. But these days, you can find allergen-blocking covers that are just as comfy as your favorite pillowcase. And when we say comfy, we don't just mean how they feel — we're talking about the whole experience. We love this pillow protector from Four Seasons Essentials precisely for this reason. Stretchable and breathable, this protector is ultra-soft and easy to clean. But most importantly, because it's designed to be completely noiseless, you'll hardly notice them, even if you tend to toss and turn at night.
Pros:
Standard, queen, and king sizes available
Waterproof, polyurethane inner lining
Classic white design
Cons:
We wish the zippers were more durable
UltraBlock Premium Waterproof Pillow Protectors
The micro-velour fibers on this sham protect your pillow from sweat and spills while also being comfortable to sleep on directly.
Though we don't often associate bed linens with "waterproof" capability, it's an extremely useful feature. From sweat and saliva to accidental spills, excess moisture on your pillow not only ruins your night's sleep but also damages the integrity of your favorite cushion. To prevent those kinds of mishaps, we recommend a waterproof pillow protector like this comfortable cover by UltraBlock. While the durable backing passes the 100-gallon floor test, the micro-velour fibers that face the outside are much softer than your run-of-the-mill terry cloth. As a bonus, you can choose from a standard, queen, king, or even body pillow size to accommodate every type of sleeper.
Pros:
Keeps out most allergens
Strong, durable zippers
No smell
Cons:
Plush outside absorbs excess sweat, so best used with a pillowcase
AllerEase Evercool Pillow Protector
Hot sleepers will love this self-cooling pillow protector that has cooling technology built into the fabric.
Few feelings are better than turning the pillow over to the cool side when you sleep, and this is doubly the case for folks who experience night sweats. Fortunately, the designers over at AllerEase figured out a way to recreate that cool-side feeling throughout the night. The RapidCool technology in their Evercool pillow protector instantly releases heat when your head starts warming up, cooling you down even if you have a pillowcase layered on top of it. Best of all, this technology is woven directly into the very fabric of the cover in a decorative crushed ice pattern, meaning it will never wash out nor be lost amongst your other white shams.
Pros:
Safe for washer and dryer
Made from a thick, well-stitched fabric
Zipper provides easy-on, easy-off convenience
Cons:
Higher cost for advanced cooling technology
Frequently Asked Questions
Should I put a pillowcase over my pillow protector?
That's entirely up to you. If you really like how the protector feels, you can sleep on it directly, though this will be slightly less hygienic. Using a case atop will require less washing of the protector but more washing of the pillowcase itself, so it depends on your cleaning schedule and personal preference of material.
How often should I wash my pillow protector?
While experts recommend washing your pillowcase every one to two weeks, you can probably get away with washing your pillow protector about every month or so. But do make sure to wash it properly. Though protectors do keep the bad stuff away, allergens can still build up in them over time. That is especially true if you're not using a pillowcase over them, so monthly cleaning is a good idea.