The Best Petroleum Jellies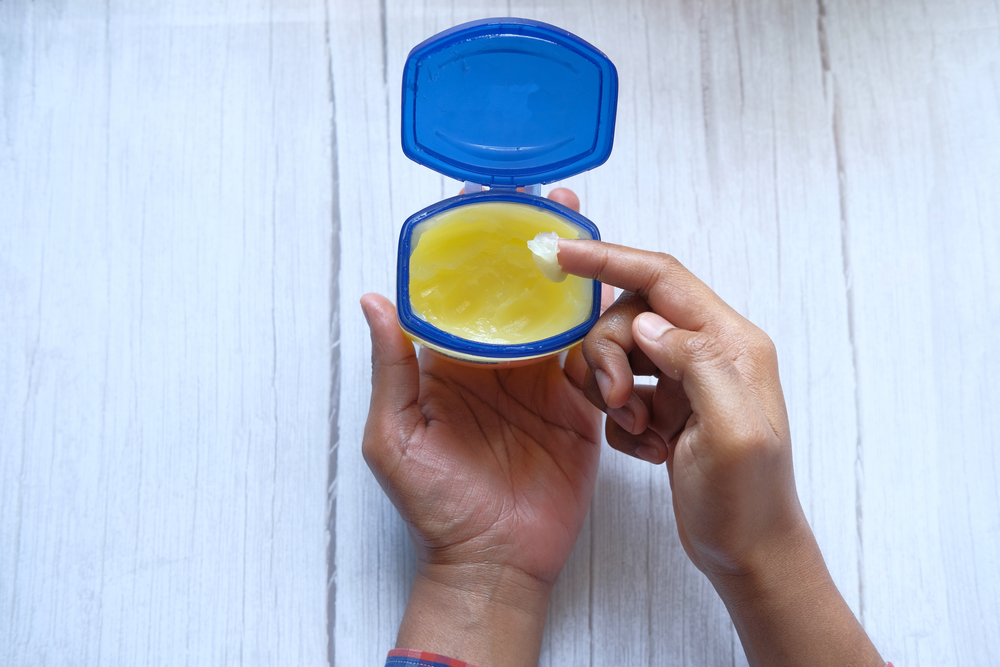 Instead of expensive skincare products or multiple moisturizers, there's a simple and effective solution to protect against dry skin: petroleum jelly. This medicine cabinet must-have is a simple product that takes care of countless ailments, including dry skin, minor cuts and scrapes, and even eczema. If you're ready to add this powerhouse product to your own arsenal, we've rounded up the best of the best that will help you have softer, smoother skin in no time. Check out our favorites to find the one that will help you tackle your skin's needs.
Aquaphor Healing Ointment
Moisturize, heal, and repair skin with this powerful ointment.
Perfect for everything from chapped lips to minor scrapes and cuts, this ointment creates a protective barrier for optimal healing. The fragrance-free, dermatologist-recommended formula protects hands, lips, feet, and more against extreme weather conditions or frequent exposure to water, allowing you to achieve soft and smooth skin that isn't rough, chapped, or irritated. Plus, with two compact tubes per purchase, you always have a backup at the ready when you need it.
Pros:
The ointment helps to moisturize skin and also helps to heal minor cuts or wounds
It's preservative and fragrance-free, making it safe for sensitive skin
Dermatologist-recommended and clinically proven to restore smooth skin
Cons:
It takes a while to soak into your skin, so it stays tacky and sticky
The tubes are small, so you'll run out quickly if you use them frequently
Vaseline Pure Petroleum Jelly
This one-pound tub is a must-have for your medicine cabinet.
Made to be gentle on the skin, this petroleum jelly is an affordable and effective way to moisturize. Apply it liberally to dry areas on your hands, feet, and elbows — or anywhere else you need it — to infuse your skin with rich moisture that helps eliminate rough patches and also helps with eczema. The hypoallergenic formula is even safe for children or those with sensitive skin, making it the ideal way to soothe skin for almost everyone.
Pros:
The one-pound tub gives you a plentiful supply, so you don't have to worry about running out anytime soon
It's formulated to be gentle and hypoallergenic for sensitive skin
You can use it all over your body to treat dry skin, so it's a versatile option
Cons:
Some people receive an international version of the product instead of the U.S. version
It's very thick and leaves the skin sticky, which some people may not like
 Solimo Petroleum Jelly
Protect skin with this white petrolatum formula.
This jelly is made from 100% white petrolatum for a powerful solution for chapped skin. Made to protect against dry skin, chapping, scrapes, and cuts, it infuses your skin with moisture for ultimate smoothness. The unscented jelly is free of additives or harsh chemicals, so you can rest assured that the product you're receiving is pure and safe for your skin. It's also never tested on animals for an eco-friendly addition to your skincare routine.
Pros:
It's made from 100% white petrolatum
You can use it on both for face and body for a versatile solution to dry skin
The petroleum jelly is never tested on animals
Cons:
There's no seal under the plastic cap
If it gets too hot in transit, it may melt in the container
Solimo Petroleum Jelly with Lavender and Chamomile
The addition of lavender and chamomile gives this petroleum jelly a light and fresh aroma.
This 13-ounce container of petroleum jelly gives you a long-term supply for all of your dry skin needs. The classic product gets an upgrade with the addition of lavender and chamomile that moisturize skin and provide extra soothing effects. Designed to heal and protect the skin, this formula is dermatologist- and pediatrician-tested for a product you can count on. It's even paraben-and phthalate-free for a safe way to soothe your dry and cracked skin.
Pros:
Lavender and chamomile add a pleasant scent to the product
It's dermatologist- and pediatrician-tested for safe use on children
The product is never tested on animals
Cons:
Not a good solution for those who are sensitive to fragrance
It's thinner than other petroleum jelly products, so it doesn't go on as thick
Vaseline Gentle Petroleum Jelly Blue Seal Baby
Designed specifically for little ones, this petroleum jelly helps keep babies' skin soft and smooth.
Stop diaper rash in its tracks with this restorative formula. Designed to block wetness to protect your baby's skin, this petroleum jelly is gentle and non-comedogenic to deliver moisture without clogging pores. The triple-purified product is perfect for dry and sensitive skin as well, making it an all-in-one solution for keeping your little one's skin soft and smooth. It even has a light baby powder fragrance for a fresh and clean scent every time you apply.
Pros:
The triple-filtered jelly is specially made for babies, so it's super gentle
Non-comedogenic formula
It protects against diaper rash, dry skin, and irritation
Cons:
The container is smaller than it looks in the photos
It's more expensive than other available petroleum jelly products
Frequently Asked Questions
Is petroleum jelly flammable?
Petroleum jelly only becomes flammable if it's liquified. The liquid, however, will not ignite on its own and would need a wick-like material. When in its solid form, it is safe and not flammable.
Is petroleum jelly bad for my face?
For some people, petroleum jelly is too thick and may clog their pores, which can lead to breakouts or irritation. For this reason, you should avoid using it on skin or areas that are prone to acne. Some formulas are non-comedogenic and won't clog pores, so they may be worth looking into if you'd like to give petroleum jelly a try.
Does petroleum jelly expire?
When stored properly, it degrades very slowly and will last a long time, especially when it's in a cool and dark environment. Typically, petroleum jelly lasts between five and ten years.