The Best Packing Cubes for Travel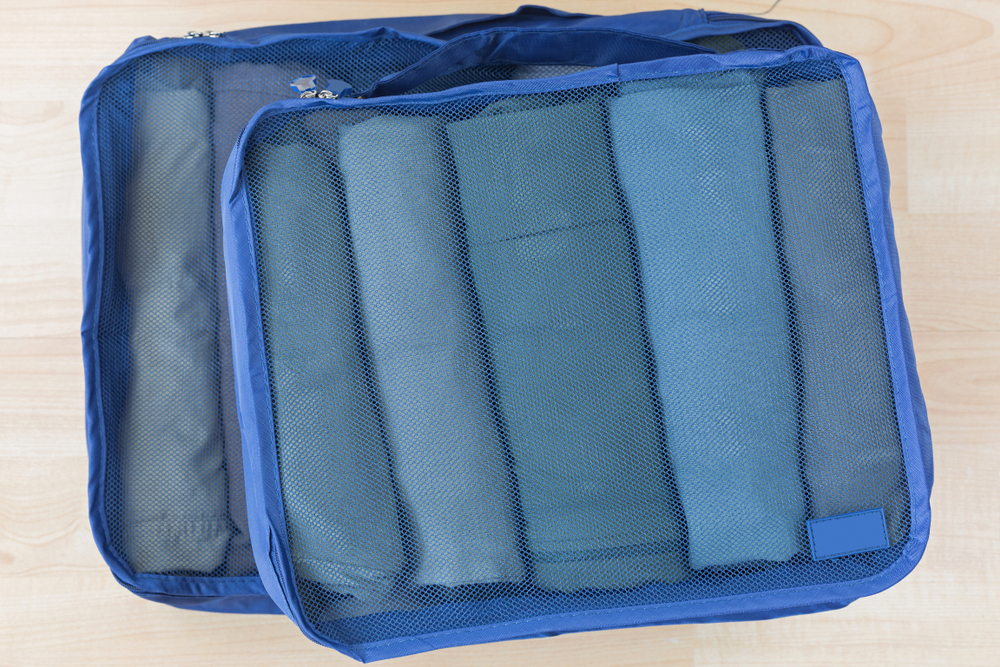 If you're a frequent traveler, packing cubes can be a life-saver. These handy little tools help to organize and separate your clothing inside your suitcase, allowing you to group items together and keep smaller items from rolling around loose inside your bag. Cubes also help keep your clothes as wrinkle-free as possible, and they can even double as laundry bags or pillows. Real travelers know: packing cubes are the way to go. Here are the best ones to choose from.
Bagail Packing Cubes
These Bagail packing cubes will make you a better traveler. Full stop.
Become a better, more organized packer with the Bagail Packing Cubes, a must-have accessory for any type of traveler – especially those of us who, ahem, tend to be a little disorganized when left to our own devices. These superior-quality packing cubes (available in a wide array of fun patterns and vibrant colors) each have a mesh top panel, so you can easily ID what's inside, and they're solidly made with durable nylon fabric and Y2K zippers.
Pros:
Made from high-quality nylon and hardy zippers, with finished interior seams to help with durability
The mesh top-panel allows for easy identification of your belongings
Six-piece set fits like a glove into most (airline-approved) carry-on suitcases, and other types of bags including duffels, large backpacks, and more
Three different sizes allow you to fully customize your packing job
Cons:
You have to be careful not to put these in the washing machine
JJ Power Travel Packing Cubes
If you're prone to traveling with multiple pairs of shoes, you need these packing cubes.
Frequently find yourself traveling with several pairs of shoes? The JJ Power Travel Packing Cubes will come in handy, since unlike most, they come with a double-layer shoe bag. The cubes also come in multiple sizes and are exceptionally sturdy and well-crafted, with premium-quality nylon, easy two-way SBS zippers, and fine stitching. You'll never want to leave home without them.
Pros:
Unlike other packing cubes, this set comes with a bonus gift: a double-layer shoe bag
Crafted from premium-quality, thick nylon
Available in a wide variety of colors
Multiple size options to pick from
Super-lightweight and can be easily stored
Cons:
The zipper design could stand to be a little sturdier
Veken Packing Cubes
These cubes are thicker and more durable than most.
The Veken Packing Cubes are built to withstand the wear-and-tear of travel. They're thicker and more durable than most other packing cubes with 230D nylon that's both rip-proof and water-resistant. That's right – these cubes will keep your clothing and other items nice and dry even if your bag gets wet, and your clothes will stay wrinkle-free, too. Talk about a must-have feature.
Pros:
Made from tough, water-resistant fabric
26 percent thicker than other packing cubes
Made from hardy 230D nylon
Breathable design, with precision mesh stitching
Awesome at preventing wrinkling in your clothes
Cons:
The laundry bag needs to be a tad bigger
Amazon Basics Travel Organizer Cubes
Because you don't always need fancy bells and whistles.
There's nothing particularly fancy about the Amazon Basics Travel Organizer Cubes, and that's what we love about them. These machine-washable cubes are equipped with a mesh panel, a webbing handle for easy transport, and a double zipper that makes opening and closing a cinch. And, they come in two medium sizes and two large sizes, so you can easily divide up your clothes, toiletries, and other items. What more could you need?
Pros:
Solid, durable construction
Has a mesh-top panel and great ventilation
Equipped with a webbing handle, in case you need to carry one cube by itself
Soft mesh will not damage fabrics
Machine-washable
Cons:
These cubes don't hold their shape quite as well as others
Eagle Creek Pack-It Specter Cubes
These cubes are sporty, stylish, and worth every penny.
Premium-quality and efficiently designed, the Eagle Creek Pack-It Specter Cubes help you make use out of every square inch of your suitcase. Lightweight and sturdy, these cubes are specifically designed to keep you organized without adding extra weight, so that you're not lugging a heavy suitcase around. They're made from tough, water-resistant fabric, and they come equipped with both a quick-grab handle and top zipper openings so that access is easy and streamlined. The set includes a cube, half-cube, and quarter-cube, giving you the exact amount of space you need to store all your items as neatly as possible.
Pros:
Made from thin, lightweight fabric, so your suitcase is organized but not heavy
Extra compression allows for maximum packing space
Tough, stain-resistant, and water-repellent
Ultra-light ripstop fabric is great for all kinds of travel
Quick grab handle
Cons:
You do need to take the time to roll up each of your items before putting them in these cubes; you can't just stuff everything in
Frequently Asked Questions
What do packing cubes actually do? What are some of the benefits that I should be aware of?
Packing cubes keep everything in your bag as neat and organized as possible. Typically, each set comes with different-sized cubes so that you can group items accordingly. Especially if you don't have a ton of space in your bag, using a packing cube can really help you maximize this space, and make items easier to find. And, aside from being awesome organizational tools, packing cubes are great for using as on-the-fly laundry bags or pillows when you're traveling.
Do packing cubes help save space in my suitcase?
In short, yes, they do help save space. Never underestimate the power of maximizing your storage, especially when you're dealing with a backpack or smaller suitcase.