The Best Multi-Cookers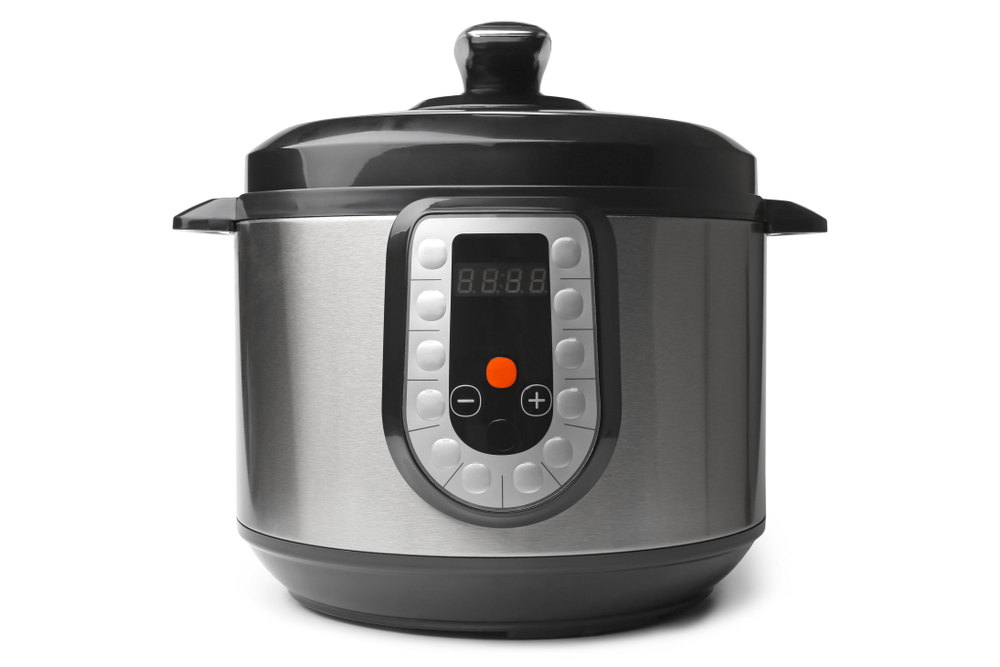 A homemade dinner is a delicious way to end the day, but planning, preparing, cooking, and cleaning up after a meal at the end of the long day can be exhausting. Specialty appliances like crock pots and air fryers make prep easier, but they can be expensive and take up valuable counter space. That's why multi-cookers are a culinary game-changer. Designed to boil, bake, grill, deep-fry, stew, and so much more, multi-cookers make mealtime a snap — place your food in the cooker, select a cooking method, set the timer, and wait for your meal to be ready. To help you make an excellent choice for your own kitchen, we've rounded up some of the best multi-cookers available.
Ninja Foodi Deluxe XL Pressure Cooker
With nine separate options for cooking, you'll never get bored at mealtime.
With nine separate functions, the Ninja Foodi Deluxe XL truly does it all. The reversible rack lets you steam or broil up to eight chicken breasts at one time, meaning that there's plenty of room for everything to cook evenly. The ceramic-coated basket also fits a whole chicken, so you can have an easy roasted dinner without worrying about over- or under-cooking your bird. Because of the layered baskets, you can even cook several items at once. Try cooking rice, quinoa, or couscous in the bottom with a protein and some veggies above for a balanced meal with minimal dishes.
Pros:
Large cooking capacity fits different sized meals
Reversible rack
Non-stick, PTFE- and PFOA-free ceramic coating
Cons:
The air fryer lid isn't removable, which makes the cooker tall when the additional pressure lid is also attached
Instant Pot Duo Seven-in-One Cooker
If you need a sturdy multi-cooker with minimal investment, this is the appliance for you.
For a useful appliance that won't break the bank, Instant Pot's budget-friendly multi-cooker is an excellent option. It acts as a pressure cooker, slow cooker, rice cooker, and yogurt maker, and you can easily sauté, steam, and roast a huge variety of foods. The pre-set cooking options make preparation a snap, and it includes an automatic warming function to keep your food hot until you're ready to eat. Finally, the stainless steel exterior and dishwasher-safe parts take the hassle out of cleaning up.
Pros:
Options for both quick cooking and slow cooking
Fingerprint-resistant stainless steel exterior
Lid, interior basket, and accessories are all dishwasher-safe
Cons:
Although the base model is inexpensive, buying additional accessories can add up
Instant Pot Duo Mini Electric Pressure Cooker
This multi-cooker is a winner for small spaces or small portions.
For cramped spaces like dorm rooms or apartment kitchens, the Instant Pot Duo Mini is a convenient and efficient way to maximize your cooking capabilities. The three-quart capacity is perfect for individuals or for preparing sides for larger groups. There are seven different cooking options, along with customizable programs for preparing many different dishes with the touch of a button. The high-quality design includes more than ten safety features, and the inner pot is made out of food-grade stainless steel with a triple-ply bottom for fast, even cooking.
Pros:
Over ten safety features, including overheat protection and a locking lid
Small size makes it convenient to store
Eleven customizable programs for one-touch cooking
Cons:
Although its size is great for small spaces, the cooker only fits a few portions of food, so there may not be much for leftovers
Crock-Pot Express Pot Multi-Cooker
Large families and lovers of leftovers will appreciate this roomy multi-cooker,
Meal-prepping for the week or cooking for a crowd has never been easier, thanks to Crock-Pot's large-capacity Express Pot multi-cooker. The size makes it ideal for cooking large cuts of meat or pressure cooking, searing, sautéing, simmering, boiling, and steaming generous portions of food for leftovers or freezing. Another feature that makes this an excellent option for families is its sterilization function, making it simple to sterilize baby bottles and lids to ensure they're clean and safe to use.
Pros:
Easy-release steam dial protects hands from burns
Includes a sterilization function
15 one-touch meal settings
Cons:
The sturdy design weighs over 22 pounds, which can make it unwieldy to move around the kitchen
Comfee MB-M25 Large Capacity Multi-Cooker
Perfect for people on the go, this handy cooker adapts to every schedule.
If you're gone at work all day or busy taking care of your family, finding the energy to cook at the end of the day can be challenging. This Comfee multi-cooker includes a timer that you can set up to 24 hours in advance, making it possible to prepare and assemble your ingredients in the morning, pre-set the multi-cooker, and come home to a hot meal that's ready at dinnertime. Additionally, the steel exterior is easy to clean, and the cool-touch handles keep your hands safe when opening the lid.
Pros:
Massive 20-cup capacity
Designed with a 24-hour delay timer
Digital panel and LED display
Cons:
Does not include a removable air vent and inner lid
Frequently Asked Questions
How do I use a multi-cooker?
Using a multi-cooker to prepare food is simple. Just prep your food, add it into the pot (along with water or oil, depending on your cooking method), select a cooking option, and set the timer. You can adapt most recipes for multi-cookers, but be sure to consult the manufacturer's instructions for the appropriate steps, setting, and cooking times to ensure your meal turns out perfectly.
Do multi-cookers use a lot of electricity?
Because they are so much smaller than ovens and stoves, using a multi-cooker regularly can significantly reduce the amount of power you use while cooking. They usually have wattages ranging from 450 to 1600 watts depending on the model, similar to the electricity that microwaves require. The design also speeds cooking times up to 70%, so not only will you have dinner on the table faster, but your multi-cooker will use less energy than a larger appliance.