The Best Mold Removers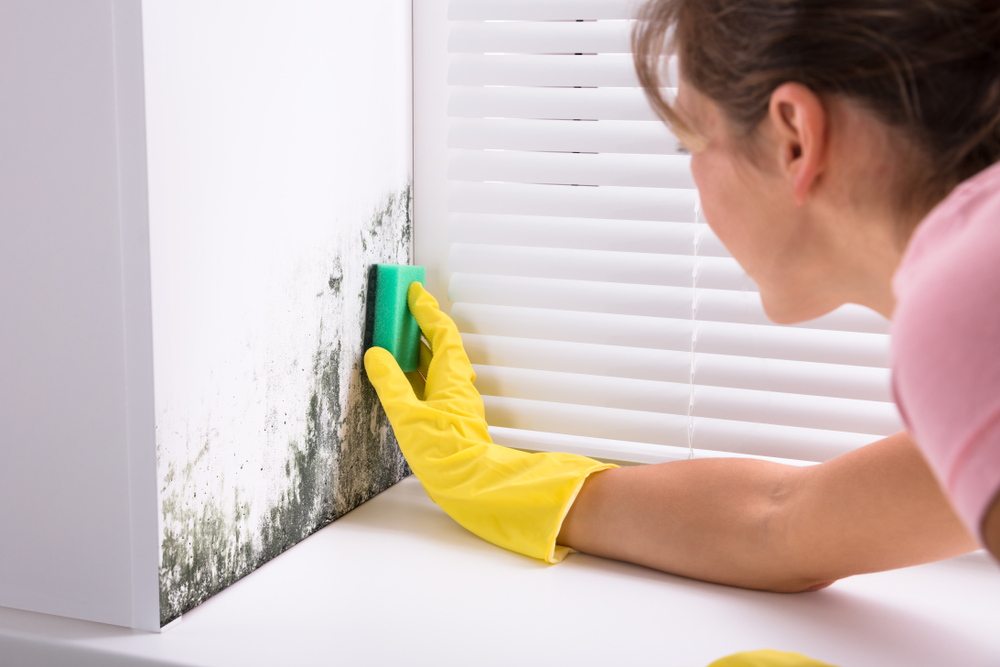 No matter how clean you keep your home, mold has a way of inviting itself in. Stealthy and eager to multiply, this invasive but extremely common fungus is more than just ugly — it can also be harmful to your health. Mold loves damp, humid places like bathrooms, kitchens, and basements, so if you start noticing a musty smell or visible dark spots along tile grout, it's time to tackle the problem head-on. Typical mold removers can be sprayed on or applied as a gel, with little to no work needed afterward. Find our top recommendations below to get your home happy and healthy again.
RMR-86 Instant Mold and Mildew Stain Remover Spray
This seriously strong spray helps remove even the most persistent mold and mildew stains in a matter of minutes.
If you've ever had a particularly tough case of mold in your home, then you know the relief of finally finding a solution that works. Well, rest assured — that solution has arrived. The RMR-86 Instant Mold and Mildew Stain Remover Spray will tackle even the toughest stains in a matter of minutes. Simply spray on the solution in a well-ventilated space, wait a bit, and rinse the area with a shower nozzle or garden hose. Just remember that because RMR-86 is like a potent bleach, you need to treat it as such. In addition to proper skin coverage and inhalation protection, safe storage is critical — make sure you screw the original cap back on as the solution might leak out and damage nearby surfaces if you leave the spray cap always on.
Pros:
Comes ready to use with no mixing required
Extremely fast-acting
Safe to use on multiple surfaces, including tubs, bathroom and kitchen tile, wood, vinyl, drywall, concrete
Cons:
Has a strong smell, so PPE and extra ventilation is recommended
Will damage unprotected fabrics
CLEAE Household Mold Remover Gel
Apply this easy-to-use mold remover gel exactly where you need it for long-lasting results.
Though sprays are great for removing large mold stains, we tend to feel their effects much more than we do with localized solutions. That's why we like to use mold removing gels like this compact and affordable CLEAE option for smaller, tighter jobs. Application is a breeze with the easy-to-squeeze tube, and because you only apply it where you need it, you won't have chemical fumes filling up your space. The mold remover starts working after a few hours, but an overnight application yields better results for hardened mold. But because the tube itself looks like a regular face wash or sunscreen bottle, make sure you properly label it as toxic and safely store it with other hazardous cleaning products to avoid accidental injury.
Pros:
Thick, easy application
Less harsh smell than other chemical products
Works very well on caulk
Cons:
Requires slight scrubbing to remove the gel afterward
English instructions are hard to understand
Wet and Forget 10587 Gallon Mold Remover
Perfect for use on outdoor surfaces, this 1-gallon concentrate of non-caustic mold remover can continue working for up to one year.
While indoor mold can often be removed pretty effectively after a one-time cleaning, outdoor mold is a whole different ball game. Popping up and spreading on everything from asphalt and soil to roofs and gutters, it can often go unnoticed, making it that much harder to remove later on. For these larger, outdoor jobs, you'll need much more cleaner to get the job done. This 1-gallon mold remover by Wet and Forget makes six gallons of diluted solution to get more of your surfaces done in one fell swoop. After you dilute the non-caustic formula, apply a layer on every infected surface with a pump garden sprayer, and then simply leave it to do its job. Every time it rains, the water will activate the formula again, gradually getting rid of the mold. While the formula's effectiveness lasts for about a year, we recommend reapplying a layer if you notice new mold growths.
Pros:
Doesn't contain bleach
No scrubbing or rinsing required
Perfect for cleaning large outdoor surfaces, including but not limited to grass and soil, concrete, fiberglass, tile, brick, stucco, aluminum, siding and decking, and painted areas
Great cost value
Cons:
Have to dilute the solution yourself
Results take longer to appear
Benefect Botanical Decon Disinfectant Cleaner
Get results that stand up to chemical cleaners with this all-natural, plant-based mold removing formula.
One of the worst parts about finding mold in your home is knowing that you'll have to rely on all kinds of caustic chemicals to get rid of it. It may even make you question if you prefer the slightly musky smell to the smell of bleach. Fortunately, you don't have to jeopardize your health for the sake of avoiding chemicals. Instead, try this entirely plant-based disinfectant from Benefect, which contains no toxic ingredients or dyes. Safe for contact with skin and food surfaces, this cleaner is surprisingly effective against mold and mildew, all thanks to its thyme-oil formula. On top of this, it also functions as a regular anti-bacterial cleaner, so you can use it for regular cleaning once you've solved your mold problem.
Pros:
EPA-registered as a mildewstat and antifungal product
Helps prevent further mold growth
No rinsing or wiping
Cons:
Higher cost for a more natural solution, but we think it'll be worth it to many families
Smell may linger for a few days after using
Star Brite 54432 Mold and Mildew Stain Remover
This gentle triple-action spray will clean your fabrics as it removes mold.
It's incredible just how pervasive mold is. From your bathroom shower to your outdoor deck, it can flourish anywhere. And soft surfaces are no exception — chair cushions, outdoor camping gear, patio umbrellas, etc., are all susceptible to the crafty fungus. If you've got fabrics that need cleaning, skip the regular mold remover sprays and choose this gentler option by Star Brite, which relies on a buffered-bleach formula to protect your fabrics. While the bleach removes mold and mildew, the additional chelating agents and surfactants in the formula clean the surface afterward, leaving your favorite cloth surfaces looking good as new.
Pros:
Made in the USA
Combined cleaning technology
Easy-to-use spray bottle
Cons:
Cleaner may leak during shipment
Frequently Asked Questions
How can I prevent mold in my home?
While mold can make its way into anyone's home, there are a few measures you can take to keep it out as long as possible. Firstly, you'll want to make sure it's not too humid inside your house. A dehumidifier can help do the trick if you live in a naturally humid area. Next, make sure there's always ample airflow in damper areas like the kitchen and bathroom. Thirdly, always fix leaks as soon as you notice them, especially in covered areas near pipes and inside walls. And lastly, use mold-preventing sprays in places like the shower where the fungus loves to grow.
Why is mold harmful? 
In addition to its unsavory appearance, mold can be bad for your health. While some people will have more severe reactions to mold if they are allergic to it, mold can generally irritate the eyes, nose, throat, and lungs of anyone who inhales too much. Additionally, if you've got black mold in your house, then that's a real problem as this type of mold can cause respiratory issues and headaches. When it comes to black mold, we recommend hiring an expert to remove it properly, lest you spread the spores around the house.
About the Author
Why Trust Us
Since 2010, Momtastic has provided millions of parents with a complete guide to raising a family in a healthy home by offering our expert advice on everything from car seats for kids to baking supplies for the kitchen. It takes a village to raise a family, and our experts are here to make sure every parent finds a little bit of that village in us.