The Best Mini Fridges with a Freezer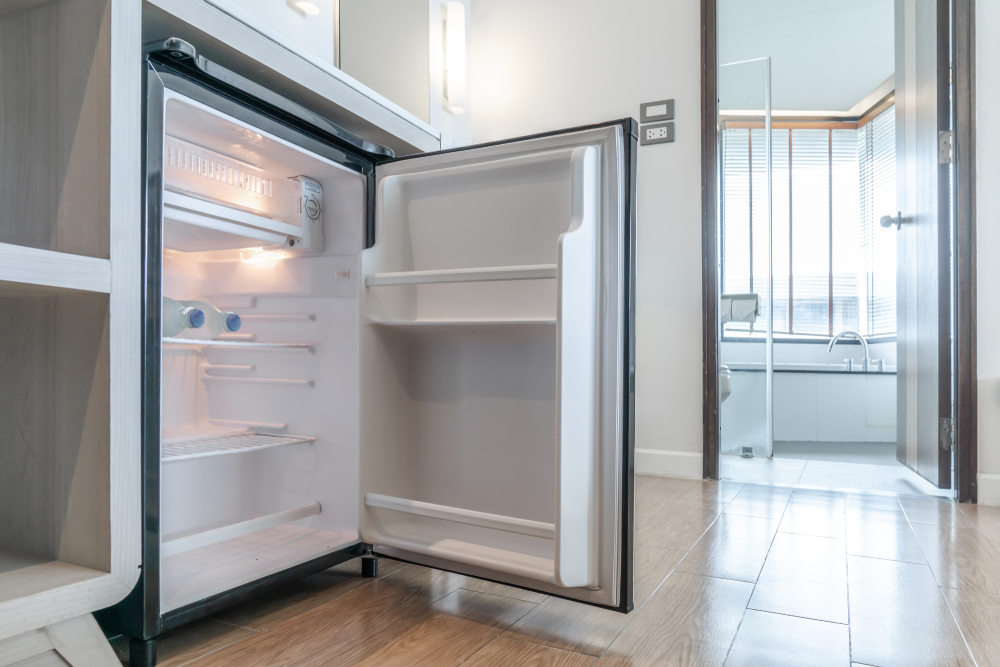 Though we love our big kitchen refrigerator, sometimes we need to cool down our drinks and food in other locations, too. That's exactly where a mini-fridge comes in. With the same temperature controls and multi-function storage as its larger cousin, a compact refrigerator is the perfect appliance to use in rooms with less space. If you're looking to keep some cold snacks in your work office or your kids' dorm rooms, a mini-fridge does the trick. And to really take convenience to the next level, try one with a built-in freezer to get ice anywhere or to store leftover frozen dinners. Check out our favorite mini-fridge with freezer picks below, and get convenient cold storage where you need it most.
Galanz GLR46TRDER Mini-Fridge with True Freezer
Add some vintage vibes to your living space with this larger, dual-door mini fridge with freezer.
Though polished stainless steel appliances are all the rage these days, the retro look never really goes out of style. For the ultimate classically cool experience, try this mini-fridge by Galanz. You can choose it in red or black and store more than you would with a normal mini-fridge, thanks to its upgraded size of 4.5 cubic feet. But just because it looks old doesn't mean it doesn't have the features you need in your modern home. With a double-door design to hold more, a can dispenser for quick drink access, and a low energy compressor, this fridge is made to last a long time — and through countless trends.
Pros:
Convenient interior light
Mechanical temperature adjustment dial
Leveling legs for easy placement anywhere
Cons:
Black+Decker BCRK25B Mini-Fridge with Freezer
The super compact size, reversible door, and leveling legs of this mini-fridge make it perfect for dorm rooms and camper vans.
One of the reasons we get a mini-fridge in the first place is because we want access to cold food and drinks outside the kitchen. And a lot of the time, our space is also limited. Whether you're looking to cool down in a dorm room, in a camper van, or your backyard shed, a compact mini-fridge like this affordable option by Black+Decker will hold more in less space. The reversible door and adjustable leveling legs on this 2.5 cubic feet fridge help you fit it where you need it, no matter the peculiarities of your space. But though it's small on the outside, the removable glass shelves and additional door storage will hold more than you think. Similarly, the freezer can store the included ice tray and most frozen dinners and ice packs.
Pros:
Simple design comes in black, steel, or white
Recessed, easy-to-use door handle
Built-in can dispenser
Cons:
RCA RFR322-B Stainless Mini-Fridge with Freezer
Match your mini-fridge to the rest of your home's modern aesthetic with this pick.
There's a reason most home design catalogs gleam with the shine of stainless steel these days. Appliances made using the material tend to be more durable as stainless steel fights off any rust or heat damage in kitchens. But it also tends to come with a heftier price tag. That's why we love this stainless steel mini-fridge by RCA. Get the premium appliance look and durability without paying the cost, and make sure your snack storage area fits into your modern home's aesthetic. Besides having all the same features as other mini-fridges, this classy-looking option goes a step beyond thanks to its superior compressor cooling system that blasts cold air even in the hottest temperatures.
Pros:
Reversible door for easy fit where you need it
Lightweight and easy to move
Quiet operation
Cons:
Doesn't have an interior light
Easily shows fingerprints and smudges
Teccpo TAMF32 Mini-Fridge with Freezer
This mini-fridge has the same features as other compact cold storage units but comes with a lower price tag.
Kitchen appliances aren't always the most affordable. That's why we work so hard to maintain them over time. And when it comes to miniature versions of the same appliances, the same rules apply. Thankfully, the designers at Teccpo know that convenience shouldn't come at a high cost. You'll get 3.1 cubic feet of cool, multi-function storage complete with a crisper drawer, interior light, and auto-defrost capability, all for a lower price than many other refrigeration brands. Best of all, the six temperature settings let you control what's going on inside at all times — meaning you can have quieter nights one day and super cold drinks the next.
Pros:
One-button defrost
Removable tempered glass shelf
Comes with an ice tray
Cons:
Fridge may arrive with slight cosmetic defects
Antarctic Star Mini-Refrigerator with Separate Freezer
The fun color options for this mini fridge with a separate freezer will make any small space stand out.
Just because a fridge is meant to serve a particular purpose doesn't mean it can't also look great while doing so. If you've got limited space but a need for cold storage, then add a bit of pizzazz and flair with this mini-fridge with a separate freezer by Antarctic Star. Choose from a variety of colors to brighten up your space. And it looks great inside, too, thanks to the interior light and storage layout — you'll get more freezer space in this model than you would with other brands. Pairing cutting-edge refrigeration technology with an energy-conserving design, this fridge runs great and looks sharp while doing so.
Pros:
Seven-point temperature range
Ample freezer room
Tight seal
Cons:
Temperature control may be inconsistent
Frequently Asked Questions
Where should I put my mini-fridge?
Ideally, your compact refrigerator should sit away from heat sources and atop hard flooring. That's because many fridges have their cooling units on the bottom of the appliance, which requires ample ventilation. Since carpets can block airflow, you'll likely cause your mini-fridge to overheat if you put it on a carpet. But don't fret just yet if you've only got a small carpeted dorm room. You can elevate the fridge above the carpet using padding or plastic lining and check on it over time. Alternatively, you can look for a mini-fridge that has its cooling unit on the back.
Why do I need to let my mini-fridge settle after I first get it?
If your fridge has been turned on its side at any point during the shipment, then it's likely that some of the compressor oil leaked out into the coolant lines. You'll want to leave your fridge upright for several hours (we generally recommend leaving it overnight) before plugging it in. It should reach its full cooling capacity two to four hours after that.