The Best Meat Grinders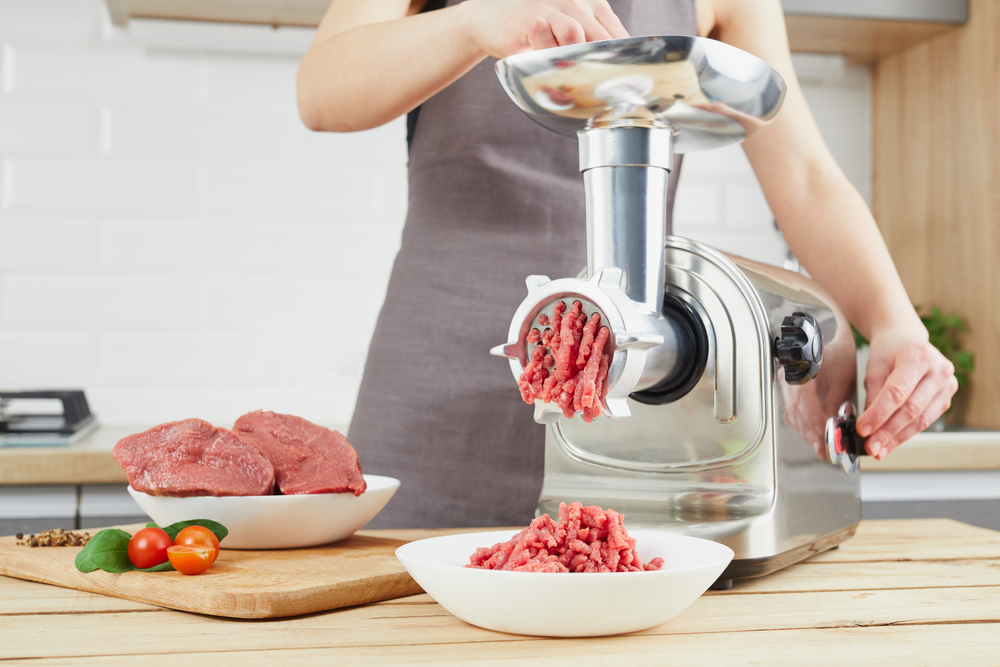 It's official — we live in the "do it yourself" (DIY) era. It's about time we added sausage-making and patty-production to that list since it's way easier than most people think. With the right meat grinder, you can stuff homemade sausages, create your own kubbe, or whip up some flaky fish cakes. We've rounded up a list of some of the best meat grinders on the market, so read on to find your new favorite DIY kitchen device.
STX Turboforce Classic 3000 Series Electric Meat Grinder
When it comes to straightforward grinding and sausage-stuffing, this grinder gets it done with ease.
If you're unsure where to start with grinding meat, the STX Turboforce offers everything you need to run the gamut from sausage-stuffing to making your own ground chuck. The 12-pound unit is made of food-safe cast aluminum, while most of the internal parts are tempered steel for durability and sharpness. Your purchase includes three blades, three differently sized grinding plates, one plate for making sausages, three sausage-stuffing tubes, one kubbe attachment, two meat claws, and a patty press. The hopper can hold up to three pounds of prepared meat, which can be ground in as little as three minutes.
Pros:
Impressive number of possibilities with various grinding plates and attachments
Three-speed setting includes slow, high, and reverse
Powerful enough to grind 180 – 240 pounds of meat per hour
Large hopper to hold around three pounds of meat
Cons:
Not designed to grind vegetables or fruits, so sausage additions need to be added after grinding
Narcissus Electric Meat Grinder
This food-processor-style grinder can handle everything from soft vegetables to chunks of meat without making a mess.
This electric meat grinder from Narcissus is a multitasking home cook's dream. The food-processor-style rotating blades are equipped to cut through vegetables, fruits, and various meats alike, so you don't have to worry about mixing ingredients separately. With a 14-cup inner capacity, the grinding chamber is plenty spacious, and the three-speed motor works quickly and relatively quietly. Don't panic if your grinder takes a break after 12 – 15 minutes of continuous grinding — the automatic overheat protection kicks in to ensure the proper cooling time between uses.
Pros:
14-cup capacity is big enough, so you don't have to grind in batches
Three-speed rotating blades can cut through vegetables, fruits, and meat
All cutting components are dishwasher safe
Overheat protection helps with longevity
Cons:
No sausage-stuffing attachments or plates for even grinding
Aicok Electric Three-in-One Meat Mincer & Sausage Stuffer
The all-copper motor in this grinder is low-noise and can last for years.
No one wants a meat grinder that breaks down halfway through a sausage-stuffing session. When it comes to durability and longevity, the Aicok Three-in-One grinder shines thanks to a stainless steel housing and a full copper motor. Your purchase includes three differently sized meat plates that can produce the proper consistency for meatballs, patties, or meat pastes. The sausage-stuffing and kubbe attachments save you time in the kitchen so that you can spend more minutes doing what matters — enjoying your culinary creations.
Pros:
Fast and powerful enough to grind up to three pounds of meat per minute
Reverse button helps to remove clogs
Large feeding tube increases grinding efficiency
Smaller body is ideal for saving counter space and easy storage
Cons:
Kenome Metal Food Grinder Attachment for KitchenAid Stand Mixers
No need to buy a separate grinder thanks to this attachment designed to work with your stand mixer.
Full-time bakers, part-time butchers rejoice — this attachment from Kenome clips right onto your KitchenAid stand mixer so that you don't have to worry about buying a separate meat grinder. Besides saving space and money, you get all the benefits of four different grinding plates for churning out everything from grated cheese to ground beef. Two sausage-stuffing tubes also help you feed the freshly ground meat into casings without making a mess. You'll want to handwash all of these components afterward, but it's a small price to pay for such a wealth of DIY possibilities.
Pros:
Attachment can be used easily with KitchenAid stand mixer
Designed to grind bread crumbs, hard cheeses, vegetables, and meats
Four different plates included
All components are removable for straightforward cleaning
Cons:
Hopper is smaller because the attachment is not as large
LEM Stainless Steel Big Bite Electric Meat Grinder
This stainless steel grinder boasts a meat pan that measures just over one foot long.
We're not going to say this stainless steel grinder from LEM is strictly for homemade meat professionals, but it's certainly good enough to be a pro-level favorite. The "Big Bite" auger is designed to aggressively grab more meat, which reduces the overall grinding time. A foot-long hopper that's over two inches deep provides plenty of real estate for storage, meaning you won't have to fill the pan in batches. You get three different meat plates, three sausage stuffers, and a meat-stomper with your purchase, as well as a handy internal compartment to store a knife and your hopper.
Pros:
One of the most powerful home grinders on the market, averaging seven pounds of meat per minute
Large, deep loading tray helps avoid the mess of constant refilling
Brushed stainless steel exterior reduces handprints and looks clean
Internal compartment to store the hopper
Cons:
Paying a premium for top-of-the-line technology designed for frequent use
Frequently Asked Questions
Should I freeze my meat before grinding it?
Generally, yes, but not for very long. Grinders will smear the fat and connective tissues of room temperature meat instead of cutting through them, so keeping the meat cold helps it stay firm. From a food-safety standpoint, it's suggested to use semi-frozen meat to reduce the transmission of foodborne illnesses, but most grinders will specify in their manuals what level of freezing they can handle.
How do I know which grinding plate to use?
Coarse grinding plates — usually with holes eight millimeters in diameter — are ideal for making things like summer sausage, salami, or vegetables for salsas. Medium plates excel at churning out ground meats for burgers and meat sauces, and fine plates can help you grate hard cheeses or grind meats for making jerky.