The Best Magnetic Blocks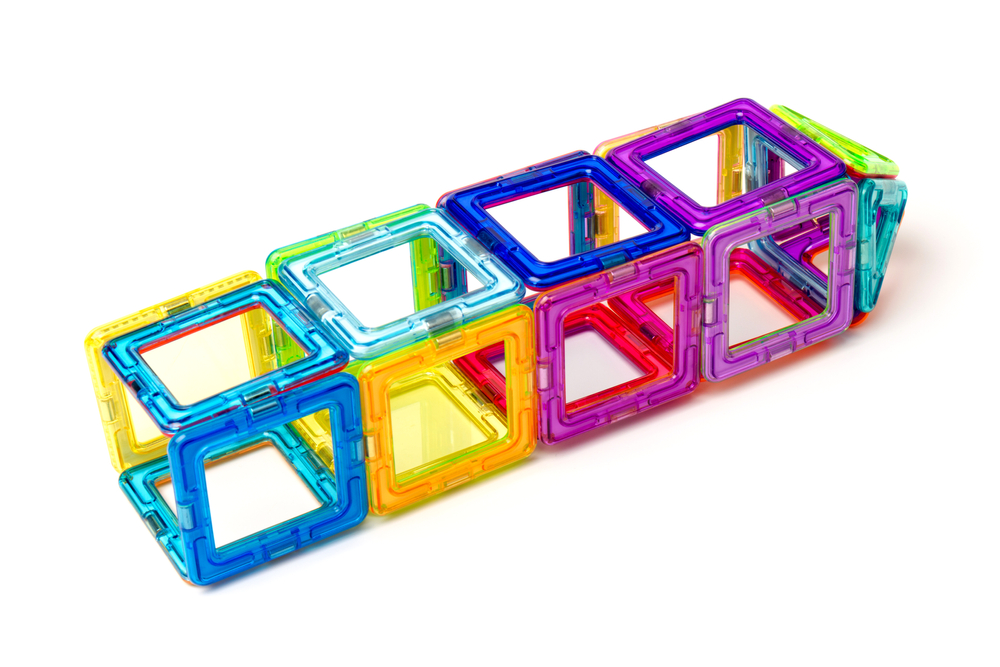 When it comes to open-ended play, magnetic tiles are among the best investments for your child's toy box. With a variety of shapes and colors, there are virtually limitless ways to build with them, and they provide equally limitless hours of engaged play. While there are many magnetic tile makers in the market, we've scoured the internet for some of the very best. Check out our favorites to find the right one for your child.
Magna-Tiles 32-Piece Clear Colors Set
These durable tiles are some of the best on the market.
This set of colored Magna-Tiles will light up your little one's free play space and spark instant imaginative play. These durable tiles help develop those all-important spatial and tactile skills along with foundational STEM concepts. With the inclusion of tiny magnets throughout each tile, your mini engineer can create both flat and 3D shapes and swiftly break them down again to start something new. Providing endless possibilities for creation, Magna-Tiles are a favorite for open-ended free play.
Pros:
Great for building STEM skills
Includes 32 colorful, transparent tiles
Aids in encouraging imaginative play
Cons:
Higher cost for lower amount of tiles compared to similar items
Best as a starter set
PicassoTiles 100-Piece Magnetic Building Tiles
This set includes everything necessary for mind-boggling towers.
Including 100 individual magnetic tiles, this set has excellent variety, loads of bright colors, and endless possibilities to create both flat and 3D shapes. Made with durable plastic and seams that stay connected, each tile contains a few tiny magnets placed so precisely that higher towers and larger projects are possible. Ideal as a base for adding other specialty tiles, we love the color variety included in this kit. The sheer amount of building opportunities this set provides makes for hours of play for your youngster.
Pros:
Universal toy for a range in ages
Excellent early learning STEM toy
Quality magnets and tiles resist chipping or breaking
Cons:
We wish there were an option to choose a color scheme, although the variety is excellent
Can't make a circle with the larger triangles, as the triangle size is not uniform
Soyee Montessori Magnet Toys
This Montessori-inspired magnetic building set has all the necessary tiles for constructing astounding castles and towers.
Including 52 pieces in all, this set even comes with a booklet filled with ideas as well as a handy storage bag for when it's time to put them all away. Each piece is made from high-quality plastic, with strong magnets placed at key points. With transparent blocks as well as uniquely shaped windows and frames, this set allows for freedom in open play, with children exploring early STEM learning, creative thinking, and an early understanding of architecture and engineering.
Pros:
Smooth, rounded edges won't splinter
Uniquely shaped blocks not found in typical magnetic sets
Includes a pouch for storage
Cons:
52 pieces is a fine starter set, but for more complex structures, the amount is lacking
The magnets aren't as strong as we'd like
Zayor Magnetic Tiles Marble Run
This magnetic tile set doubles as a marble run.
Is it a marble run? Or is it a magnetic building set? With this multipurpose block set, the choice is yours. With plenty of tubes, traps, squares, and slides, this magnetic tile set transforms into a gravity-defying structure in mere minutes. Made with durable, non-toxic plastic, a variety of colors, and all the necessary structures to make a functional marble run, this set provides more than just one type of STEM play. There are a virtually endless amount of ways to design the marble run so that each child can put their own spin on it.
Pros:
Includes stickers for adding onto tiles
Multipurpose set
Bright, vivid colors
Cons:
For younger children, adult supervision is recommended
We wish there were more extensive set options available
Magna-Tiles House Building Tiles
This sweet little set is best for building a tiny dream home.
With a standard magnetic set, it's up to you to build what you can with the included shapes. But with this house set, a few extra features allow for building homes, castles, cabins, and more. Including 21 reusable stickers for decoration, you can add rugs, a clock, window boxes, and more. Plus, there are stairs, making multiple levels and greater details that much more attainable. Although there are just 28 pieces in all, the variety that this set provides makes it seem as if it is a much larger set.
Pros:
Sturdy tiles and strong magnets
Helps promote creative, dramatic play
Includes reusable stickers that attach to a sheet for storage
Cons:
A bit of a splurge for such a small amount of tiles
Best as an addition to a larger set
Frequently Asked Questions
What's the best age for introducing magnetic tiles?
It's best to introduce magnetic tiles around the age of three. Although younger children can enjoy them, they are an excellent toy for preschoolers. But one of the great qualities of this type of toy is that they grow with your child — magnetic tiles are an open-ended toy, allowing for truly endless variety in how you play with them.
Are magnetic tiles safe for children?
If you go with a higher-quality set, the magnets should stay safely inside the plastic. At the first sign of breakage, toss the tile. Otherwise, yes, magnetic tiles are perfectly safe for children.