The Best Label Makers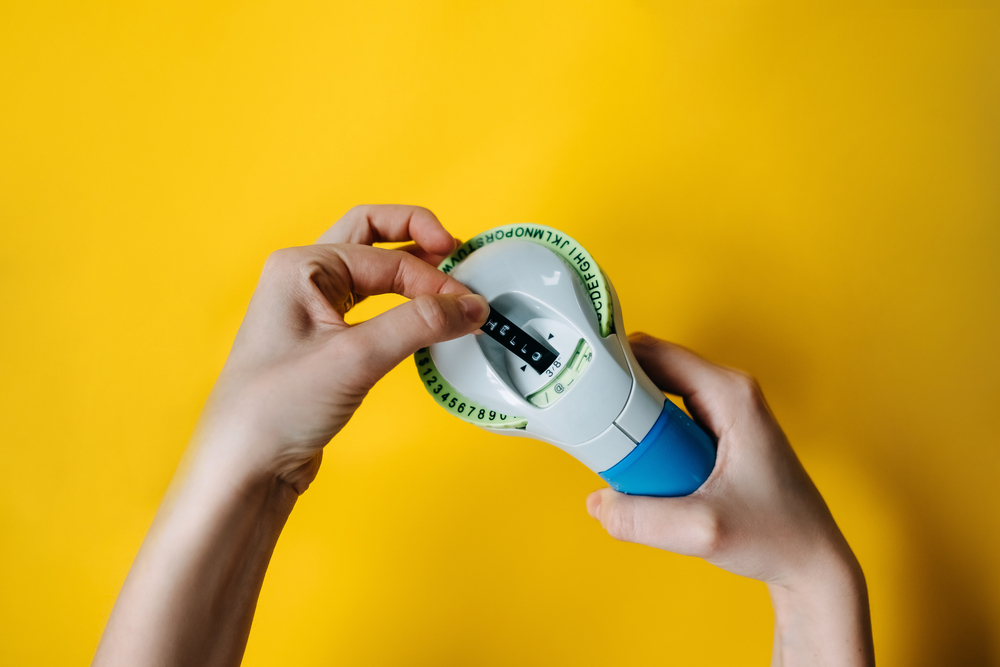 Label makers make the world go 'round. Seriously, these nifty tools come in handy much more often than you might think. Especially true if you work for yourself or have a home office, having a label maker on hand is crucial. You'll save so much brain power simply by not wasting time figuring out where things are, and your new, freshly organized space will undoubtedly make your heart sing. Whether you need to label office supplies, spices, cleaning supplies, or virtually anything else in your home, these are the best label makers to pick from.
DYMO Label Maker
The DYMO Label Maker truly does it all.
Ideally sized and compatible with computers with both PC and Mac connections, the DYMO Label Maker is the perfect tool for creating labels of all kinds. It's highly portable with a handheld design and rechargeable battery pack, so you can easily create labels on the go, if needed. And, the large, bright backlit display allows for quick, streamlined access to keys, fonts, and text effects. Not to mention, this super-efficient tool prints durable, water-resistant labels, which can be customized using a very broad range of text and font options.
Pros:
Portable and rechargeable (so you don't have to use batteries); all you have to do is plug it in and wait a couple of minutes
You can print a wide array of custom labels, with multiple font sizes and style options
Four-line display with backlight lets you see how your label will look before you print
Great for barcodes
Sleekly designed keyboard
Cons:
The resolution has a low pixel count
Brother P-Touch Label Maker
Use your smartphone to quickly create labels with this cutting-edge label maker.
Best Smartphone Integrated
It's never been easier to make labels than it is with the Brother P-Touch Label Maker, which works with both iPhone and Android devices, and even utilizes voice-to-text and spell-check. Choose from a wide variety of pre-designed templates and fonts to really make your labels shine. Plus, unlike with some other label makers, you can even personalize your paper creations with color using this tool.
Pros:
Design and print labels from a smartphone or tablet when connected to Wi-Fi
Choose from a diverse selection of label templates (pre-designed templates and labels include 450 symbols, 60+ frames, and a variety of fonts)
You can use voice-to-text and spell check when designing your labels
Tape colors come in every shade imaginable, from soft pastels to bold, vibrant standouts
Cons:
It would be nice if this printer had more smart cutting options
DYMO Embossing Label Maker
The crowning jewel of any DIY craft kit.
Calling all DIY craft nerds: the DYMO Embossing Label Maker is bound to become your new at-home crafting BFF. This embossing label maker prints easy-to-cut labels (available in several colors) that you can customize using 49 characters of text, numbers, and symbols. And, conveniently, it even comes pre-loaded with embossing tape and stands upright on any desk or workbench. Prepare to get really good at scrapbooking, letter-making, and DIY gifting.
Pros:
Includes pre-loaded embossing tape
Ergonomically designed with an intuitive turn-and-click labeling system
Plenty of text, numbers, and symbols to choose from
Embossing labels are available in several colors
No batteries needed
Stands on desk or workbench
Cons:
You have to press (hard) and hold each letter for a few seconds
Brady Label Printer
You'll have this Brady label maker for years and years to come.
Boasting an 8-10-year outdoor lifespan, the Brady Label Printer is as near-indestructible as they come. This hardy handheld printer creates multi-line labels so that you can clearly identify circuits, wires, boards, and other industrial items; and, its exterior is made with molded rubber bumpers for impact resistance. Whether you're organizing office supplies, servicing a breaker box, or doing any other at-home work that requires clear labels, the Brady Label Printer is ready to take on all the toughest labeling jobs.
Pros:
Has a highly durable exterior with molded rubber bumpers (even comes with a hard carry case)
Creates easy-to-read, multi-line labels
The keyboard contains letters A to Z and numbers 0 to 9
Has smart automatic formatting, so it's super easy to use
Cons:
You have to remember to remove the batteries when you're done making labels unless you want this device to be drained of power (yes, even when it's off)
Phomemo D30 Mini-Label Maker
If you want to take your label maker on the go, then this handy tool is for you.
If you just can't deal with a bulky label maker, the Phomemo Mini-Label Maker is here for you. This on-the-go printer is just 5.16 x 2.99 x 1.14 inches and weighs just under 10 ounces, making it much sleeker and more compact than most other label makers. Available in adorable shades of white, mint green, and pink, this useful tool is also compatible with most smart devices, and it comes equipped with a slew of styles to choose from.
Pros:
One of the most lightweight and compact models available
Comes in three cute colors: mint green, white, and pink
Offers on-the-go printing that's compatible with all smartphones
You can customize your label using a variety of fonts, symbols, and texts
Sticker paper doesn't leave residue
Battery is exceptionally long-lasting
Cons:
It typically takes a couple of tries (and some thorough reading of the instructions) to get the hang of this device
Frequently Asked Questions
What are some uses for my label maker?
A label maker isn't just for organizing office supplies (although it's certainly great for that). Some other creative ways to use your label-maker include labeling your spices, cleaning supplies, and beauty products. Homemade labels come in handy when you're doing meal prep, or when you're in the garden and want to label your plants. You can also use your label maker to organize your crafts and books and to label all your holiday gifts. Truly, the sky's the limit. (With that said, you can try slapping a label on the sky, too, if you're feeling ambitious. Good luck.)
How do I choose the right label maker?
When trying to decide which label maker to choose, you should take the following factors into consideration: the fonts, frames, symbols, and other features; the keyboard layout; and whether the device is portable or battery-operated.